Samsung's QLED TV is an absolute marvel to behold. I've been streaming relentlessly on the 2018 65-inch edition for the past four months, and I can't imagine ever feeling the need to upgrade again. It's that good, with stunning depth and clarity, and enough smart features to satisfy the Jetsons.
But there are some unexpected quirks and a few complications you should consider before making the leap to 4K. 
Samsung QLED 4K UHD Smart TV

COST:
$1,349.95 (Amazon)
PROS:
Incredible depth, SmartThings compatibility, anti-reflective screen, no burn-in guarantee.
CONS:
Requires reliable high-speed internet for streaming.
Before going much further, I should acknowledge that I'm by no means an expert when it comes to TVs. I can't recite specs off-hand or speak at length about Samsung's QLED TV range. As with coffee or whiskey, I'm more of a casual connoisseur—but one who just so happens to have spent an ungodly amount of time testing different live TV services and binging new series over the past year in particular. 
The joys of Samsung's QLED 4K UHD TV
Suffice to say, the QLED is ideal for streaming. You won't need an Amazon Fire Stick or Chromecast, either. Samsung's smart TV line is compatible with pretty much every app you can think of. All of the major live TV streaming services—Sling TV, PlayStation Vue, YouTube TV, DirecTV Now, and Hulu—are readily available, and FuboTV recently launched in beta. I've also had Netflix, Prime Video, ESPN, DAZN, YouTube, ABC, and YouTube in regular rotation. The latter is particularly helpful when you want to cast a video to your big screen (and there's a surprising amount of 4K content on YouTube).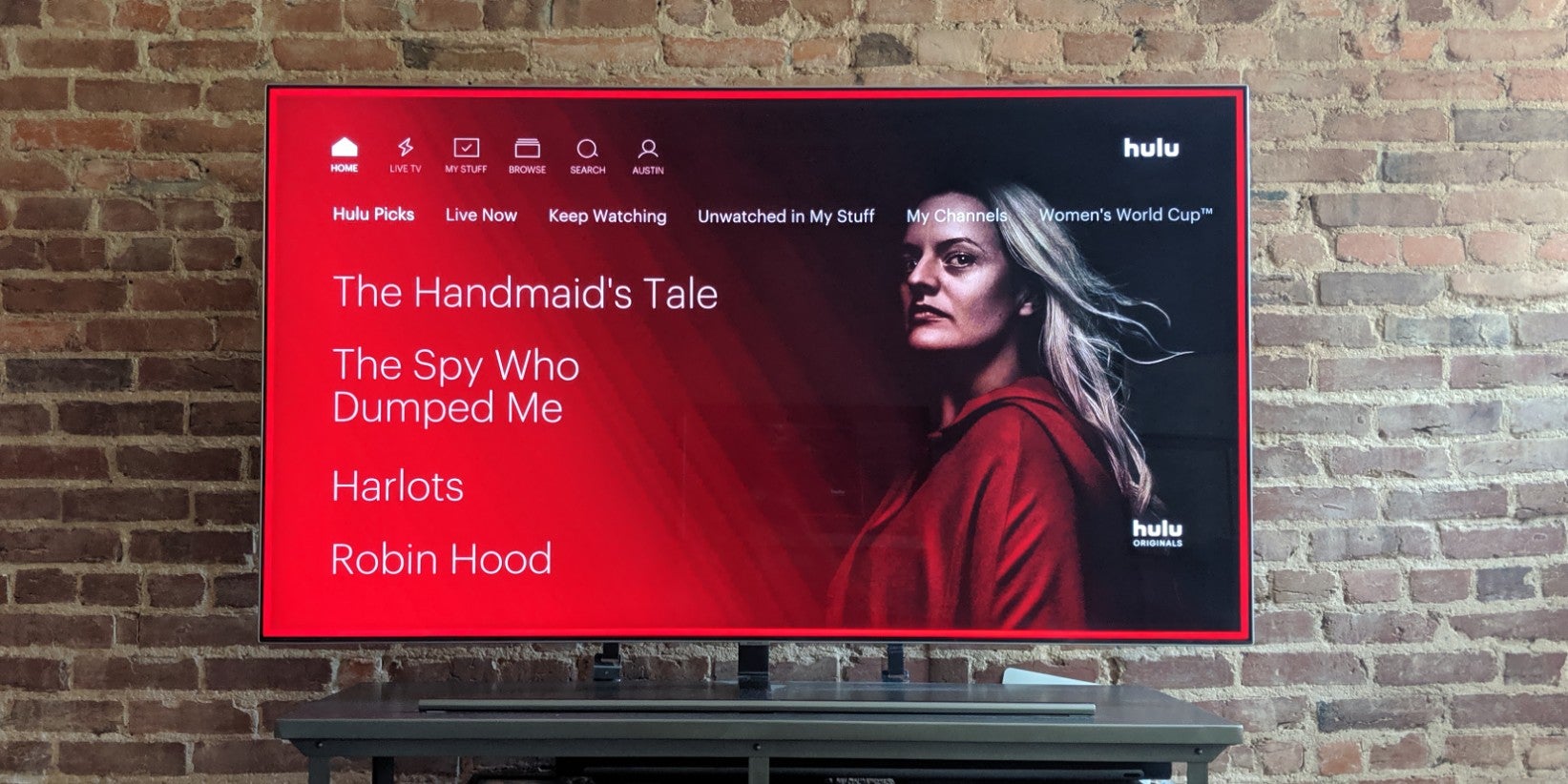 Samsung's smart TVs also come with Pluto TV baked in.  (I suspect that's a large reason why Pluto TV claims to have 7.5 million monthly active users on connected TVs.) The catch is that it's not labeled as such: Most of the free TV service's channels can be found under Live TV Air in the main menu, though it's notably missing CNN and its curated content from Viacom channels. 
That's also where you'll find your local channels. I plugged in an HD antenna (a Mohu Leaf Metro) and tried an AirTV Player as well. I picked up 43 channels here in Washington, D.C., including five PBS channels and two from the CW. Truth be told, running the initial channel scan to find those channels wasn't particularly intuitive. I had to call Samsung's customer support line, but I was impressed by how patiently the representative walked me through the issue and helped troubleshoot a separate problem I was having connecting my Sonos system. That level of customer service seems increasingly rare.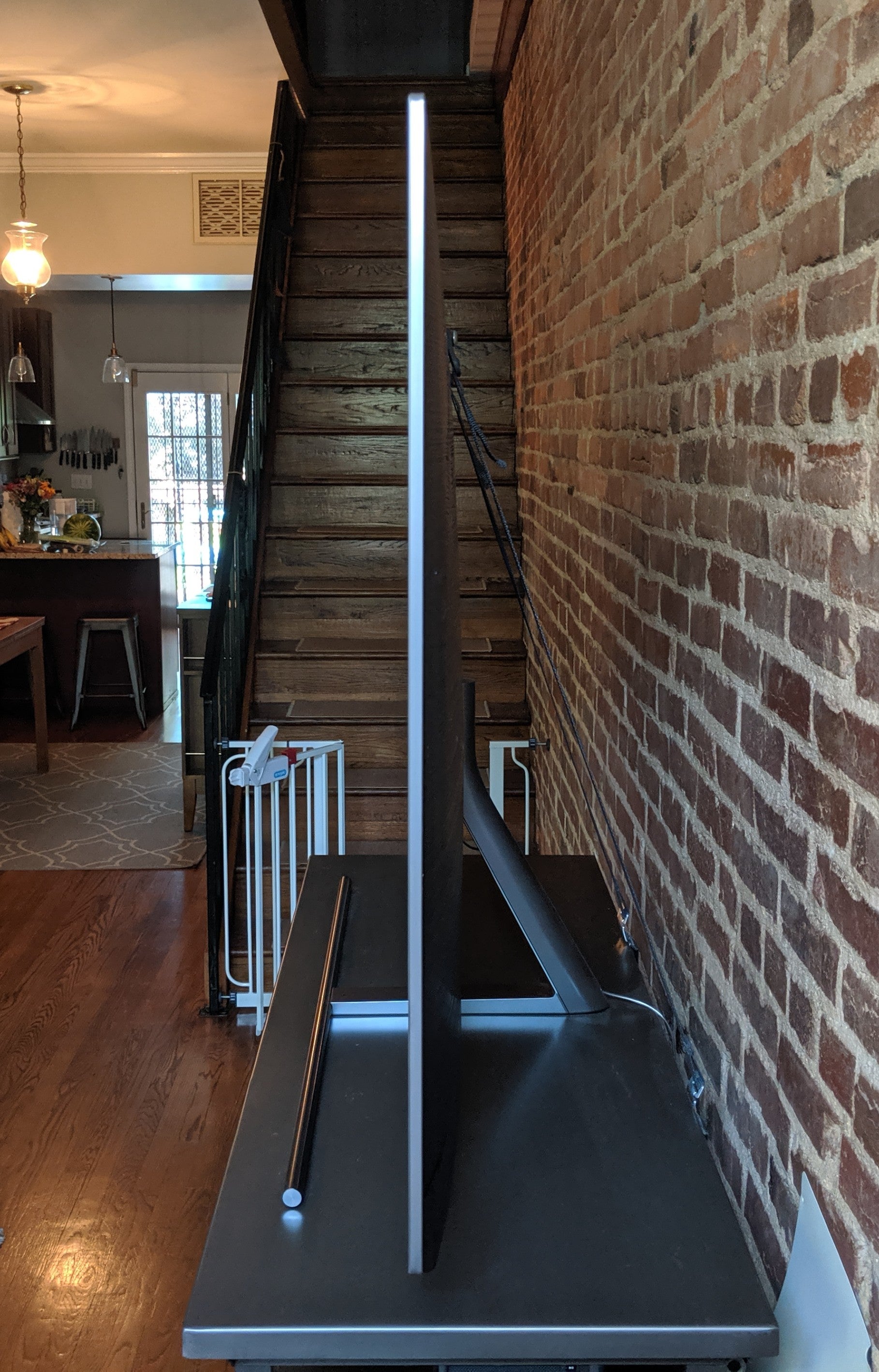 The rest of the setup process was a breeze. The QLED TV is incredibly sleek, about an inch thick and balanced on a minimalist metallic base. It works thanks to what Samsung's calls "One Visible Connection." In short, instead of running all of your wires to the back or side of your TV, there's just one small cable, covered by the base, that then runs to a separate media box, which what you'll actually plug your HDMI, audio, and power cables into. (Never mind those unseemly straps in the photo above. That's just some baby-proofing for when our baby decided he wanted to climb on ALL the things.) The entire installation took less than 10 minutes. 
I would've preferred to use Samsung's no-gap wall mount, but there's no way our landlord was going to let us drill into brick. With that setup, though, the TV can blend nicely into the ambiance of your room, displaying photos from your connected phone or the Samsung Cloud.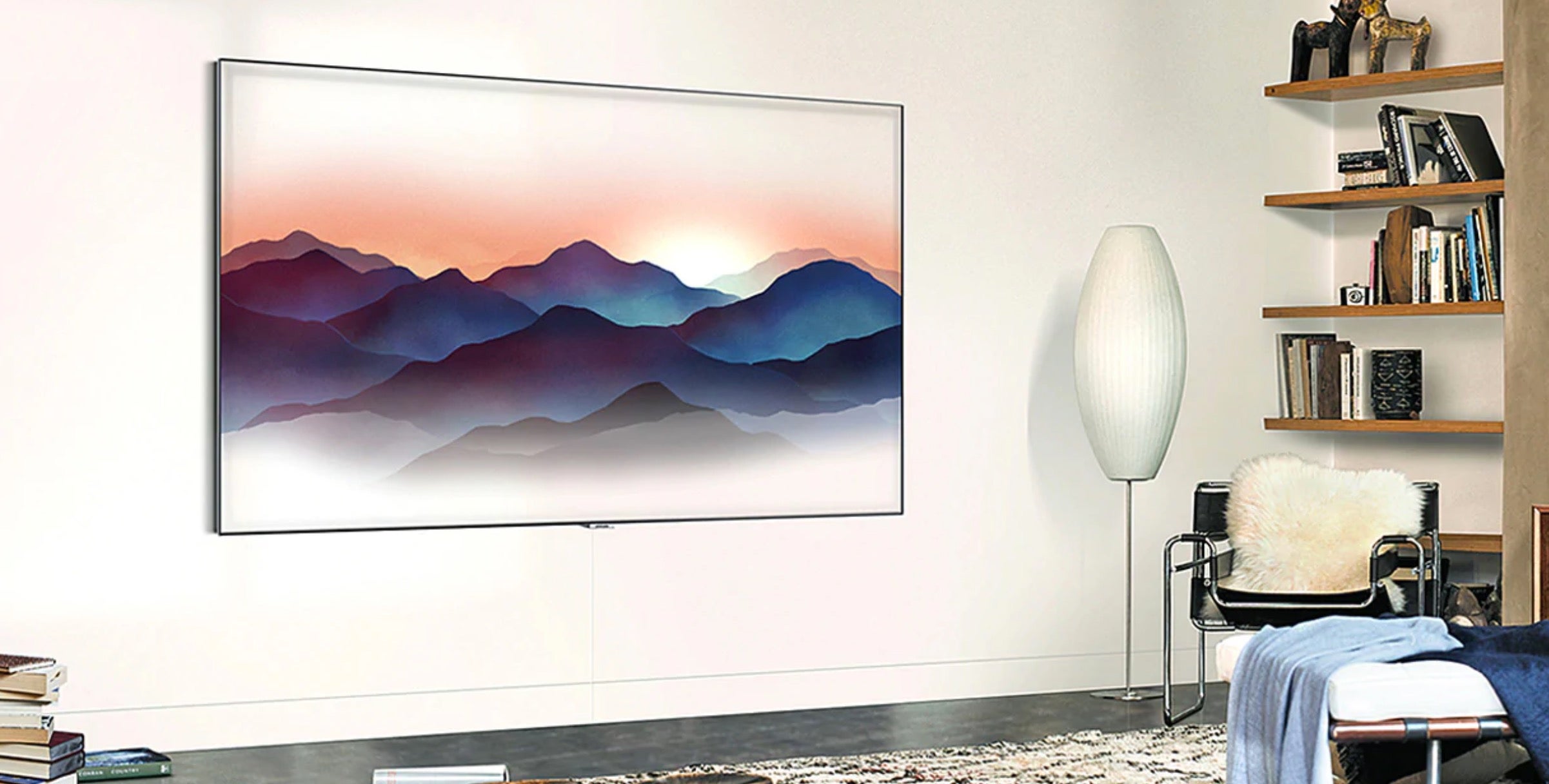 That's one of several nice perks that comes with SmartThings, the smart home app that's built into the QLED TV and which can connect the vast majority of IoT products you might be using, from Hue lights to the First Alert smoke detector. You can use the app on your phone as a remote if needed, but the QLED comes with a great universal remote that includes the Bixby virtual assistant. (I'd rather search myself than talk to a device, but that's just me.)

The drawbacks of 4K
Here's the catch: It doesn't matter how great the picture quality is with Samsung QLED TV (or any other UHD TV for that matter) if you don't have a strong internet connection. 
An hour of 4K Netflix, for example, can eat up to 7GB of data. That's a lot to process. In fact, before investing in a new TV, you should double-check that you don't have any data limits that might impede your viewing. If your Wi-Fi speed tends to lag or slow down in the evenings, your streaming will undoubtedly struggle. Before we switched from Comcast to Verizon Fios, Netflix would regularly pause to buffer, and I distinctly remember feeling like I was watching a VHS tape at times. (Those issues have thankfully resolved.)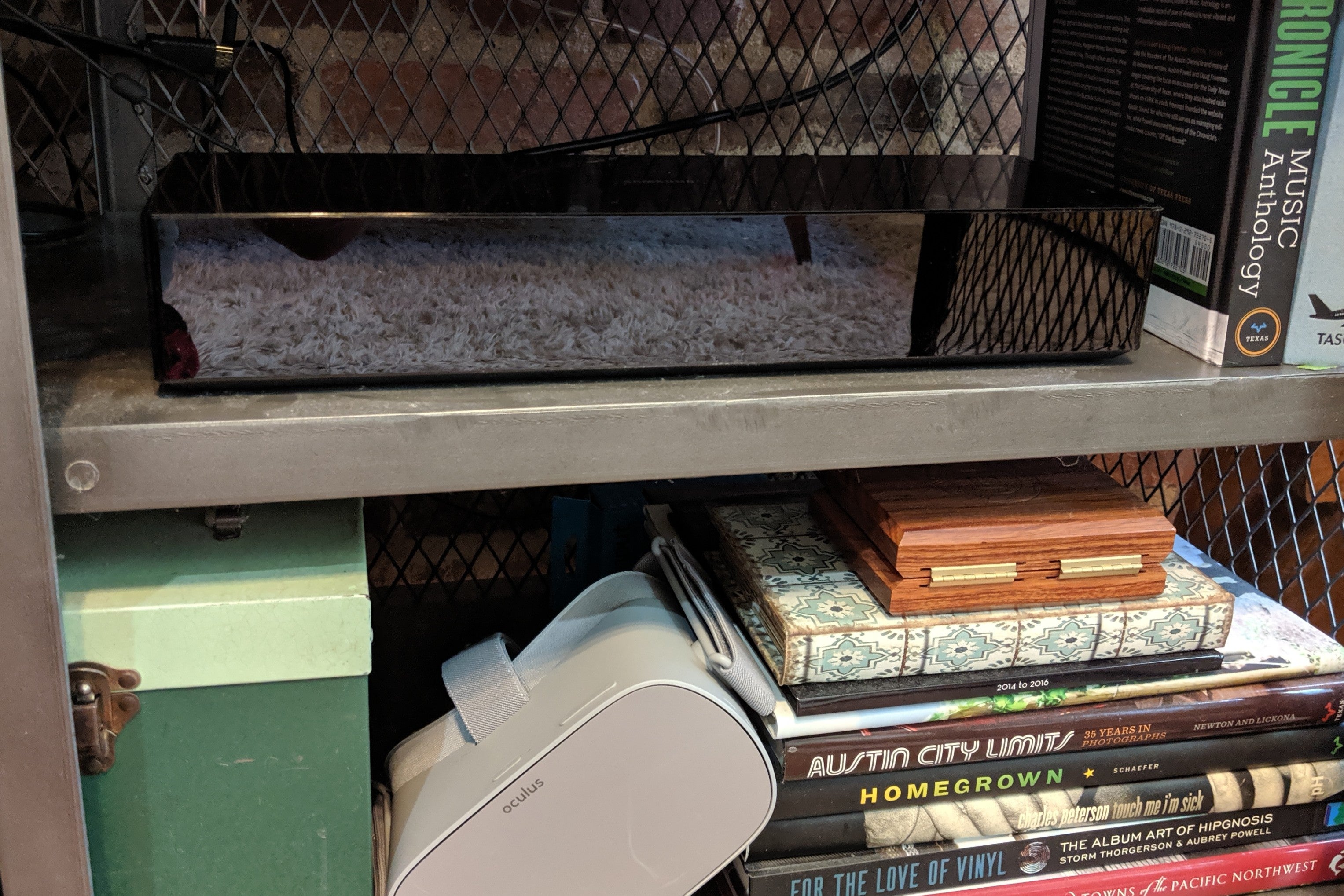 You should also expect to spend a little more each month. You'll be prompted to upgrade your Netflix to the premium UHD for $15.99 (compared to the standard $12-per-month HD plan). You can find some new releases to rent on Vudo and FandangoNow for as little as $5.99, but they're often considerably more expensive than standard HD releases, especially if you're looking to purchase the title. And that's if you're lucky enough to find what you want to watch in UHD. 
The streaming revolution isn't quite ready for 4K. FuboTV is the only live TV streaming service that offers anything in 4K, and even then, the service only does a limited amount of live sports (most notably the 2019 FIFA Women's World Cup). Hulu has basically abandoned 4K altogether, and Amazon's 4K Prime content is limited mostly to its own original productions. (You should really check out Catastrophe and Fleabag.) 
With all the said, if you're ready to make the jump to 4K, you'd be hard pressed to find a better TV than the Samsung QLED. 
This article has been edited for clarity.
The Daily Dot may receive a payment in connection with purchases of products or services featured in this article. Click here to learn more.