Whether he's the only person onstage or accompanied by the E Street Band, watching Bruce Springsteen play can be life-changing. He's got plenty of charm to boot (and might be one of the few people to take a beer out of the hands of a fan, drink it, and be applauded for it), but something magical happens when he picks up his guitar or sits in front of a piano and starts to play for what can feel like forever and no time at all. His fans are everywhere in the stadium, and no matter how many times they've seen it, they're just as transfixed as they were the first time.
Springsteen on Broadway has a similar kind of magic bottled up. Filmed earlier this year at the Walter Kerr Theatre in New York City, Springsteen reels you in from the first moment to deliver what can feel like an intimate gospel that he's delivering directly to you—one that's often heartfelt and emotional as Springsteen breaks down aspects of his myth.
Springsteen on Broadway

RELEASE DATE: 12/16/2018
DIRECTOR: Thom Zimny
STREAMING: Netflix
Bruce Springsteen's wildly successful (and nearly impossible to see) Broadway show is recorded for Netflix. Springsteen peels back the layers, revealing a man who's thought long and hard about the life he's led alongside stripped-down performances of his hits and rarer gems.
"Standing before you is a man who has become wildly and absurdly successful writing about something of which he has had absolutely no personal experience," Springsteen tells the audience early on. "I made it all up. That's how good I am."
Springsteen admits that he—like the New Jersey boardwalk town where he came from—is "tinged with just a bit of fraud." He's never worked in the kinds of factories he sings about, has never done hard labor, worked a nine-to-five job, and, until he started his Broadway residency, had never worked a steady five-day-a-week job. He chose his father's voice, a man he called "my hero and my greatest foe," to meld with his own to tell the stories he weaved together in his songs. Even after writing "Born to Run" about getting the hell out of his hometown (and what would become one of his biggest hits), he ended up living only 10 minutes away from his hometown.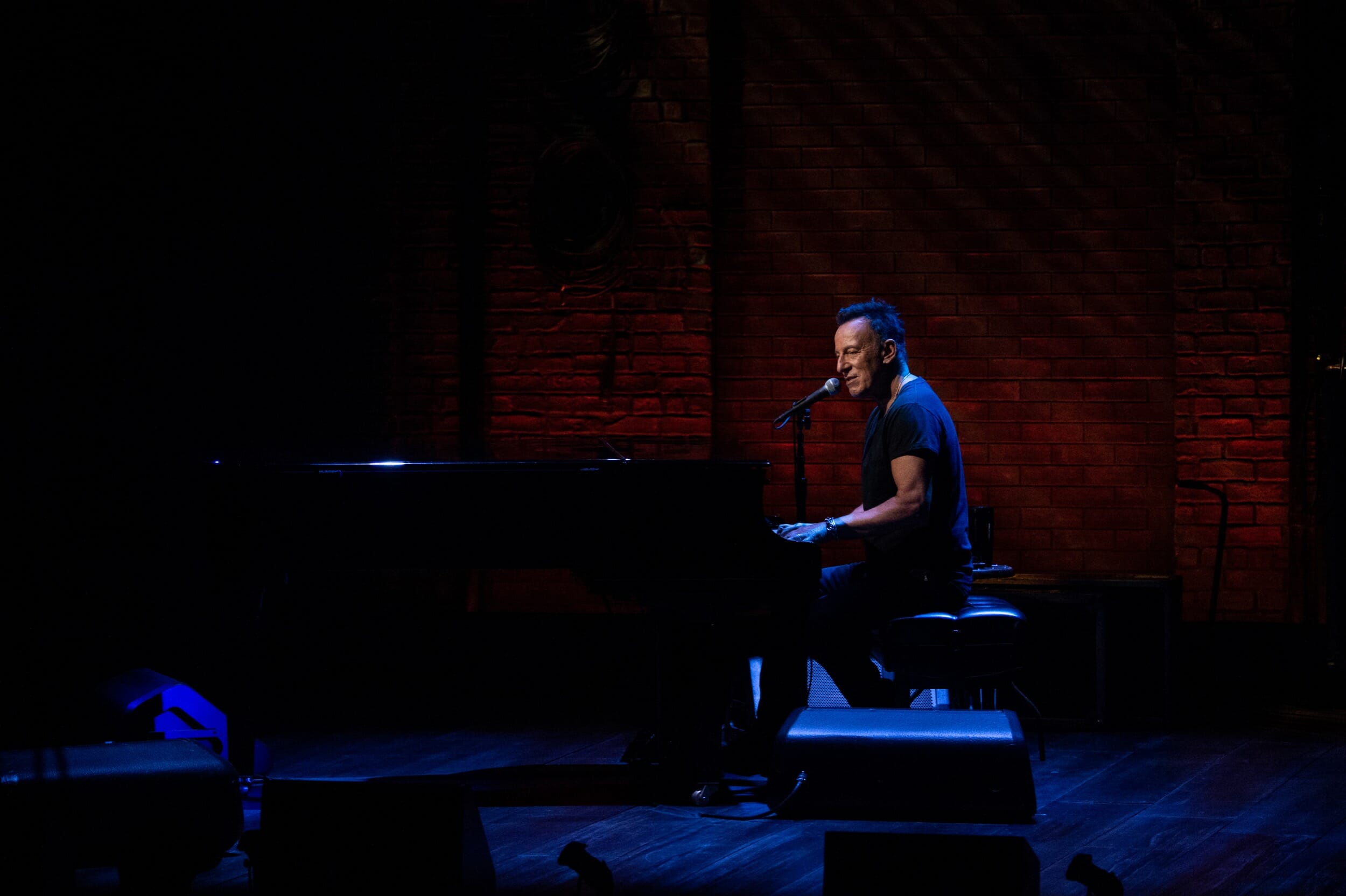 His confessions didn't deter his audience at all; it probably endeared him to them more, and for this Jersey native, there's something refreshing about the honesty of it all amid a state long known for its fraud—even if there's still a performance factor involved in that confession.
If you've read Springsteen's 2016 memoir Born to Run, much of what Springsteen discusses during his show (which clocks in at around two-and-a-half hours) covers familiar territory. He looks back on growing up in Freehold, New Jersey, surrounded by family; learning to drive during his first cross-country road trip with his band; listening to the experiences of Vietnam veterans in California; and on the eve of becoming a father himself, getting a surprise visit from his father, who apologized (in his own way) for not being there for him.
Some of Springsteen's biggest hits are among the songs he chooses to perform—some of which may be nearly unrecognizable in their rawest and most stripped-down forms. He becomes visibly emotional talking about the E Street Band saxophonist Clarence Clemons, who died in 2011, and he brightens up when his wife, the singer Patti Scialfa, joins him onstage; the sexual tension between them as they duet on two songs is palpable.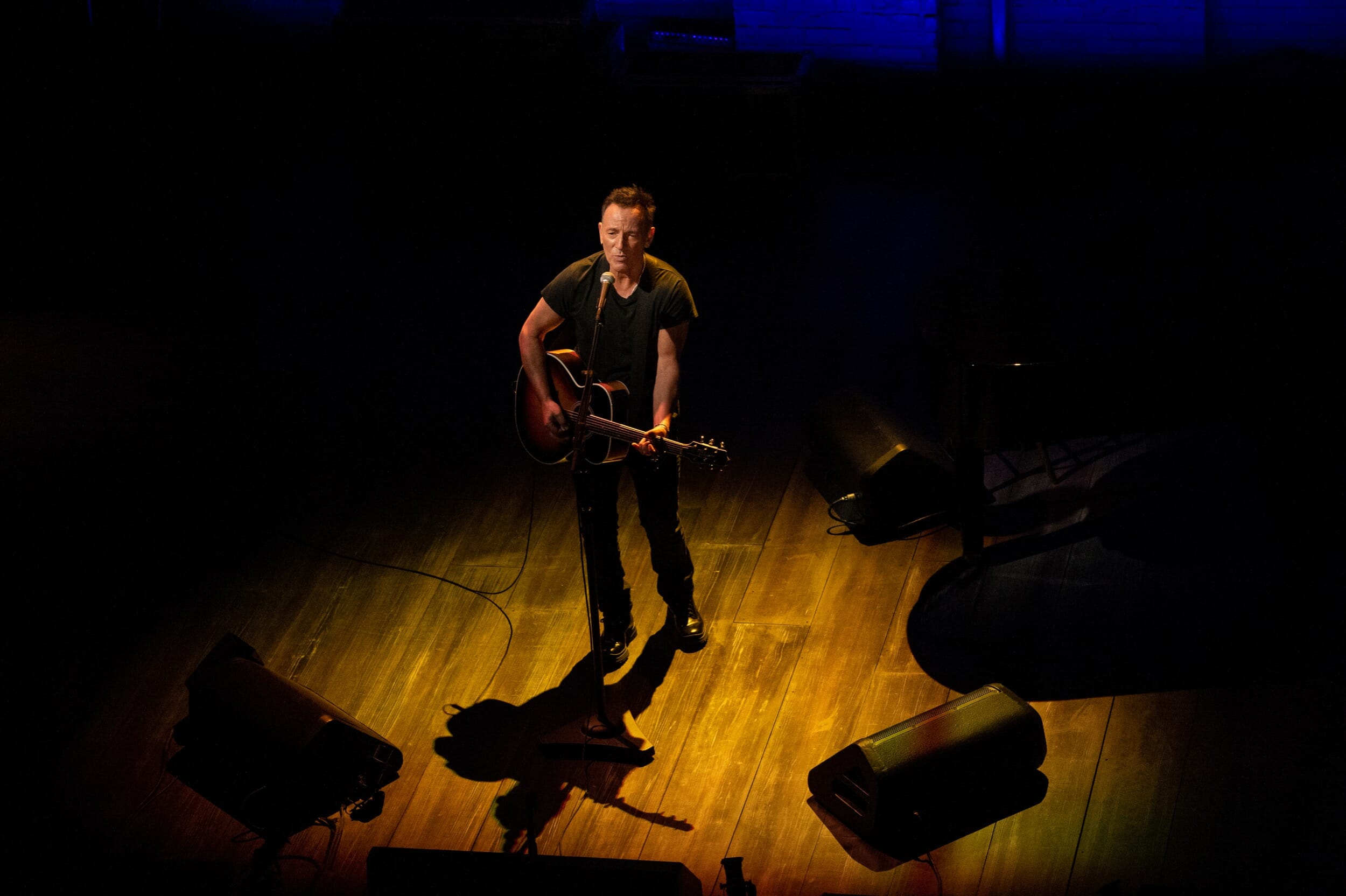 All of this plays out on a barebones stage with his piano serving as the biggest setpiece. Oftentimes, it's just Springsteen, that piano, and sound equipment, and for many of the songs, he'll pull out the guitar (and sometimes a harmonica). Although the audience claps, laughs, and cheers during his performance, it's not until he finishes his final number that you see them for the first time. Director Thom Zimny chooses to largely focus the camera on Springsteen himself, often through extreme close-ups with the lighting to set the mood and give it a kind of intimacy that a four-hour Springsteen stadium concert—for all of its euphoric highs—could never replicate. Early on, I turned the lights off while watching it, which helped fuel that feeling even further; it wasn't until the loud reaction to one of the show's final numbers that the audience's cheers broke that illusion.
Springsteen on Broadway will debut on Netflix Dec. 16, just hours after he performs his final show on Broadway. It was one of the biggest shows in town, but for many Springsteen fans and Broadway aficionados, it will be the only way to see it. The show sold out almost as soon as Springsteen released new waves of tickets. During its final two weeks, the cheapest ticket on StubHub was nearly $1,800. But if you were lucky enough to get the chance to purchase a ticket, it could still put you back $500.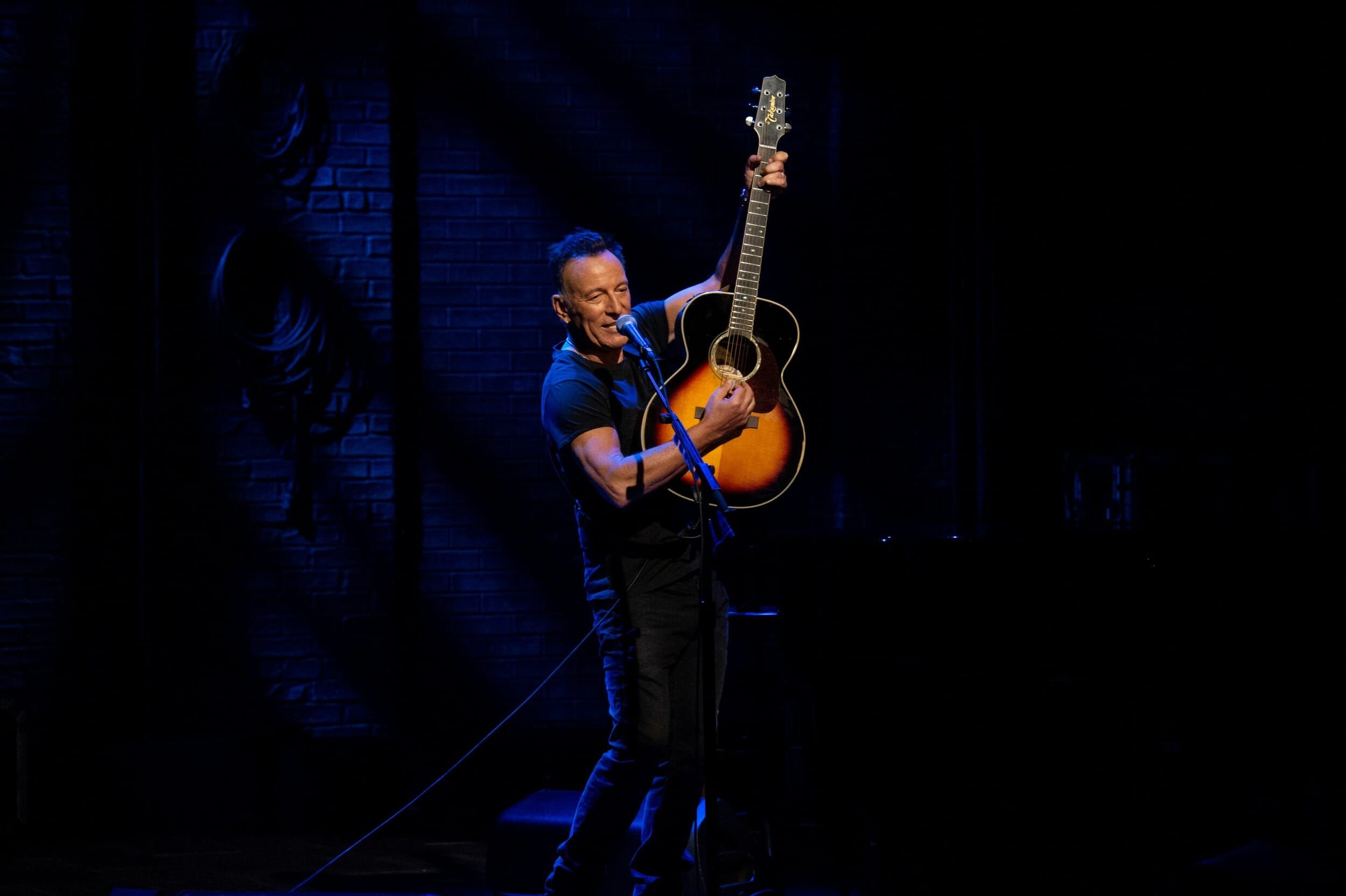 It will take very little to convince Springsteen fans to watch this special; some of them will likely be sold after seeing "Springsteen" in the title. For those who aren't as into his music or those who aren't familiar with him at all, Springsteen on Broadway is a raw demystification of a legend in a way we don't often see when personas are crafted through music and social media. His successes, failures, how his family and town shaped him, and how he sees himself are all up there for us to see, and we can leave having a better understanding of it all. That just might be his greatest magic trick of them all.
Still not sure what to watch on Netflix? Here are our guides for the absolute best movies on Netflix, must-see Netflix original series and movies, and the comedy specials guaranteed to make you laugh.
Need more ideas? Here are our Netflix guides for the best war movies, documentaries, anime, indie flicks, true crime, food shows, gangster movies, Westerns, and movies based on true stories streaming right now. There are also sad movies guaranteed to make you cry, weird movies to melt your brain, and standup specials when you really need to laugh. Or check out Flixable, a search engine for Netflix.