Ken Jeong begins his new Netflix special, You Complete Me, Ho, the only way the man who played The Hangover's Leslie Chow could: pantomiming masturbating onto audience members' faces and pulling the camera close to his own as he lip-syncs Wolfmother's "Joker & the Thief."
Ken Jeong: You Complete Me, Ho

RELEASE DATE:
2/14/2019
DIRECTOR:
Jon M. Chu
STREAMING:
Netflix
In his first-ever standup special, Ken Jeong relies on the same crude humor and tired Asian stereotypes that made him a star in 'The Hangover.'
The crude intro sets the tone for the rest of Jeong's hourlong set, filmed at Pasadena, California's Ice House. "Live comedy begins in the motherfuckin' clubs!" the doctor-turned-movie-star assures the crowd. "And it's an honor for me to entertain the lowers."
The 49-year-old actor spends the majority of his first-ever standup special reflecting on his past and marveling at the career he's built over the past decade, leaning on the same tired Asian stereotypes that he used to immortalize his Mr. Chow character. The comedian named the special after his wife, Tran Ho, a family physician and breast cancer survivor. "I married a Ho. That's like a wet dream to a comic!" Jeong exclaims. Now he can get away with adding "Ho" to the end of any sentence when he addresses his wife. Guess how long it takes for that joke to grow stale.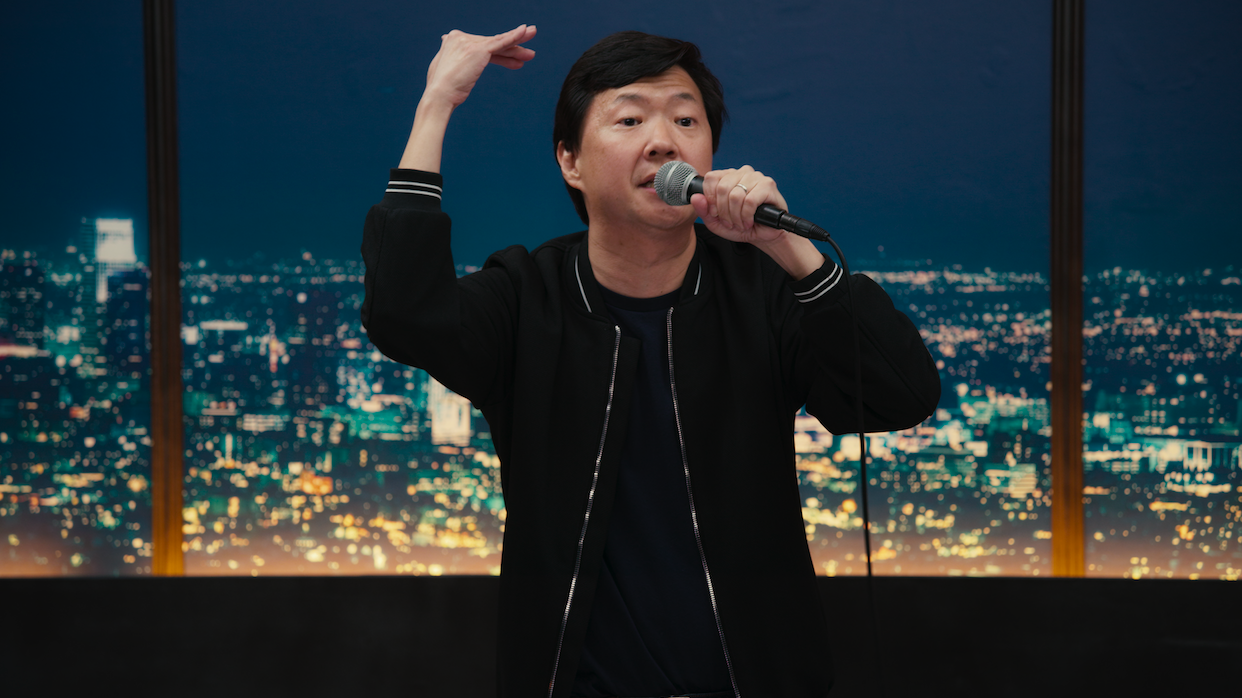 Jeong also used to work as a general practitioner ("the dumbest of all doctors") in California before making his film debut as the neurotic, irritable Dr. Kuni in Judd Apatow's 2007 raunch-comedy, Knocked Up. Two years later, he became a modern-day comedy legend starring as Mr. Chow in The Hangover, the ultra-crude slapstick/detective hybrid that went on to become the highest-grossing R-rated comedy in the United States. The Hangover became a sacred text for 15-year-old boys everywhere, and Chow's catchphrases—"Suck on these little Chinese nuts," "Toodle-oo, motherfucker!"—some of its most frequently cited passages. For Jeong, the pivot from doctor to actor was a no-brainer. "And then I said, 'Fuck that shit, I'll be naked and famous in a movie!'" he tells the audience.
Fans of The Hangover—specifically Mr. Chow's vulgar, batshit antics—should find You Complete Me, Ho to be a competent, energetic standup special. Everyone else will quickly tire of Jeong's shtick. You Complete Me, Ho amounts to little more than Jeong name-dropping his celebrity friends, such as Kevin Hart, Ice Cube, and Zach Galifianakis ("the funniest motherfucker alive"), and making fun of his and other Asian cultures. Jeong mentions his role in 2018's breakout hit Crazy Rich Asians—"or as we call it, Yellow Panther." He calls Vietnamese people's accents "a little fayish, a little dandyish," and drives the point home with an awkward impression. He even cites his own diminutive, effeminate stature as his motivation for never meeting President Donald Trump, shouting, "I don't wanna get Me Too'd by the president!"
Jeong is capable of more clever, dynamic comedy, as he demonstrated as Señor Ben Chang on Community. But it's his outrageous, one-dimensional dick-n'-balls humor that pays the bills, and that's what he delivers for the majority of You Complete Me, Ho. Things do pick up in the second half of the special when Jeong shouts out his wife, who passed her medical board exam two days before she began chemotherapy and continued to support Jeong's fledgling acting career as she underwent treatment. "You're the strongest person that I know," he tells her in a moment of complete sincerity.
This shoutout gives Jeong's special some necessary emotional heft, but it doesn't exactly make it funnier. If anything, You Complete Me, Ho illustrates just how much our collective sense of humor has evolved over the past decade. Movies like Crazy Rich Asians will hopefully pave the way for more critically and commercially successful films featuring Asian actors and directors. As more comedies and comedians continue to offer nuanced social commentary and observations on everyday life, Jeong's profane, stereotypical humor seems archaic by comparison. Nobody can fault the man for milking his shtick and reveling in the fame and fortune it's earned him. But maybe it's best if we all made way for something a little more sophisticated.
Still not sure what to watch tonight? Here are our guides for the absolute best movies on Netflix, must-see Netflix original series, documentaries, docuseries, and movies.
Need more ideas? Here are our Netflix guides for the best war movies, documentaries, anime, indie flicks, true crime, food shows, gangster movies, Westerns, and movies based on true stories streaming right now. There are also sad movies guaranteed to make you cry, weird movies to melt your brain, and standup specials when you really need to laugh. Or check out Flixable, a search engine for Netflix.