On Jan. 1, 2019, a mysterious new Instagram account launched hyping up a new band, Nasty Cherry, claiming it was going to be the "best band of 2019." 
I'm with the Band: Nasty Cherry
RELEASE DATE:
11/15/2019
PRODUCER:
Charli XCX
STREAMING:
Netflix
Netflix makes the band.
Having never played a show and with no music online, that seemed like a lofty statement to make. Throughout the past 11 months, intrigued fans have since learned that Nasty Cherry is an alt-pop band manufactured by pop star Charli XCX. The group's aesthetic and sound is like a mashup of the Runaways, Garbage, Spice Girls, and Jose and the Pussycats. The band has released a handful of singles, music videos, and already played sold-out shows in Los Angeles and New York. 
Now new Netflix docuseries I'm with the Band: Nasty Cherry provides an origin story for the group and shows how Nasty Cherry almost didn't survive its first few months as a band.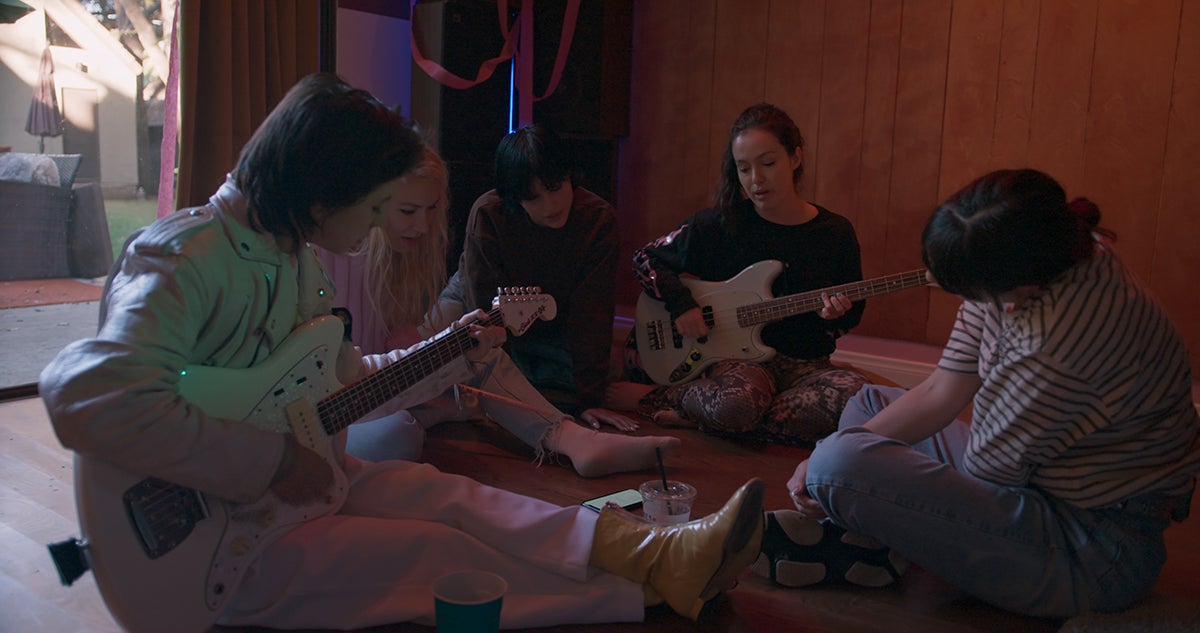 Nasty Cherry is comprised of four women—two experienced musicians and two who have never performed in a band before. Georgia Somary is a U.K.-based production assistant who learned bass just to join Nasty Cherry; Debbie Knox-Hewson is also U.K.-based and was Charli's touring drummer; Gabbriette Bechtel is a model brought onto the project to serve as the lead singer; and Chloe Chaidez is the band's guitarist who is most famously known as the lead singer of Kitten. 
Together, the group brings a diverse range of experiences, personalities, and expectations for one another. In the docuseries, the girls move in together, meet for the first time, write original music, and play their first shows—all in the span of four months. Essentially, Charli XCX puts Nasty Cherry inside a pressure cooker and hopes that they will live up to the hype she's created on social media. 
Unsurprisingly, the immense pressure to be the best band of 2019 takes a toll on the group. The six episodes of season 1 follow Nasty Cherry as they work to write music, collaborate with other musicians, rehearse, and market their project as passive aggression builds within the group until they reach a breaking point. To keep it entertaining, the docuseries often feels more like a reality TV show in which four women were randomly selected to live and play music together. It also often feels scripted, with the girls often wearing the same outfits in interviews over the span of several episodes. 
Charli and Netflix have marketed this docuseries as an inside look into what it takes to make it in the music industry. If you ask 90% of bands if that's accurate they'll probably tell you that it's not. Most bands spend years working tirelessly—playing to empty rooms, spending hundreds of dollars on recording, and making little money in return— to make it to where Nasty Cherry was before they even released a single. On the other hand, a handful of musicians might actually point out that it's truly about who you know in the business.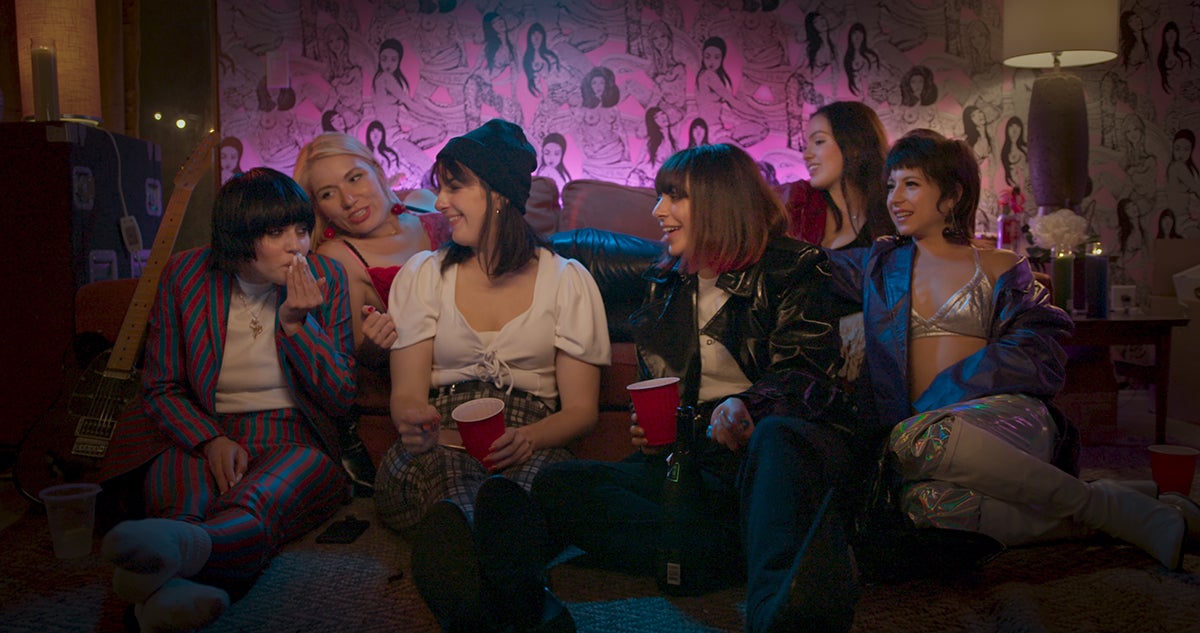 The concept of engineering a girl group is also not novel—it's more like a nod to the origin of pop music on Tin Pan Alley in the early 1900s. On one hand, it doesn't make total sense why Charli XCX needed to curate a band half made of novice musicians, when she could be investing in hardworking bands like the Aces, Hinds, THICK, or even HAIM. On the other hand, it's inspiring to see that no matter your age or your musical background, a dream career in the music industry is attainable. (At least, if you know the right people.) 
This series is also heavily marketed as feminist and being about girl power. The band is obviously all-female and Charli even hires a female manager, Emmie, for them. But when the show attempts to really dive into issues women deal with in the industry, it falls short. For example, when Nasty Cherry asks if they can collaborate with more women in their recording sessions, Charli oddly snaps at them and says she offended by the idea that women are less empowered if they work with men. Instead of understanding that she has the opportunity to highlight female-identifying producers on a major platform, Charli decides to get defensive about her own legacy. It feels like a missed opportunity and it's hard not to cringe when watching the four bandmates profusely apologize. 
Nevertheless, I'm with the Band: Nasty Cherry only adds to the allure of the band and gives it one hell of an origin story. The series keeps its viewers hooked and gives Nasty Cherry a win.
Still not sure what to watch tonight? Here are our guides for the absolute best movies on Netflix, must-see Netflix original series, documentaries, docuseries, and movies.
Need more ideas? Here are our Netflix guides for the best war movies, documentaries, anime, indie flicks, true crime, food shows, gangster movies, Westerns, and movies based on true stories streaming right now. There are also sad movies guaranteed to make you cry, weird movies to melt your brain, and standup specials when you really need to laugh. Or check out Flixable, a search engine for Netflix.