Over the past few years, filmmakers have tried to relaunch the romantic comedy. Due partially to '90s nostalgia and partially to depressing current events, audiences appear eager for digestible romances with feel-good endings—and streaming services are churning them out faster than anyone can consume them. The latest entry is Hulu's loose adaptation of the 1994 British comedy Four Weddings and a Funeral, which still holds up today as a classic rom-com. Centered around a group of friends who attend, as the title suggests, four weddings and one funeral, the original shines due to its script and likable characters. But the new series, which debuts on Wednesday, adds nothing to the genre. It's flat-out bad and, at times, nearly unwatchable. 
Four Weddings and a Funeral

RELEASE DATE:
7/31/2019
CREATORS:
Mindy Kaling and Matt Warburton
STREAMING:
Hulu
This loose remake of the 1994 British comedy is full of rom-com cliches and heavy on pop culture references but light on substance.
Co-created by Mindy Kaling and Matt Warburton—who worked together on Kaling's The Mindy Project—Four Weddings and a Funeral often feels more like the Mindy Project than its source material. A cringeworthy amount of modern pop culture references will surely age this series quickly. (A few minutes into the pilot, the characters have already referenced Fyre Festival, "Despacito," and Meghan Markle.) But one of the most disappointing aspects of Four Weddings and a Funeral is how it further enables the "clumsy woman in a rom-com" narrative. You know—that woman who is always dropping things on the ground, having wardrobe malfunctions, and generally being an awkward person.
The series opens on Maya (Game of Thrones' Nathalie Emmanuel) in exactly that role. Somehow, her bra ends up in a fish tank in the home of her boss—whom she is dating, of course. Maya is supposed to be a smart, successful communications director and speechwriter for an American politician, but in a perplexing move, she puts on her wet bra under her button-down shirt. Someone at her office then asks her if her shirt is wet, and she says no. As you have likely discerned by now, none of this makes any sense.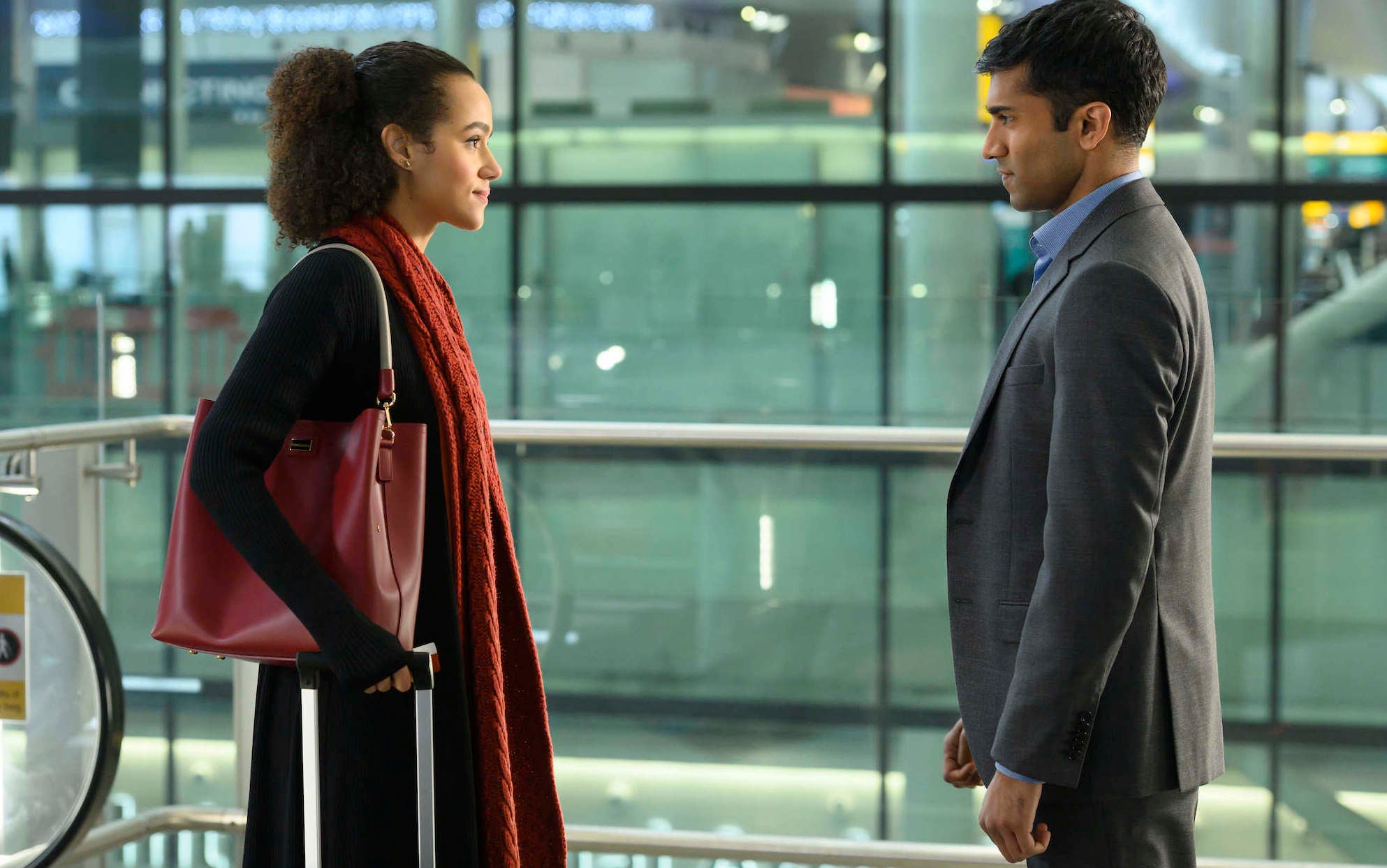 Whether Kaling and Warburton are trying to parody or perpetuate rom-com tropes is unclear. Maya is a conundrum: a smart woman who wears wet bras to work and obsesses over her (married) boyfriend/boss. In the pilot, she yells at London Heathrow Airport workers over lost luggage, insisting she can't buy new clothes because she doesn't "understand British sizes." This really happens!
At the airport, Maya meets the charming Kash (Nikesh Patel), whom the show presents as a possible romantic interest. But later that day at a romantic comedy-themed 30th birthday party (yep!) for her best friend Ainsley (Rebecca Rittenhouse), Maya learns Kash is Ainsley's boyfriend. The rest of the series explores a possible romance between Maya and Kash despite his involvement with her best friend. So the series sets up Maya, its protagonist, as a bad friend who makes questionable decisions. Emmanuel deserved better—both in this series and on Game of Thrones. 
The ensemble cast, however, often gels. Craig (Brandon Mychal Smith) is a funny, upbeat finance guy with a secret; Gemma (Zoe Boyle) is Ainsley's uptight yet caring neighbor; Duffy (John Reynolds) is a teacher and aspiring novelist with a long-held crush on Maya; and Zara (Sophia La Porta) is Craig's girlfriend who becomes a reality TV star. All seven main characters, including Maya, Ainsley, and Kash, get a lot of screentime, and the series develops each character's story. But it's the minor characters, like Kash's friend Basheer (Guz Khan), Fatima (Rakhee Thakrar), and Marcus (Fleabag's Jamie Demetriou), who steal scenes.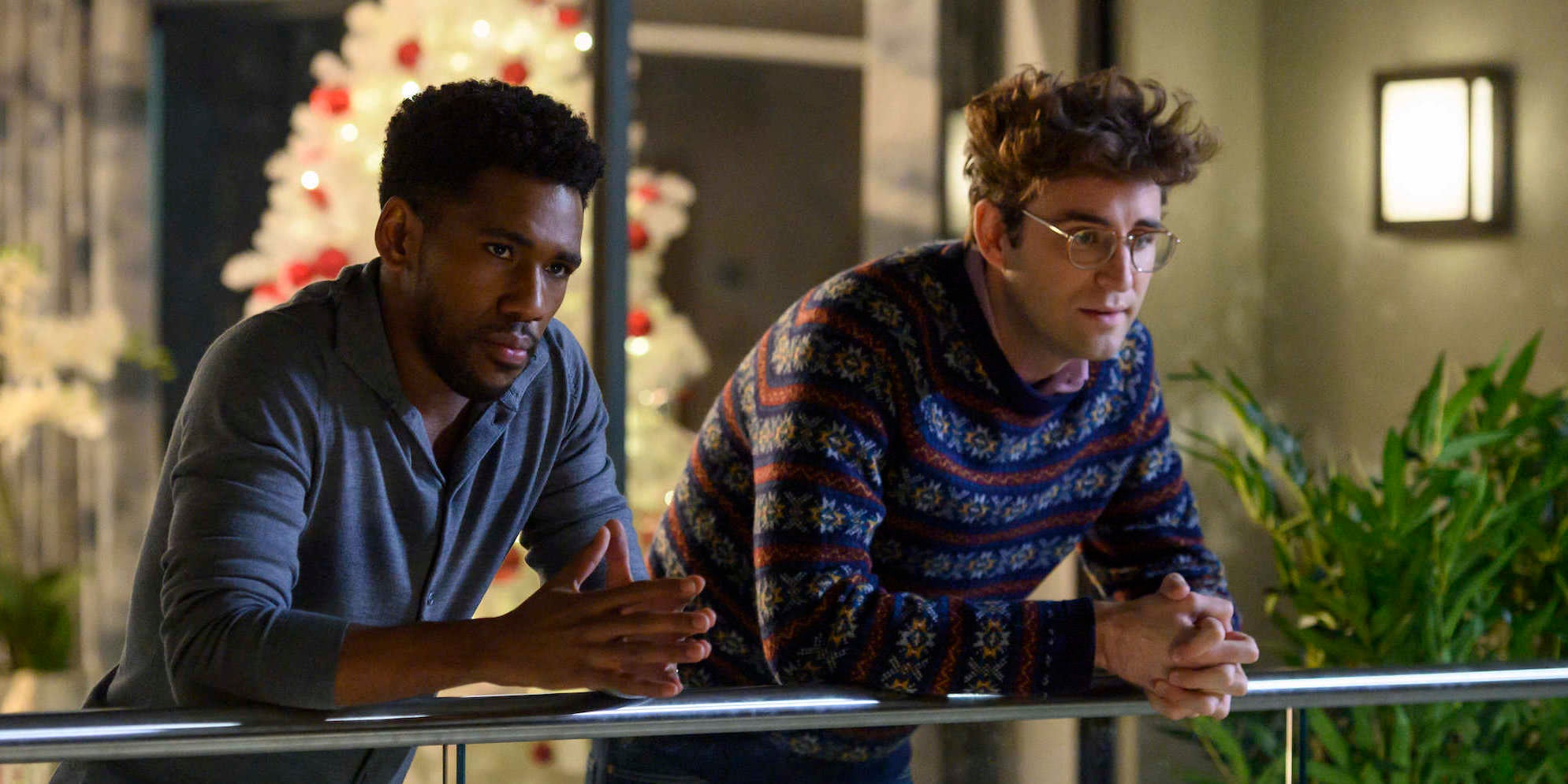 Four Weddings and a Funeral doesn't share much with its namesake beyond the events listed in the title. The series has cameos from the original cast (such as Andie MacDowell) and a few nods to scenes from the movie, but otherwise, it's a nightmare mishmash of rom-com tropes. It's great to see a more diverse cast than the traditionally all-white leads that popularized the genre, but the series doesn't give them anything interesting to do.
I've watched seven of the 10 episodes made available to critics, and it seems like the show is leading up to an inevitable Maya-Kash romance. Maybe the ending will satisfy, but for now, it's going the way of Something Borrowed, in which the lead starts a relationship with her best friend's fiancé. Hopefully this series doesn't end with two best friends not speaking to each other over a man. You're better off watching the original Four Weddings and a Funeral on Netflix come August 1 than wasting your time with this deeply frustrating series.
Still not sure what to watch on Hulu? Here are the best movies on Hulu, what's new, the best shows on Hulu, the sexiest movies you can stream on the service, Hulu documentaries, anime, and the must-see Hulu originals. 
Looking for something more specific? Here are the best thrillers, serial killer movies, and action movies to get your heart racing, classic movies when you want a blast from the past, sad movies when you need a good cry, adult cartoons, and funny movies on Hulu when you need a good laugh.