Channing Tatum and Jessie J are officially an item once again, and Tatum is already jumping to defend his girlfriend from jerks on social media.
The two first got together toward the end of 2018, half a year after Tatum and ex-wife Jenna Dewan called it quits after being married for nine years. It didn't take long for people online to start pointing out the physical similarities between Dewan and the "Price Tag" singer–and the comparisons have continued to follow the couple throughout their relationship. 
Tatum and Jessie J split in December, but it was only a few weeks before rumors swirled that they were already back together. They made it Instagram official on Friday. Tatum posted a photo of them cozying up together in unicorn hats.
And while we all know there are always people offering up unsolicited opinions all over the internet, particularly when it comes to unnecessarily pitting women against each other, one lame comment on the photo caused Tatum to go out of his way to clap back.
"Jenna looks better with you," Instagram user @alexisak184 wrote, harkening back to the old Jenna-Jessie comparisons.
And the Jupiter Ascending star was not here for it.
"Hey Alex I don't usually address shit like this," he wrote. "But you seem as good a of terrible happy people hating thoughtless person as any of them. Why don't you seriously think about what your [sic] doing. It's hurtful and i ain't about it."
He then went on to specifically defend his lady: "If you can't not be a horrible hatful [sic] person on my page and support the infinite and untouchable beauty and woman that Jess is… please kindly get the TF out of here. No one wants you here. Especially me. And ain't no body more stunning and more beautiful to look at but even more as a human than Jess. And yeah that includes my ex."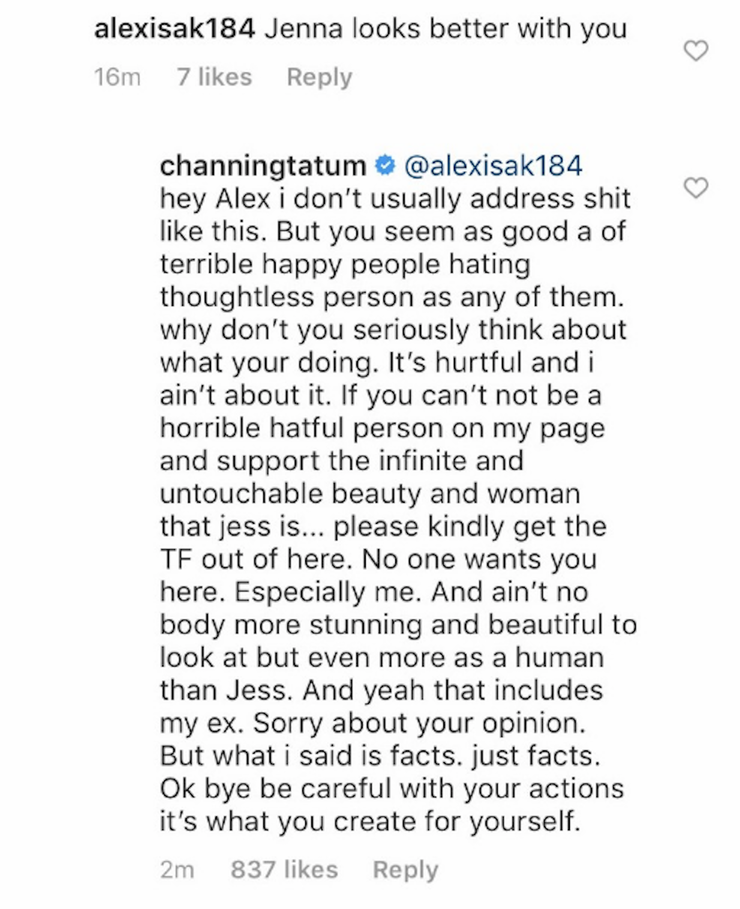 Tatum later clarified his remarks.
"And just to be super clear for the other people that love to turn shit around. Jenna is beautiful and amazing in her own right," he later added. 
He ultimately turned the post's comments off entirely and instead followed up with another photo of Jessie on her own, captioning it, "Sculpture of magic."
READ MORE:
H/T iHeart Radio