YouTube users who want to get paid are beginning to turn toward a new web browser that makes use of cryptocurrency and could allow content creators to get around the social media platform's evolving payment system.
As reported by Polygon, YouTubers are beginning to flock to Brave, an open-source browser that blocks ads and allows users to decide for themselves who gets paid what.
That's accomplished with Brave Payments, which lets users anonymously contribute money to their favorite content producers while not having to worry about avoiding (or outright) blocking the ads that allow YouTubers to get paid normally.
In November, Brave announced on its blog that users could donate Basic Attention Tokens (BAT) to fund their favorite YouTube personalities.
"YouTube viewers can either distribute contributions based on the time they spend viewing the material or by 'pinning' a set amount for a particular channel," Brave said in a blog post. "… The Brave browser provides an ad-free YouTube video experience. It also enables a direct monetary relationship between the content creator and their audience. Compensation for YouTube creators no longer needs to be based on vague rules or mercurial algorithms, as users can decide who to compensate. This new ability will especially benefit YouTube creators who have under 10,000 lifetime views, as they do not receive ad revenue from YouTube."
The new payment system has been a sore spot for YouTubers in general.
After YouTube's "adpocalypse" cut some vloggers' daily revenue by 80 percent last year, leading to outrage by many who contribute to the site, YouTube announced a new monetization policy last month. As of this week, YouTube said a content creator must have more than 1,000 subscriptions and 4,000 watch hours in the previous 12 months to remain in the YouTube Partner Program. It's a decision that affects smaller YouTube channels, and in the past month, many of them have expressed anger and sadness at YouTube's decision.
Brave is trying to capitalize on that angst.
Said the company: "We look forward to seeing a new category of content creators on YouTube get rewarded via BAT. We plan on extending BAT to additional user-generated content platforms so that more creators can benefit from audience support, and anticipate seeing BAT's utility grow as it supports more creators and publishers in our digital advertising and services platform."
Here's what a Brave users' online wallet could look like as they contribute to their favorite sites.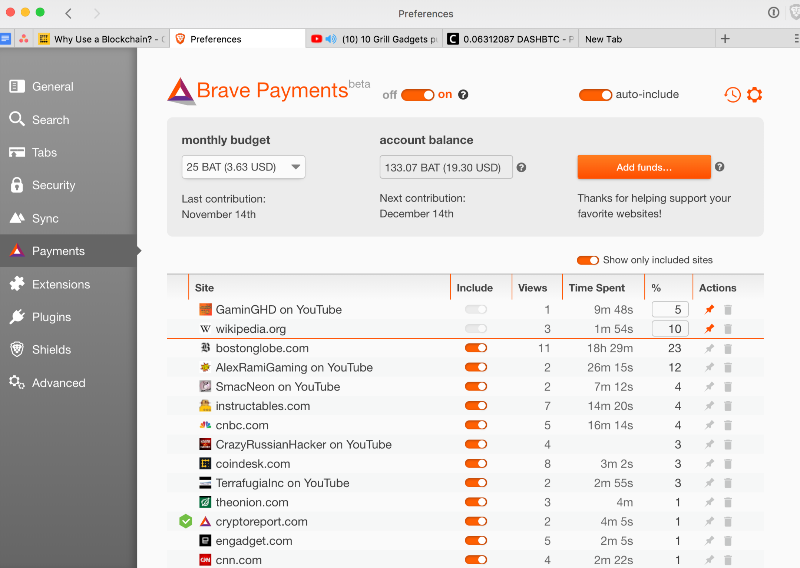 Brave is also giving away $1 million in BAT if YouTubers convince their followers to download the browser—content creators will receive $5 in tokens for each person they successfully refer.
Brave received a big boost in recognition last month when YouTube star Philip DeFranco tweeted this after YouTube announced its new monetization policy.
For those losing your partnership with Youtube I highly recommend you create a shirt on Teespring, you start a Patreon, and make sure you're a verified publisher on Brave (They're even giving away $1 million in tokens to incentivize support for creators). https://t.co/3YdgeS2JC9 pic.twitter.com/RGqyHgJdlr

— Philip DeFranco (@PhillyD) January 17, 2018
As DeFranco said in a video last month, via Polygon, "The way that I over-simplify [Brave] to my friends is that it's essentially like YouTube Red, but you can choose if you want your money to go to someone or not, because you can do these monthly payouts based on what you actually watch."
It's, of course, impossible to know if Brave can start a revolution for how YouTubers are compensated or if it'll simply burn up in the volatile cryptocurrency universe. But clearly some content creators are thinking about how to make up for YouTube's new payment rules, and Brave is providing one interesting option.