Makeup artist and drag performer Alexis Stone, aka Elliot Joseph Rentz, is famous for his amazing transformations. He has transformed into celebrities such as Post Malone and Adel and even pulled off fake plastic surgery in a video that left fans totally shocked.
But this new video might be his most impressive (and disturbing) one yet. Marvel as a full-grown adult becomes Kylie Jenner's baby Stormi right before your eyes.
The video has racked up nearly 100,000 views since being posted to YouTube on April 14, and a shorter version has over 200,000 views on Instagram.
People seem to find it equal parts impressive and upsetting.
"What the— this is easily one of the most talented yet scary makeups looks i've ever seen," one commenter wrote on YouTube
"I watched this while completely baked and let me just say it's just as surreal and horrifying when im sober," said another.
Things start out pretty normally in the video as Stone puts on some foundation. But the video takes a turn for the bizarre when he draws a tiny baby nose on top of his own.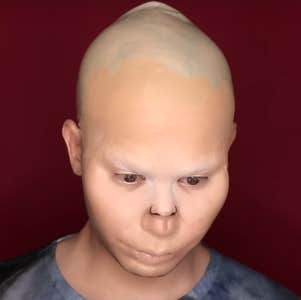 Things get progressively weirder when Stone starts applying red makeup to their chin so it will blend into the red backdrop.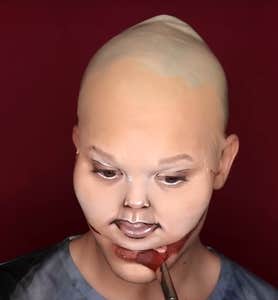 The completed transformation is undeniably impressive, but
to paraphrase Jeff Goldblum,
"They were so preoccupied with whether they could, they didn't stop to think if they should."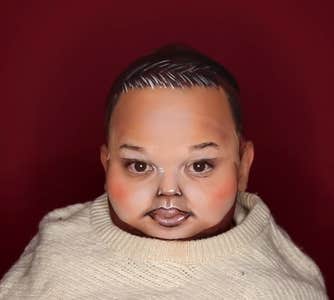 "Makeup transformation into Kylie Jenner's baby Stormi! hilarious and weird I know," Stone wrote in the video's description.
Truer words have never been spoken.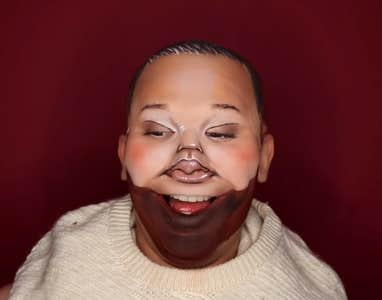 READ MORE: