My Little Pony fandom is a thriving subculture that's been  featured prominently in mainstream media of late, thanks to the advent of the bronies and the popular animated television show My Little Pony: Friendship Is Magic.
What most people might not know is that fans and collectors of My Little Ponies have kept the franchise going strong for years—and not just with officially produced toys, but with custom varieties, like those shown at the annual My Little Pony Fair, a collectors' convention which draws hundreds of "original" designs each year.  
The advent of the Internet has made such gems much easier to find. But along with the prizes are some slightly off-kilter renditions of "ponies" for sale that might be less enticing. We've corralled our favorites into the not-quite-as-magical lot.
Pretty Ponies, neighing lightly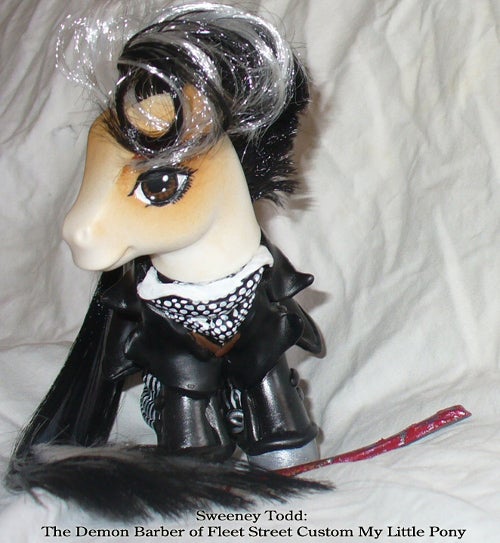 Nothing says cute and cuddly like homicidal maniac Sweeney Todd, the Demon Barber of Fleet Street. This pony, inspired by the Johnny Depp rendition of the famous Sondheim musical, helpfully comes complete with blood-drenched razor. Just don't think too hard about what's in those meat pies. (Hint: it's not horse.)
Image via mayanbutterfly.com
In space, no one can hear you neigh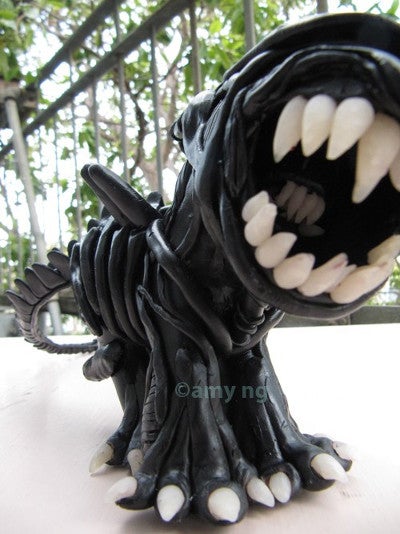 This well-done shocker can be yours for just under $400—if you can stop screaming long enough to click "purchase," that is.
Image via Etsy
No, no, and no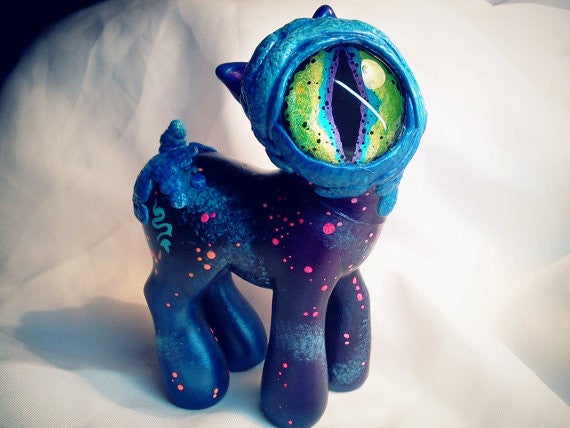 NO.
Image via Etsy
The joke's on you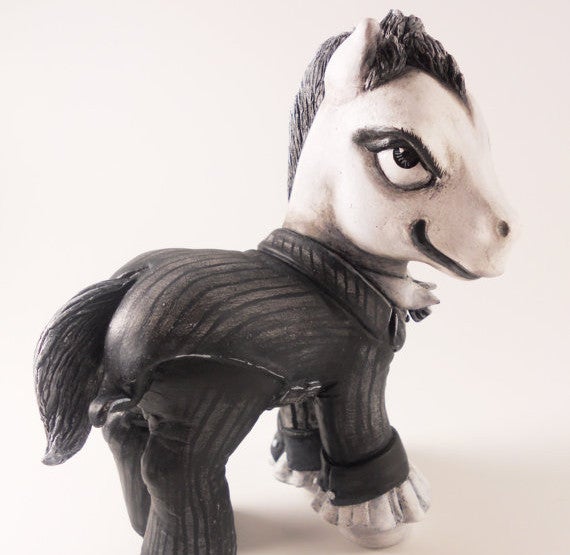 The Joker goes to Arkham asylum in this odd but menacing Pony mashup.
Image via Etsy
What is it good for, again?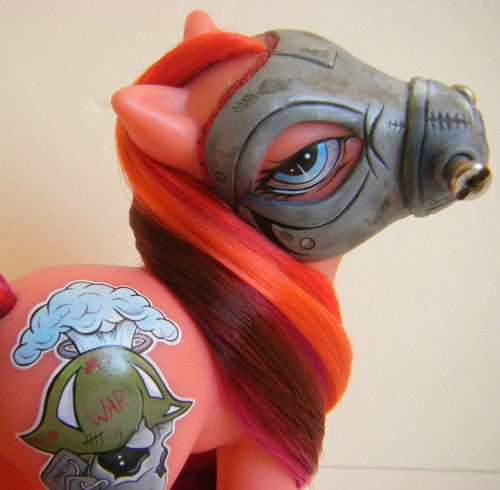 This is the nastiest in a series of the four horsemen as actual horses. Pair it up with the zombie pony below for all your apocalyptic needs.
Image via eBay
Twiponies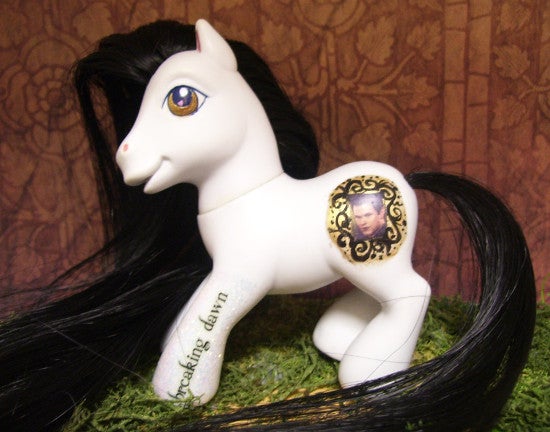 This very special pony wearing the seal of Twilight minor character Emmet Cullen is one of a series of Twilight-inspired ponies on sale by the vendor. But this one is our, er, favorite. Who can resist a pony with a Cullen-emblazoned derriere? 
Image via Etsy
Take note, Romero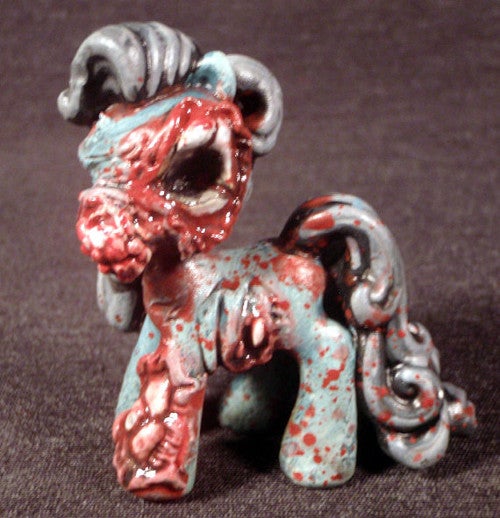 Just knowing someone bought this gory zombie horror is enough to give us nightmares.
Image via Etsy
Nothing says "cute" like being mortally wounded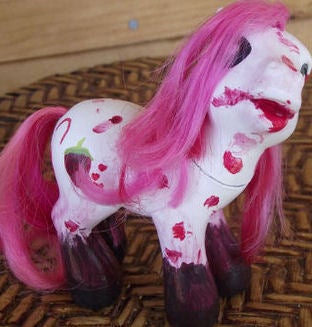 Continuing the death-and-bloodshed trend, we have … whatever this is. "Her eyes and all the bloody spots are sealed with a high-gloss sealer for that freshly shed blood effect," this Ebay seller helpfully informs us. Thanks for that extra attention to detail. It really makes a difference!
Image via eBay
Just because you can, doesn't mean you should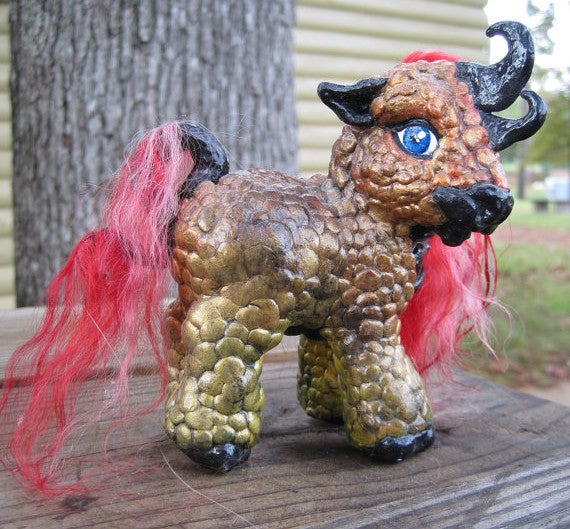 A ki-rin is a variant of the "Qilin," a mythological sort of goat-dragon-tiger-giraffe…thing found in East Asian mythology, sometimes called the "Chinese Unicorn." More recently it's been incorporated into Dungeons & Dragons. This pony represents why China is now calling to demand its folklore back.
Image via Etsy
He's a pony!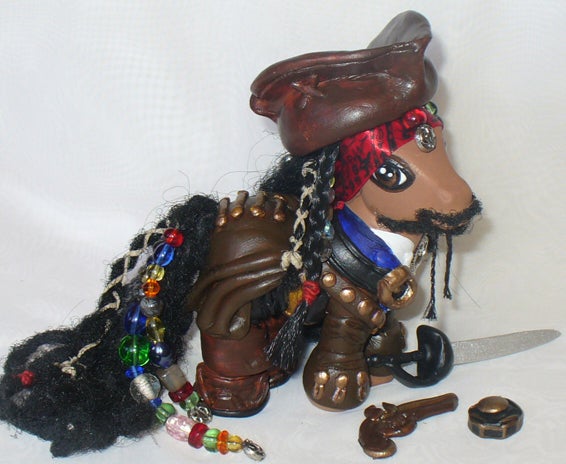 This pony's got enough swag to make the real Jack Sparrow jealous. We're just not sure that's a good thing!
Image via mayanbutterfly.com