Doctor Aaron Tabor spends his days selling nutritional and anti-aging products with names like Slim & Beautiful Diet Vanilla In Vogue shake and the Dramatic Rescue Anti-Aging Wrinkle Serum. On Facebook, however, he's found his true calling.
Every day 15 million people follow Tabor's micro-sermons on Jesus Daily, the most popular landing page for God on the largest social network in the world.
More importantly, it's consistently been the most engaging page on Facebook. More people talk about Jesus Daily—via shares, likes, and comments—than any other page on  the social network, religious or otherwise. With anywhere around 5 million people talking about the page at any given time, it routinely trounces Facebook's own brand page, which has 87.5 million likes but only 2.3 million people talking about it, and the official page for pop star Rihanna.
In fact, his page is so popular that, according to Tabor, Facebook has assigned a liaison to communicate with him on a regular basis.
"This is the largest opportunity in history to tell the world about Christ," Tabor said via phone with the confidence of a born proselytizer.
Jesus Daily isn't the exception. It's the rule. On Facebook, God is king.
Social congregations
For proof, one only needs to look at the numbers. The five most popular religious pages on Facebook—including Jesus Daily—combine for more than 28.6 million likes and have 14.7 million people talking about them this particular week. These run the gamut from supporting specific ministries (like Joel Osteen's) to hugely successful, image-centered pages like Tabor's.
The followers of God on Facebook likely have a deeper connection to their own spirituality than they might to a musician or movie star or politician.
"For many Christians their religion is a master motive in life," Dr. Ralph Hood, professor at the University of Tennessee-Chattanooga and coauthor of Psychology and Religion, told the Daily Dot via email. "Everything is placed under this concern and hence the profound interest."
Added Dr. Peter Hill, professor at Christian school Biola University and one of Dr. Hood's coauthors: "[For many spiritual people] religious identity is solidified through their personal friendships, which now includes social media.
"In social psychology… we call this a reference group. Reference groups may be even more important to people who feel marginalized, which is the perception of many religious people in today's secular society."
The doctors' theories are in tune with Tabor's own explanation. But Tabor also believes that the Internet's anonymous nature— even on a platform like Facebook, which requires its users to give their real name—makes people feel safe to express their religiosity.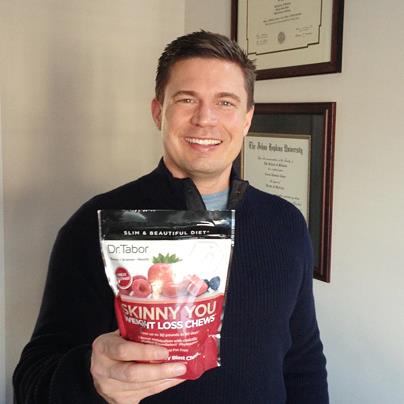 "It's not openly in your face," said Tabor, pictured right. "It's not standing on a street corner and preaching. It's just a simple click of a button."
Facebook's immediacy and passiveness makes it easy for Christians to express their faith. Clicking that button takes a lot less work than wearing your Sunday's best to church.
But to reach this social congregation, evangelists have to cater their message to the platform. A sermon like "Sinners in the Hands of an Angry God" by the 18th century Great Awakening pastor and theologian Jonathan Edwards would never cut it. A meme, however, will most definitely get the Facebook's proverbial thumb's up.
Fred Alberti recognizes this need to repackage the message. He's the director of social media for Salem Web Networks, owner and operator of GodVine.com and its Facebook page, which has 3.3 million likes and averages a weekly engaged audience of more than 1 million.
"As Christians we need to be aware of what's happening in the culture around us," he told me over over the phone. "Being timely and relevant to that culture is going to result in higher engagement."
No other Facebook preacher is better at this than Tabor. The moonlighting doctor has made regulars of his fans because he knows how to tap into what people are talking about and uses it to his advantage.
He proudly cited a post he published during the height of the supposed Mayan apocalypse as an example of how he tapped into the cultural zeitgeist. Tabor took Buddy Christ, a parody icon from Kevin Smith's decidedly anti-religion film Dogma, and repurposed it for his page.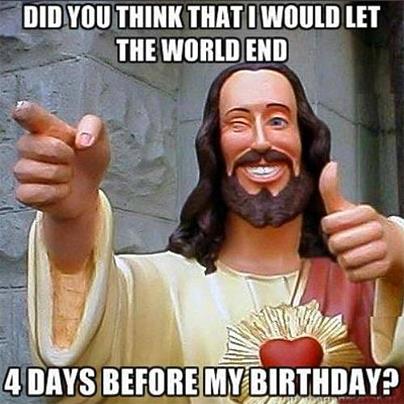 Photo via Jesus Daily/Facebook
The image received 230,679 likes and was reshared 65,642 times.
Tabor also tries his hand at popular memes. On Christmas, he posted the Success Kid meme with the superimposed  text "Back off devil, I belong to Jesus!"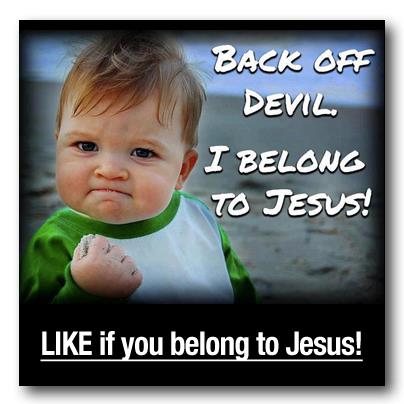 Photo via Jesus Daily/Facebook
The repurposed meme was liked by 305,093 people and reshared 29,793 times.
"I don't evangelize on every post because you'll otherwise burn out your base," he explained, "which is why I often put up photos of babies, animals, and puppies and add the gospel message to that."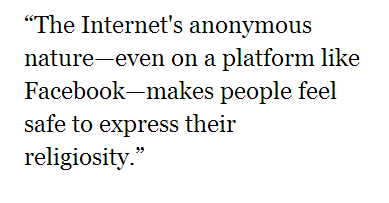 So how do Jesus Daily and GodVine beat out major brands in Facebook popularity? They understand how the Internet works.
"A failure of big brands is that they're always too heavy on their message," Tabor proclaimed. "It's going to be very hard to get a lot of people to like something about a motor vehicle. You're missing a big opportunity on Facebook if you don't interweave your serious message with lighthearted content."
He added, "Each post is essentially a popularity contest because of Edgerank."
Edgerank is Facebook's proprietary algorithm, which decides what content makes it to a person's news feed. It's been a scourge for most Facebook pages since the company modified it in September 2012. Many claimed their audience engagement dropped considerably. Former Star Trek star and surprising Facebook celebrity George Takei wrote a scathing post on his Facebook page lambasting the social network for alienating its users to make a quick buck.
For Tabor and his ilk, however, Edgerank has been a boon, helping their pages increase their reach instead of throttling it.
Their reach extends beyond the United States' borders, too. Tabor estimates that 58 percent of Jesus Daily's visitors are international, and he can't wait for Facebook to be available in China, where it's been blocked since July 2008. There's an estimated 70 million Chinese Christians who attend underground churches, and he thinks Jesus Daily will help bring them closer to God.
"I have people writing from all places of the world saying 'I didn't know there were other Christians in my area,'" he said.
The digital collection plate
If Tabor wanted to make money off of Jesus Daily, he easily could. There's a lot of value in having one of the most engaged communities on Facebook. Despite this, he refuses to cash in.
In this sense, Tabor is the exception. Almost every major Christian-focused Facebook page is a money-making enterprise.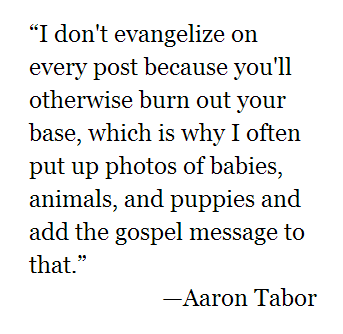 The majority of these, like GodVine, are operated by companies who own religious Web properties.
Jesus Loves You has over 1 million fans and has a people talking about this (PTAT) of 1.2 million. Much like Tabor's page, it publishes highly sharable content, mostly images and popular memes repurposed with a Christian bent. The majority of their posts, however, link to Jesus-loves-you.org, a site owned by Greater Good Network. It's replete with Google ads, so each time the page loads for a new visitor, the site gets some financial compensation—a small tithe from the search-engine giant that could amount to substantial earnings over time.
Other popular Christian pages employing the same strategy—using a link that redirects users to ad-riddled sites—include I love Jesus Online (4.2 million likes and a PTAT of 1.2 million) and Jesus Christ Savior (3.8 million likes, 1.7 million PTAT). Both are owned and operated by BeliefNet. (BeliefNet declined to comment for this article.)
To GodVine's credit, they've been are fairly open about capitalizing on people's religious beliefs.
"We do want to make money," Alberti said. "At the end of the day I have to be able to go home and feed my family. But at the same time, there's this balance of being able to minister to a group of individuals.
"We can build up their faith, we can make them feel better, and I can send my daughter to college while doing so."
Alberti said he's getting paid to do what he loves, and that's it.
"I think it's a passion that we have, a calling that we have to be able to minister to millions of people across the world."
But where is the line between legitimate advertising and spam?
Tre Loren, a self-proclaimed photographer and entrepreneur, runs four God-oriented Facebook pages: I Can Do All Things Through Christ Who Strengthens Me, John 3:16, I Love Jesus, and God. Of these, only I Can Do All Things Through Christ Who Strengthens me has a sizeable enough following worthy of exploitation—the others haven't been updated in months—and he's making progress on that front.
Much like GodVine and Jesus Loves You, Loren's page—2.1 million likes and 745,177 PTAT—is full of inspirational and highly shareable images that contain a link to an outside site littered with Google ads. But that's not all. If his sizeable audience won't go to where the ads are, he'll just bring the spam to them.
WWJD
Tabor might not be making a single dollar from Jesus Daily, but it has certainly opened a lot of doors for him to deliver his evangelizing message.
Over a year ago, Tabor began assisting reality television producer Mark Burnett and his wife, actress Roma Downey, in the production of The Bible, a 10-part series airing on the History Channel in March. He's also gotten members of collegiate nonprofit Campus Crusade for Christ to help with the page's administration. Tabor hopes to grow his volunteer base from a handful of people to up to 5,000. From the looks of it, Jesus Daily will only continue to grow.
I asked Tabor if Jesus would use Facebook if he were alive today.
He laughed. "When he was alive, Jesus would find out where the largest religious discussion were being held in any given city and would speak.
"He would have absolutely used Facebook."
Photo via Jesus Daily/Facebook