Do you manage a Facebook page? Did it look like your reach was really low over the past few months? Did you cough up cash to perform better? Well, maybe you should ask for your money back.
Earlier today, the company admitted that a bug in its analytic tools has been underreporting page reach for months. Pages are Facebook's platform for brands and organizations. Page managers can use what Facebook calls "insights" to analyze how popular their posts are.
The accuracy of those numbers is extremely important.
Facebook's algorithm works to ensure users don't get bombarded with updates to their news feeds. That means that every follower you have won't necessarily see every post you publish. If you think your engagement is too small—say, only 20 percent of your readers are getting a chance to look at your stuff—you can pay Facebook anywhere from $5 to several hundred to promote a post to your audience. (Check out the image to see what this looks like.)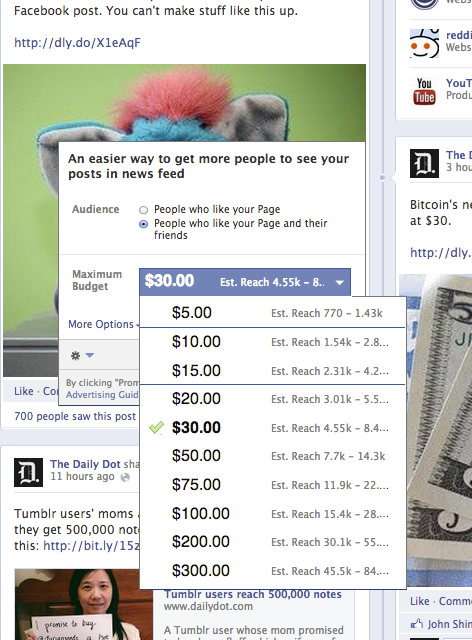 Interestingly, the analytics bug was noticed last November, when Facebook first introduced sweeping changes to its algorithm. At the time, angry page managers—who'd just seen their page engagement plummet—accused Facebook of holding their audience hostage: Facebook was intentionally reducing reach to force managers to cough up cash.
Facebook insisted the changes to its algorithm hadn't actually affected reach, despite data to the contrary provided by independent analytics firms. That claim is more believable now that we know data was underreported all along.
In a conference call last month, Facebook COO Sheryl Sandberg bragged that almost a half million pages had paid to promote posts.
That begs the question: How much money has Facebook made from frustrated page managers who paid to promote posts when they didn't actually need to?
Photo by DonkeyHotey/Flickr