Something about quarantine is really bringing all the Kyles and Karens out in force. In the latest example, a white woman by the name of Amy Cooper called the cops on a Black man for requesting that she leash her dog in a public park.
In a viral video circulating online, Amy Cooper can be seen in New York's Central Park, grappling with her unleashed dog. A man, who has already requested that she leash her dog, then begins filming.
At the start of the video, the woman seems to be ignoring the man behind the camera. According to the woman who shared the video, the man filming is her brother Christian Cooper, who is not related to Amy Cooper. After a moment, the woman realizes she is being filmed and approaches the camera. Christian Cooper can be heard asking her to keep her distance as she nears.
"Sir, I'm asking you to stop recording me," she says repeatedly in the video. Her dog is restrained by a somewhat loose collar the entire time and appears extremely distressed. Due to Amy Cooper's clear agitation, she rarely stoops low enough to let the dog's front paws touch the ground.
When Christian Cooper refuses to stop recording, Amy Cooper announces that she is calling the cops.
"I'm going to tell them there's an African-American man threatening my life," she says.
Many commenters have pointed to this moment, in particular, as the most troubling in the video. Police altercations with Black men far too often end in bloodshed. Social media users say it is entirely possible that Amy Cooper was knowingly putting Christian Cooper's life in danger.
By the end of the video, Amy Cooper's dog appeared very distraught. Amy Cooper's aggressive handling, combined with the stressful environment, pushes the curly-haired dog to spin in more and more agitated circles around its owner. During the entire video, it appears to be struggling for air.
As Amy Cooper gets police on the line—repeatedly informing them that an "African-American man" was recording her "and threatening me and my dog,"—her dog loses its patience. Audibly struggling for breath, it begins desperately attempting to shift its stance so that all four paws can be on the ground.
Meanwhile, Amy Cooper appears on the verge of hysteria. As her dog finally collapses to her feet, gagging and coughing for air, Amy Cooper practically screams into her phone. "I am being threatened by a man in the Ramble, please send the cops immediately." Moments later, she finally attaches the leash to her gasping dog's collar. Christian Cooper thanks her and ends the video, having finally had his simple request adhered to.
The online reaction was swift. Within a day, #FireHer and #AmyCooper were trending on Twitter. After people discovered Amy Cooper's employer, demands for her firing began dominating Twitter timelines. Many people noted our nation's long history of white women making groundless accusations against Black men.
"There's nothing shocking about what #AmyCooper did," one user tweeted. "Black men have been thrown in jail, lynched, and burned alive for sh*t like this. These Karens have been the backbone of white supremacy."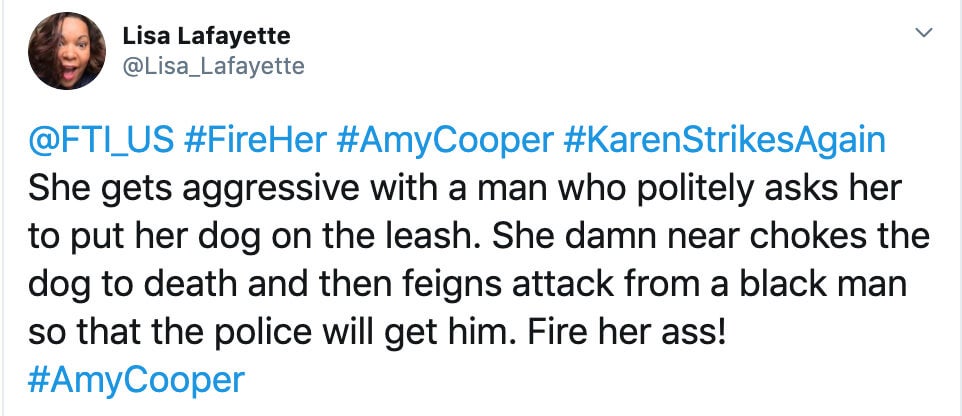 Other users were outraged by her treatment of the dog. They demanded that her dog be taken away and placed in a safer environment.


Some users noted a concerning trend they'd discovered on Amy Cooper's Instagram. In the short time that she's owned her dog, he seems to have experienced an inordinate number of accidents. One user jokingly called it "Munchausen by proxy."
Update 2:43pm CT, May. 26: After placing her on administrative leave and "investigating the situation," Cooper's employer decided to terminate her.
"Following our internal review of the incident in Central Park yesterday, we have made the decision to terminate the employee involved, effective immediately. We do not tolerate racism of any kind at Franklin Templeton," the company announced on Twitter.
She's seen repercussions when it comes to her dog, as well. The rescue that she obtained her dog from, Abandoned Angels Cocker Spaniel Rescue, Inc., posted an update to its Facebook page following the viral video.
"As of this evening, the owner has voluntarily surrendered the dog in question to our rescue while this matter is being addressed," the rescue wrote in the statement.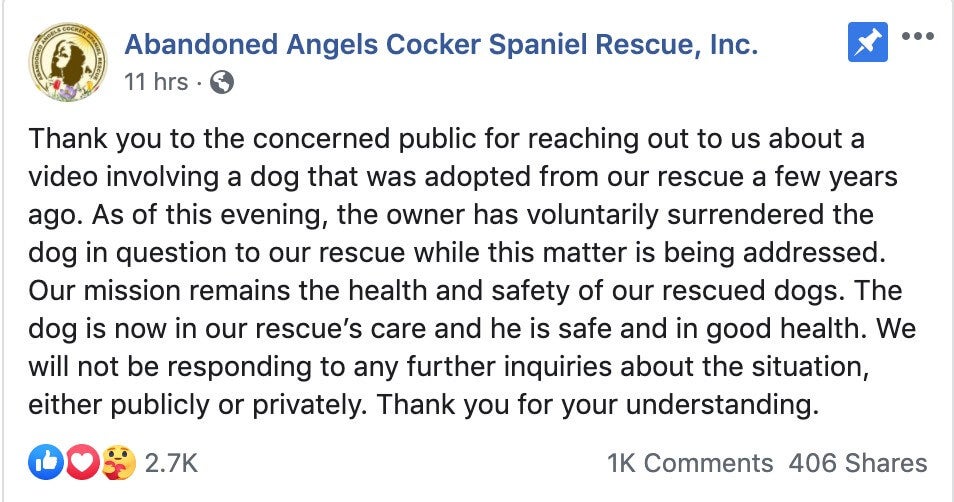 Amy Cooper said she wanted to "publicly apologize," adding she "is not racist" and that she "did not mean to harm that man in any way."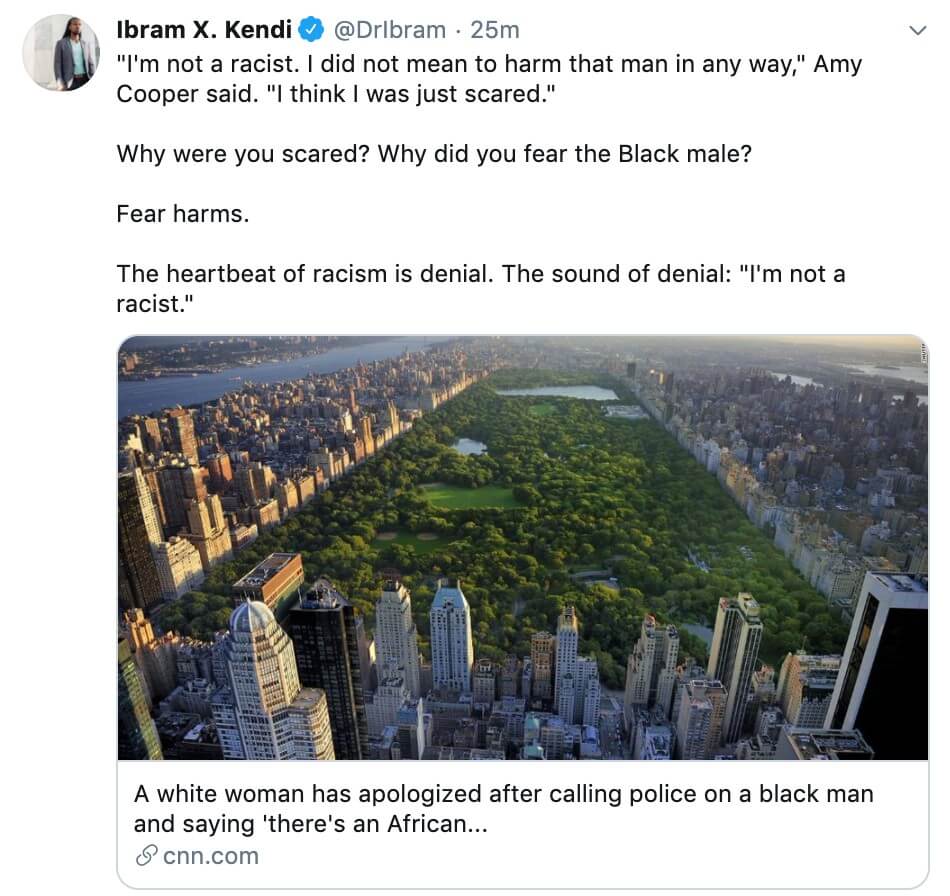 READ MORE: