If you were among those participating in the Daily Dot's Game of Thrones drinking game last night, we apologize for the hangover.
A number of beloved characters were lost in The Long Night. Dragons battled in the skies over the Stark stronghold, the Night King made his final push and finally, we saw an end to the great war. Through all the nail-biting moments, people managed to find plenty of meme-worthy material.
A lot of people had something to say about Bran's 'contribution' to the battle.
Bran: I'm going to go now.

Theon: Go where?

Bran: pic.twitter.com/bdLnLIkWOX

— Alexis (@ProfButtercup) April 29, 2019
Bran, the entire episode pic.twitter.com/MOzYPkuhIY

— Chris Long (@JOEL9ONE) April 29, 2019
Everyone wanted to know exactly where the Three-Eyed Raven decided to fly off to in the middle of the battle to end all battles.
I wish I could do this during most conversations I'm involved in

"I'm going to go now" #GameofThrones pic.twitter.com/CPCI2BIkPE

— David E (@DaSkrambledEgg) April 29, 2019
I still wanna know: "WHERE THE FUCK DID BRAN GO WHEN EVERYONE WAS BUSY FIGHTING?"

— Ferrero Rocher (@Rho_Roh) April 29, 2019
Bran, did you clean your room?

"I'm going to go now"#GamesOfThrones #GOT pic.twitter.com/5HanixIOjD

— George (@MyTentOrGeorge) April 29, 2019
Bran: I'm going to go now
Theon: Go where?
Bran: #gameofthrones pic.twitter.com/ZJ44ih9Bwf

— Rami (@jinxfrombuffy) April 29, 2019
No one could stop talking about the apex-levels of chick-power the episode was drenched in, either.
FIGHT LIKE A GIRL.#GameOfThrones pic.twitter.com/ygq6BGgDeW

— blessed mother (@lovelysophiet) April 29, 2019
Women's did all the job in this episode #GameofThrones pic.twitter.com/EUYMK5iRYa

— Fatma🐢 (@FR_69A) April 29, 2019
Even Lady Melisandre got some love, for her continuous assistance in the flame department.
https://www.reddit.com/r/GameOfThronesMemes/comments/bim147/put_your_lighters_up_for_the_lord_of_light/
And have I got a surprise for you! Look under your chairs! from GameOfThronesMemes
it was a pretty dark episode if u get me from GameOfThronesMemes
Mostly, people couldn't get over Arya's epic final takedown. We don't blame them, neither can we.
Nobody:

Bran:

Arya Stark of motherfucking Winterfell: pic.twitter.com/B9ybyczSZ4

— Will Bettelheim (@M_Swavey3) April 29, 2019
arya arya and arya being the most useful characters this episode #gameofthrones pic.twitter.com/ryNSb77ge3

— Emily (@whomsttryna) April 29, 2019
*Night King thinking he caught Arya*#GameOfThrones pic.twitter.com/t0KMxlofHA

— donny donowitz (@n_ouri) April 29, 2019
One thing's for sure—we won't be able to stop talking about this episode for a long time to come.
---
NOW HEAR THIS:
How linguist David J. Peterson created the Dothraki and Valyrian languages for Game of Thrones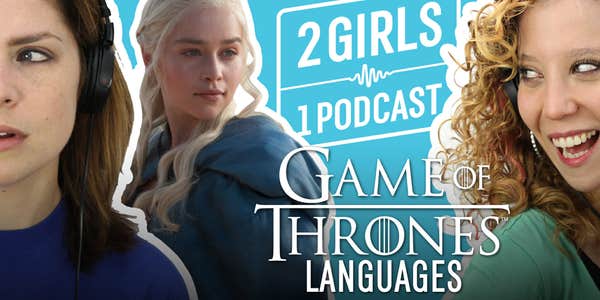 Introducing 2 GIRLS 1 PODCAST, a weekly comedy show where Alli Goldberg and Jen Jamula (two actors who perform bizarre internet content on stage) have hilarious and humanizing conversations with Bronies, top Reddit mods, professional ticklers, video game archaeologists, dating app engineers, adult babies, cuddling specialists, vampires, Jedi, living dolls, and more.
Subscribe to 2 GIRLS 1 PODCAST in your favorite podcast app.
---