Until recently, calling someone a "baby" was an insult. Babies cry, throw fits, and make messes. No adult wanted to be associated with the behaviors of a baby. Now, seemingly everyone wants to be a baby. Or, more accurately, just "baby."
What is the 'I'm baby' meme?
"I'm baby" became a meme after the phrase appeared in a screenshot of a text message exchange between a mother and daughter during a home invasion in 2017. The mother reportedly texted her daughter, "I'm baby. Call 911," as shown in images of the daughter's phone screen in news reports. According to Know Your Meme, the phrase then spread to Tumblr before making it to Twitter earlier this year.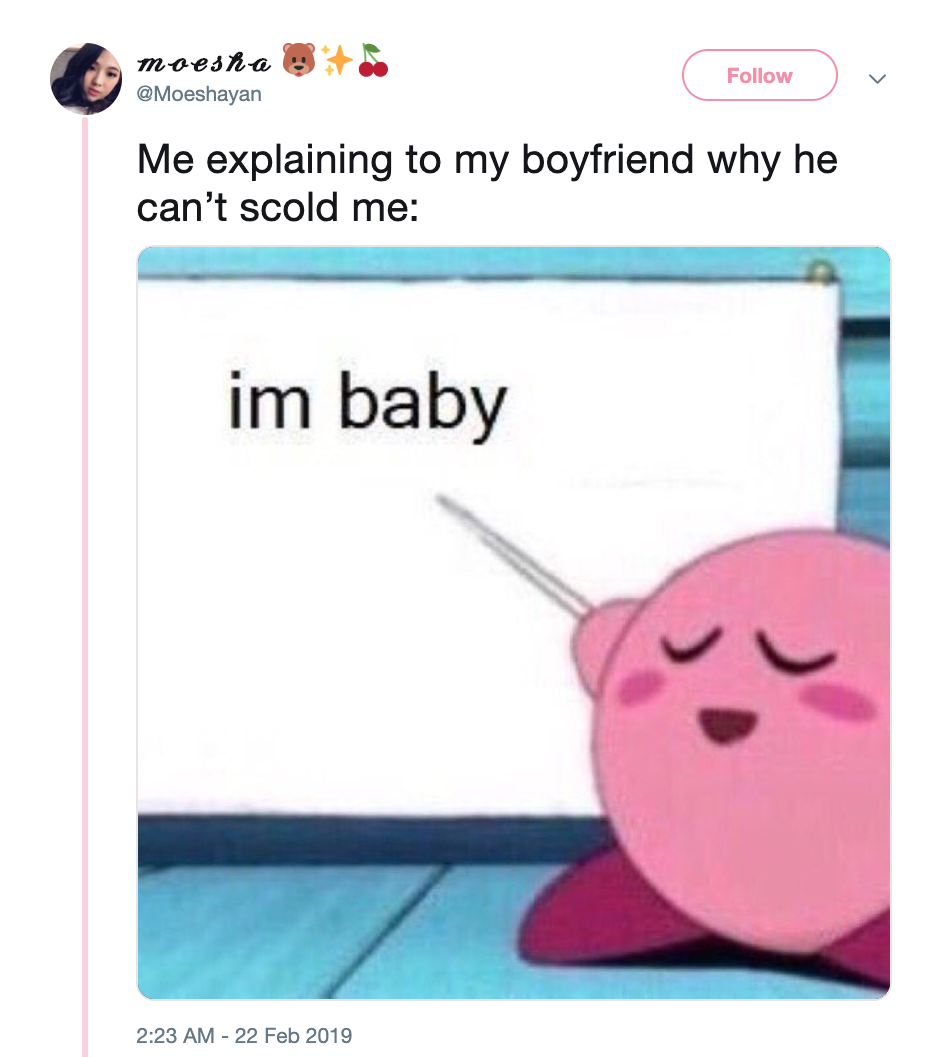 Besides coming up with different "I'm baby" jokes on Twitter, people also identified different signs of the zodiac as the "baby" in this meme, from Leo to Pisces to Aries.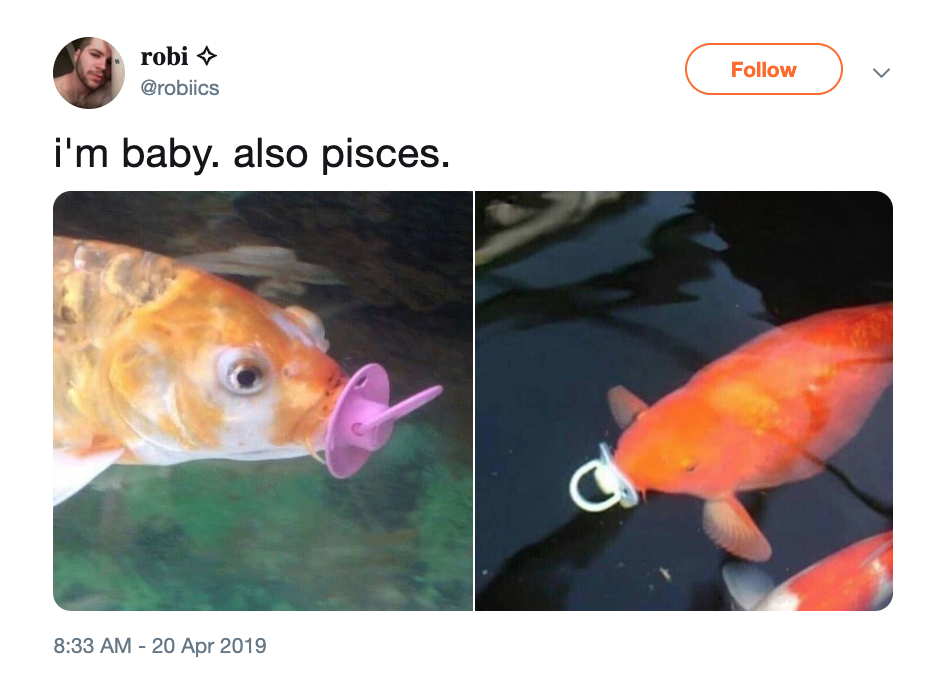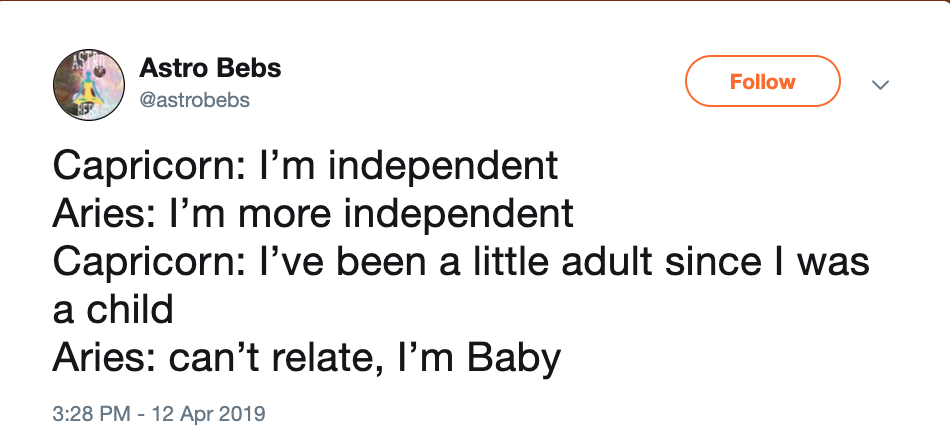 Why does everyone want to be baby?
So what is the appeal of "I'm baby"? Besides the fact that it's an extremely versatile meme, "I'm baby" is a way of rejecting the societal pressure to act like an adult at all times. Sometimes, we're moody. Sometimes, we cry over something trivial. Sometimes, we don't want to wash dishes or do our laundry. Sometimes, we're baby!
As the Cut put it, the "I'm baby" meme "taps into the current fatalistic mood: When everything in the world seems deeply doomed, it's comforting to just curl up and be, well, baby."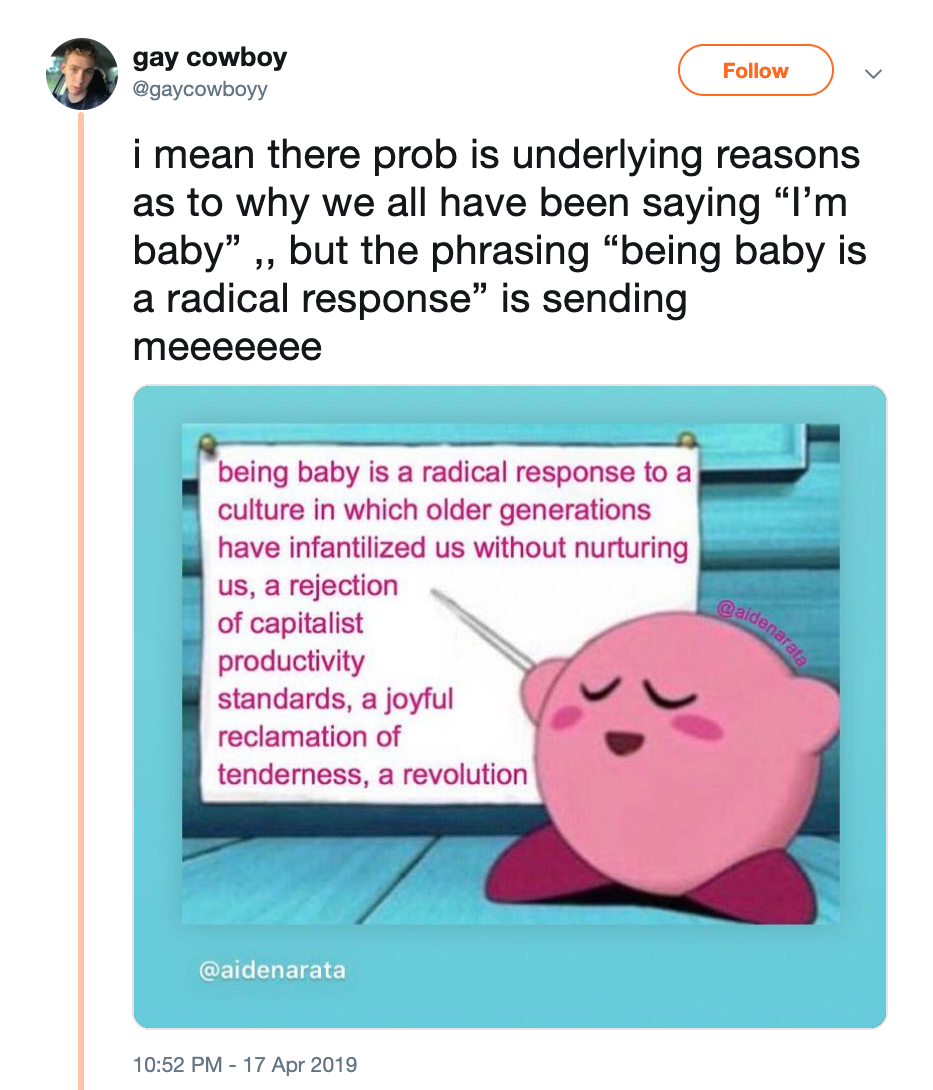 A meme posted by the Instagram account @aidenarata went deep on the meme: "being baby is a radical response to a culture in which generations have infantilized us without nurturing us, a rejection of capitalist productivity standards, a joyful reclamation of tenderness, a revolution."
Yes, "I'm baby" is just a silly meme, but it makes sense that we're all drawn to it. Who doesn't want to be nurtured and cared for in 2019?
And if you're looking to really take the "I'm baby" meme to the next level, you can follow this makeup tutorial to transform yourself into Kylie Jenner's baby Stormi.
this is what i mean when i say "i'm baby" https://t.co/p9yiW4o9Uq

— thomas (@ThomasBeautyy) April 22, 2019
READ MORE: