The original meaning of "babygirl" is pretty self-explanatory, functioning as a cutesy, diminutive endearment aimed at women. Over the past couple of years, it's developed a whole new context online. As a fandom slang term, babygirl is more often used to describe middle-aged men.
But when people refer to a character like Walter White or Joel from The Last of Us as babygirl… what do they actually mean?
What does babygirl mean?
If you go by Urbandictionary's definition, there's some overlap between babygirl guys and blorbos, the Tumblr slang for fan-favorite characters. However, babygirls are closer to the "poor little meow meow" end of the spectrum: A self-aware term for morally ambiguous (or downright evil) men that fans interpret as pathetic and miserable yet appealing.
One popular TikTok argues that a babygirl should have two of three things: "Eyes, cries, and war crimes. They have beautiful eyes, they've cried onscreen, they've committed atrocities."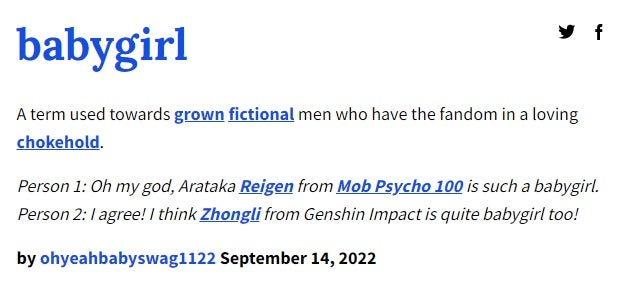 There's an infantilizing undertone when fandom babygirlifies a fictional man, and some people also use the word in a horny way, echoing the meme of referring to characters as "submissive and breedable." (See also: "He's so babygirl.")
That being said, the most common definition is more ironic, aimed specifically at men in their thirties and above, who might not initially be associated with words like "baby" or "girl." For instance, Kendall Roy in Succession (a depressed business tycoon), both protagonists in Breaking Bad, Bill Hader, and Pedro Pascal.

Babygirl history
In its current form, babygirl went viral in 2021. By summer 2022, the term had pretty much solidified in the online lexicon, as evidenced by this tweet offering a "babygirl checklist" of relevant traits including "Is your character a man in the age of/older than 30?" and "Does your character have major emotional traumas?"
As of Spring 2023, babygirl is ubiquitous fandom slang, whether it refers to someone with more conventional babygirl vibes (Steve Harrington from Stranger Things; Harry Styles; Jimin) or a miserable antihero in his forties.
For instance, all three main characters in AMC's Interview with the Vampire arguably fall somewhere on the babygirl spectrum: Lestat (a homicidal and sadistic twunk), Louis (tormented, morally ambiguous, and erratic), and Daniel Molloy (bitchy, divorced, and retirement-aged).
Babygirl fandom memes
Around the same time that babygirl took off in fandom circles, the "Why does X call you babygirl" meme exploded in popularity. According to to Know Your Meme, this started out as a Mob Psycho 100 image macro where the character Shigeo asks Arataka, "Why does Serizawa call you babygirl":
This developed into its own meme format, resulting in fanart like Mario from Super Mario Bros. asking Luigi, "Why does Bowser call you babygirl?"
Mostly though, babygirl memes are just celebrations of guys who are babygirls—and celebrations of babygirl guys as a concept.
Babygirl on TikTok
Unsurprisingly, TikTok is one of the main places to go for babygirl fandom content. So if you have a sudden hankering for cutesy edits of Walter White as a catboy, you know where to look.


We crawl the web so you don't have to.
Sign up for the Daily Dot newsletter to get the best and worst of the internet in your inbox every day.