We won't have to wait too much longer to watch HBO's Watchmen.
HBO revealed in a press release that Watchmen will premiere on Sunday, Oct. 20 at 9pm ET and accompanied that announcement with a short animated video featuring a ticking clock. But instead of your standard arms on a clock, they read "Everything Begins."
10/20. Tick Tock. #WatchmenHBO pic.twitter.com/RsEq8Fh3es

— Watchmen (@watchmen) September 3, 2019
---
For its first superhero TV show, HBO is entering the expansive world of Watchmen.
HBO announced on Aug. 17, 2018 that it gave a series order to a "remixed" adaptation of the iconic graphic novel by Alan Moore, Dave Gibbons, and John Higgins, more than a year after reports of the show's existence first surfaced. An official logline from HBO alluded to paying homage to what came before it along with doing something new.
Set in an alternate history where "superheroes" are treated as outlaws, WATCHMEN embraces the nostalgia of the original groundbreaking graphic novel while attempting to break new ground of its own.
It's got plenty of star power in its corner between the cast and showrunner Damon Lindelof (Lost, The Leftovers), but it's also got big shoes to fill—and a shadow looming over it.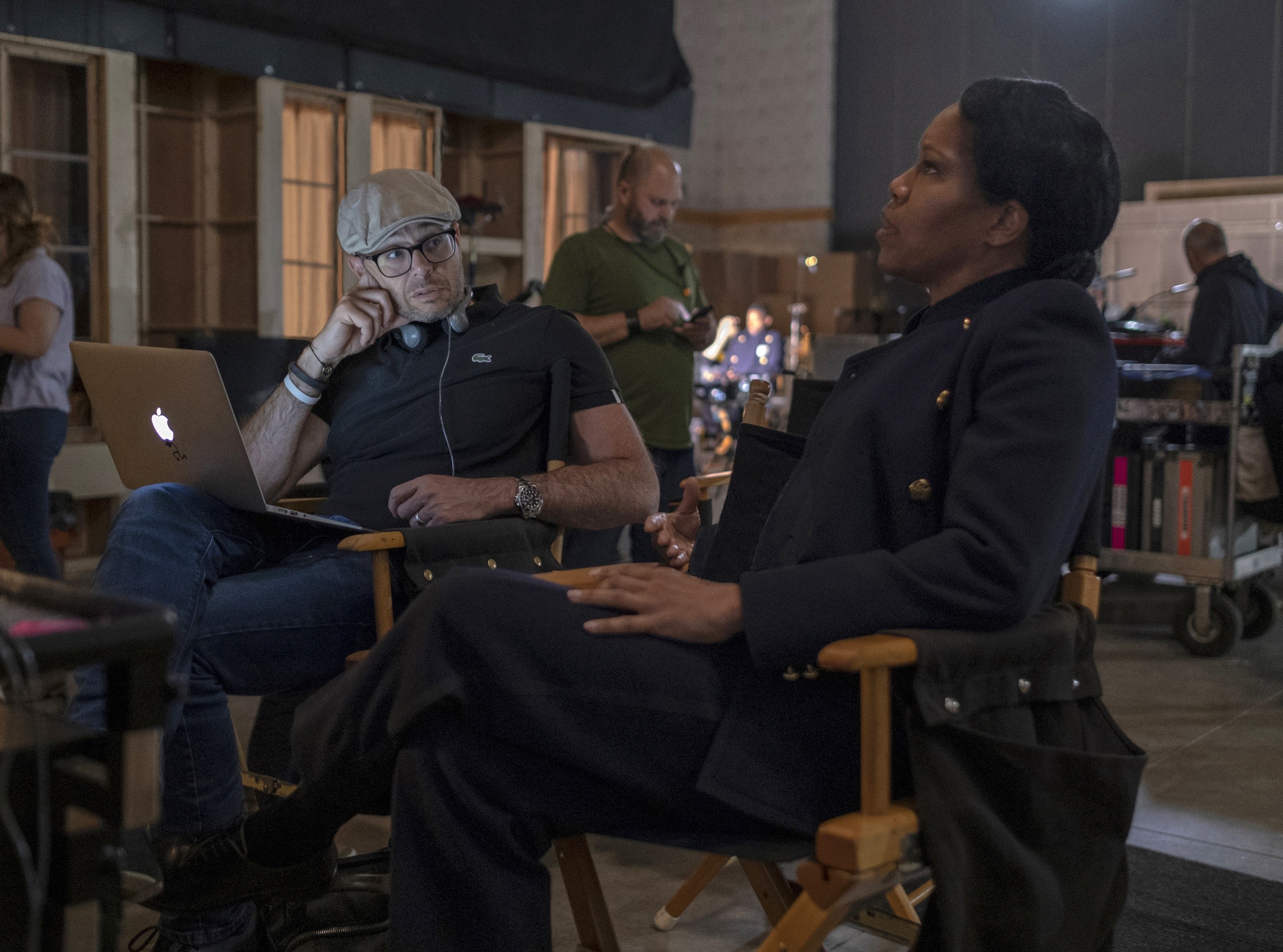 For one, there's the film adaptation. Warner Bros. released a Watchmen film directed by Zack Snyder in 2009, which received mixed reviews from critics and fans alike. And while it currently sits at 64 percent on Rotten Tomatoes, it's been criticized for losing the nuances contained within Moore, Gibbons, and Higgins' graphic novel in favor of a dark and gritty take on the source material.
READ MORE:
An adaptation of Watchmen on HBO also comes—along with lofty and nearly impossible expectations from fans—without the support of the person who created it. Prior to the theatrical film's release, Moore said that he'd "be spitting venom all over it," and he has not given his blessing to this version. Even Lindelof has noted that Moore would not approve of his show, adding that Moore "has been consistently explicit in stating that Watchmen was written for a very specific medium and that medium is comics." Gibbons, on the other hand, has given Lindelof his blessing.
It's hard to tell how it will pay off or if it'll work until it airs, but there might just be enough working in its favor for it to work. Here's everything we know so far about the Watchmen series.
Watchmen news
At the Television Critics Association summer 2019 press tour, Lindelof gave reporters insight into what led to him focusing Watchmen on white supremacists attacking the police.
"What in 2019 is the equivalent of the nuclear standoff of the Russians in the United States?" Lindelof said that he asked himself. "And it just felt like it was undeniably race and policing in America."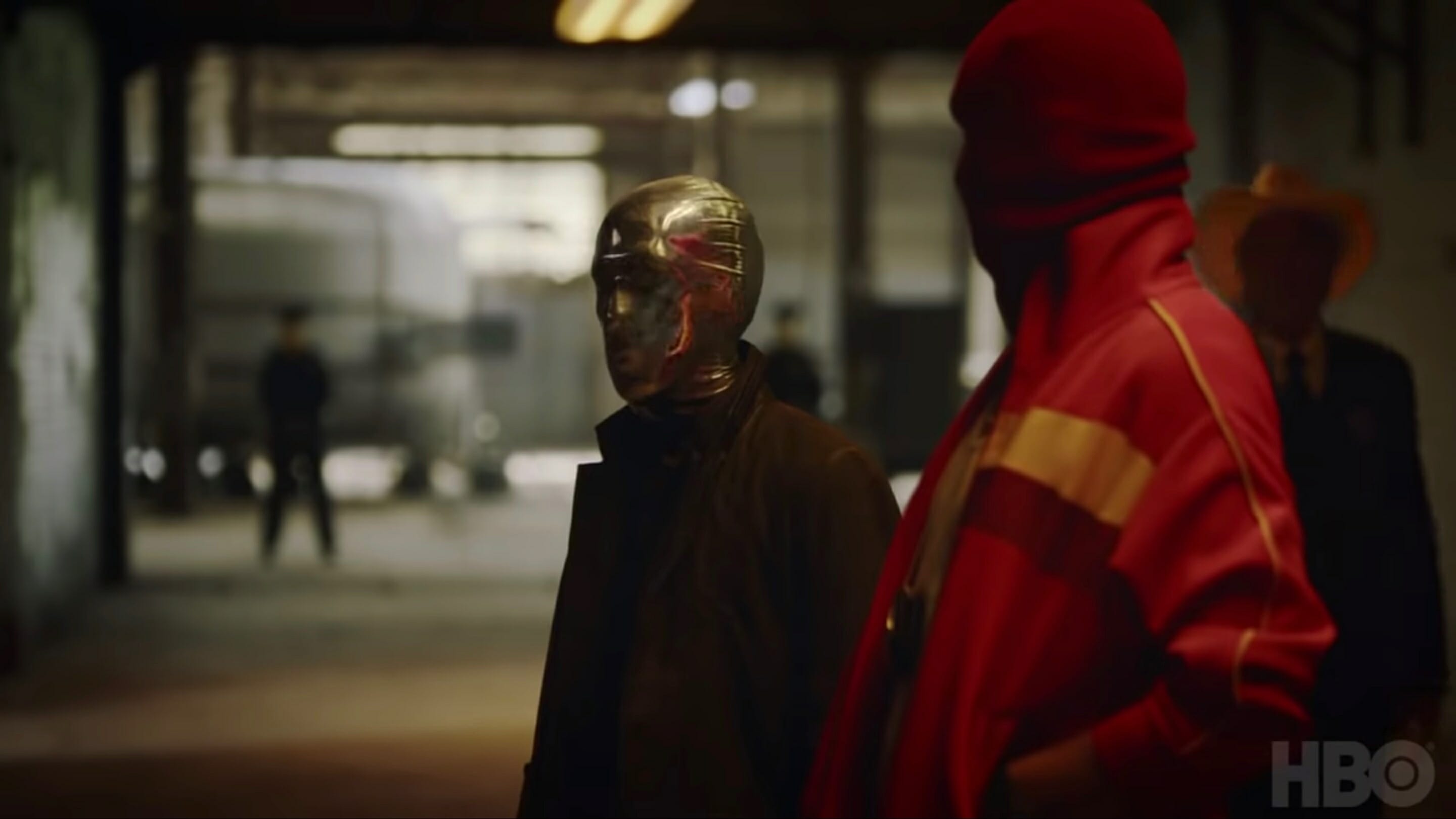 He added that Watchmen "is an examination of institutions and culture and politics and things that inform our society," and that just because the police are victims of white supremacists in his show doesn't mean that they're "presented in a heroic light."
HBO programming president Casey Bloys told the Hollywood Reporter as part of a larger discussion on HBO shows becoming more inclusive behind the camera that the Watchmen writers room included four women (three of whom were non-white) and a man of color among the nine writers.
"Because of the things that Damon wants to discuss, he felt, and I agree, the African-American voices were very important," Bloys told the Hollywood Reporter. "I don't want to give away what the show is or who the characters are just yet, but he did have a lot of African-American voices in the room. If it is decided that it will go forward—and I'm crossing my fingers and fully expect it will—that will be an important component going forward."
HBO announced that musicians Nine Inch Nails' Trent Reznor and Atticus Ross have joined Watchmen to compose music for the show. Reznor and Ross are no strangers to composing music for film and TV; their previous composition credits include Gone Girl, The Girl With the Dragon Tattoo, The Vietnam War, and The Social Network, which won them the Oscar for original score.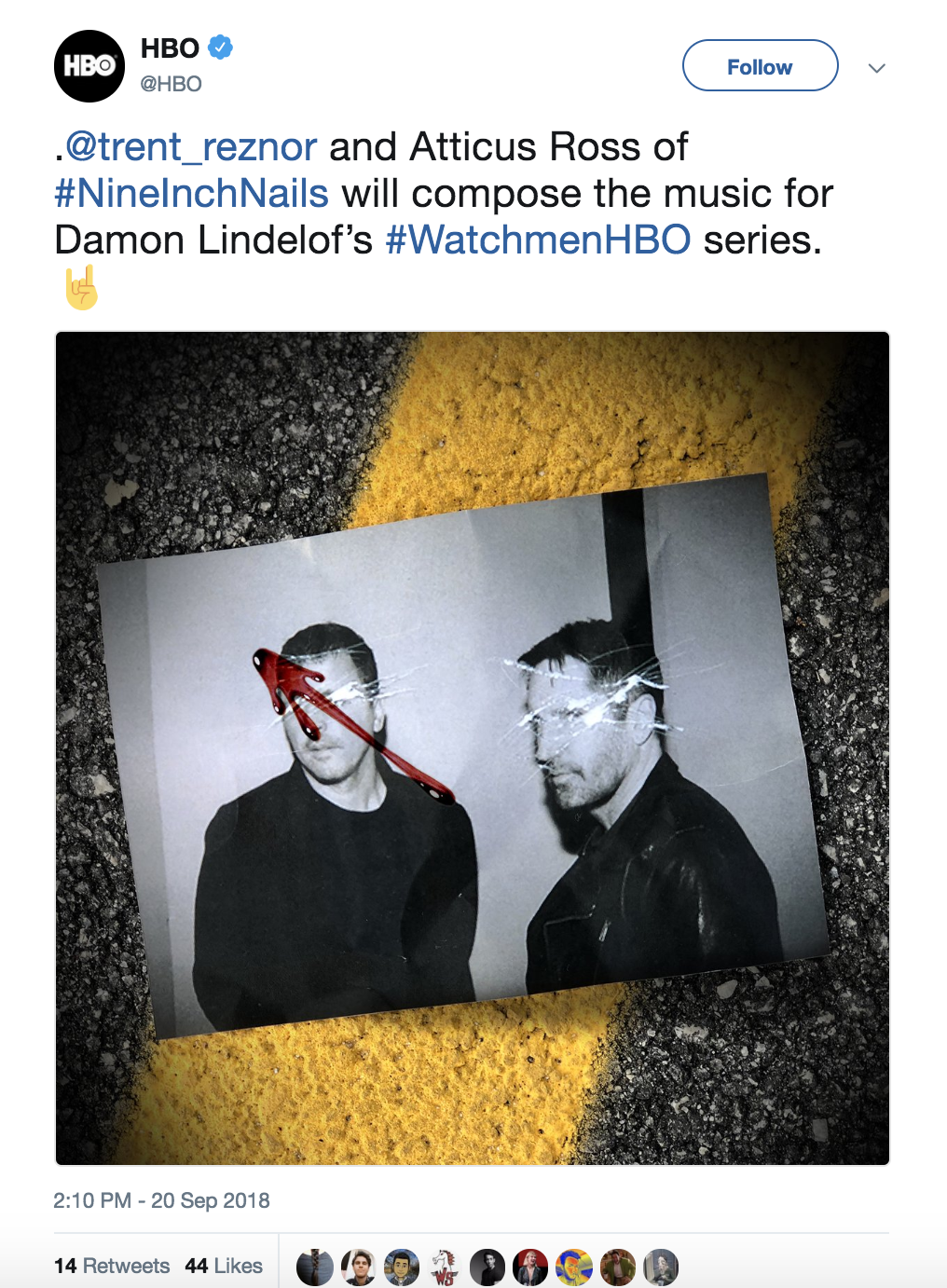 According to Lindelof, Reznor and Ross were the first musicians he considered to score the show—and they're pretty big Watchmen fans themselves.
"I called HBO while we were still writing the pilot and begged them to consider pursuing the brilliant Trent Reznor & Atticus Ross as composers," Lindelof wrote. "'That's so weird… ' HBO responded, 'They just called US asking about Watchmen.' Turns out Trent and Atticus are as big fans of the original masterwork as I am of Trent and Atticus."
Watchmen creative team
Lindelof will helm the show with Nicole Kassell, Tom Spezialy, Stephen Williams, and Joseph Iberti all on board as executive producers. Kassell also directed the pilot.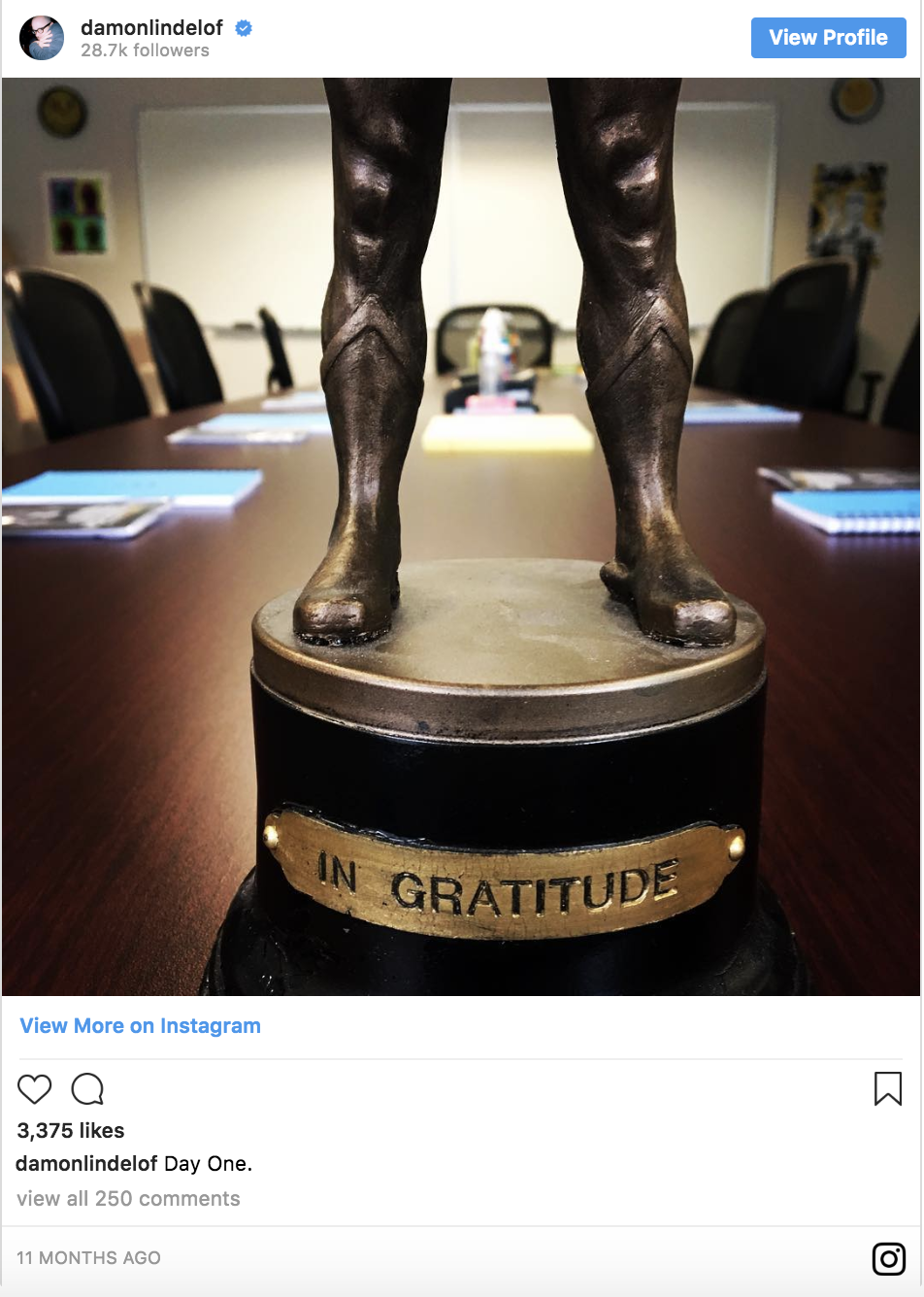 In a letter to fans posted to Instagram on May 22, Lindelof said that he was approached three separate times about bringing Watchmen to television, with the earliest instance occurring very soon after the release of the theatrical film.
He also highlighted Watchmen's strive to be more inclusive with all aspects of the project as he shot down the preconceived notion that Watchmen was a story only for people who look like him.
"I have the pleasure of sitting in a Writers Room each and every day that is as diverse and combative as any I've ever been a part of," Lindelof wrote. "In that room, Hetero White Men like myself are in the minority and as Watchmen is (incorrectly) assumed to be solely our domain, understanding its potential through the perspectives of women, people of color and the LGBTQ community has been as eye-opening as it has been exhilarating. We've committed to doing the same in front of and behind the camera. And every single person involved with this show absolutely adores Watchmen."
HBO has yet to reveal who will be writing on Watchmen apart from Lindelof.
Watchmen cast
Watchmen will feature an all-star cast, which includes Regina King, Jeremy Irons, Jean Smart, Don Johnson, Tim Blake Nelson, Louis Gossett Jr., Yahya Abdul-Mateen II, Adelaide Clemens, Andrew Howard, Tom Mison, Frances Fisher, Jacob Ming-Trent, Sara Vickers, Dylan Schombing, Lily Rose Smith, and Adelynn Spoon. HBO confirmed an initial cast list on Aug. 17, 2018, with several new names revealed including Hong Chau, Andrew Howard, Jacob Ming-Trent, and James Wolk appearing in a July 2019 press release. Variety described King as the lead of the show while the rest of the cast will have more supporting roles.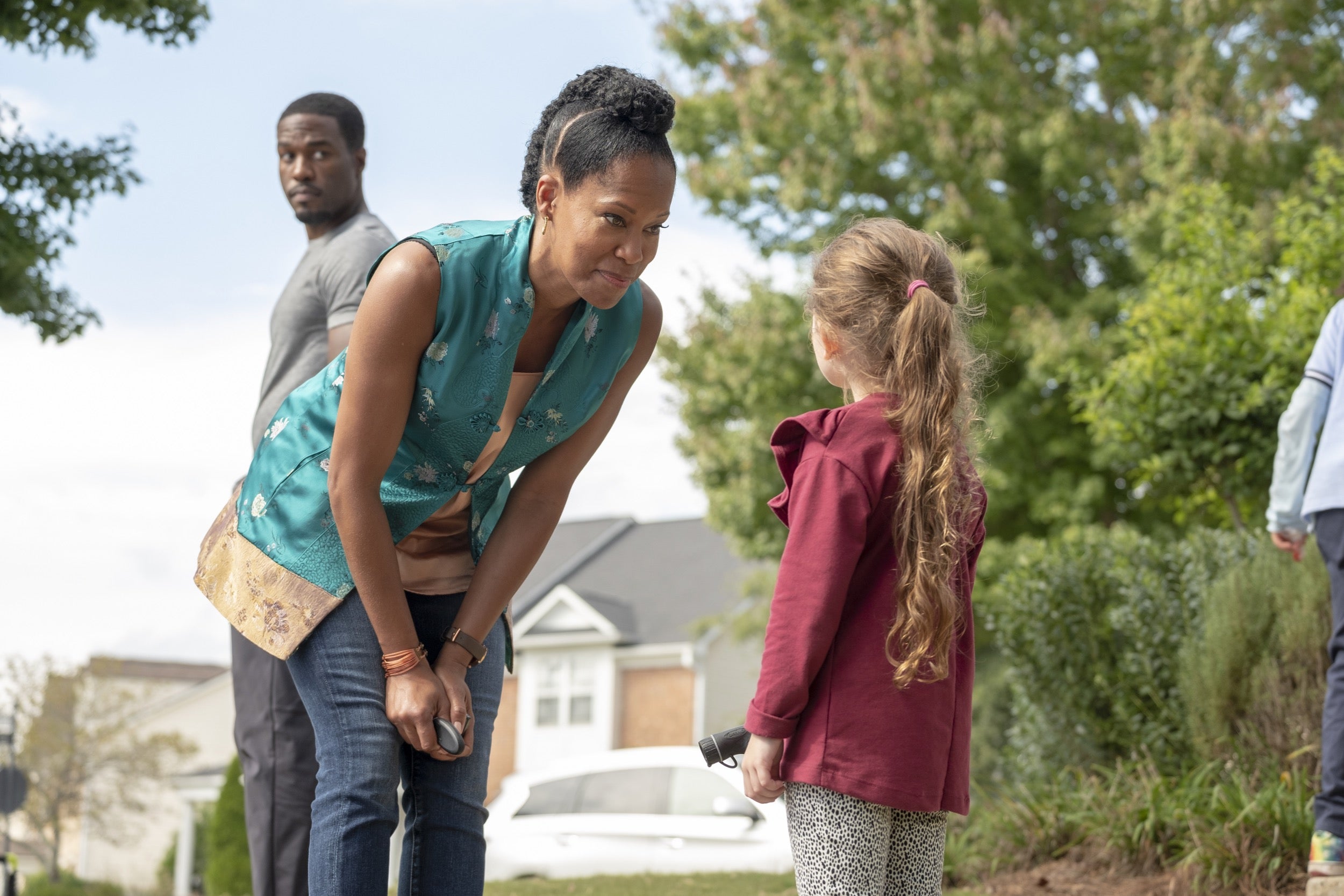 "Some of the characters will be unknown," Lindelof wrote. "New faces. New masks to cover them. We also intend to revisit the past century of Costumed Adventuring through a surprising yet familiar set of eyes…and it is here we will be taking our greatest risks."
HBO revealed the names of several characters that will appear in Watchmen. King is portraying Angela Abar, a Tulsa Police Force lead detective and mother. Smart is portraying FBI Laurie Blake, who Watchmen fans will know better as Laurie Juspeczyk (or the second Silk Spectre) from the comics. Laurie is the daughter of Sally Jupiter (the first Silk Spectre), and the Comedian (whose real name is Edward Blake). In Lindelof's series, she appears to have taken her biological father's last name at some point.
Johnson is playing Judd Crawford, the Tulsa Chief of Police. Gossett Jr. is portraying Will Reeves, Abdul-Mateen II is Cal Abar, Mison is Mr. Phillips, Fisher is Jane Crawford, Vickers is Ms. Crookshanks, and Chau is playing a "mysterious trillionaire" named Lady Trieu. Dr. Manhattan is seen at the end of the San Diego Comic-Con trailer, but it's unclear who will portray him.
HBO described Irons' character as "the aging and imperious Lord of a British Manor." A November 2018 report from Slashfilm indicated that Irons is portraying an older version of Aaron Veidt, who fans will also know as Ozymandias. In the original Watchmen comic, Ozymandias was behind the fake alien invasion of New York, which he facilitated to unite the world against those aliens (which included a fraught U.S. and U.S.S.R. on the brink of nuclear war) instead of turning their weapons on each other. Jean Smart has also joined the cast as an FBI agent who is "tasked with tracking down vigilantes."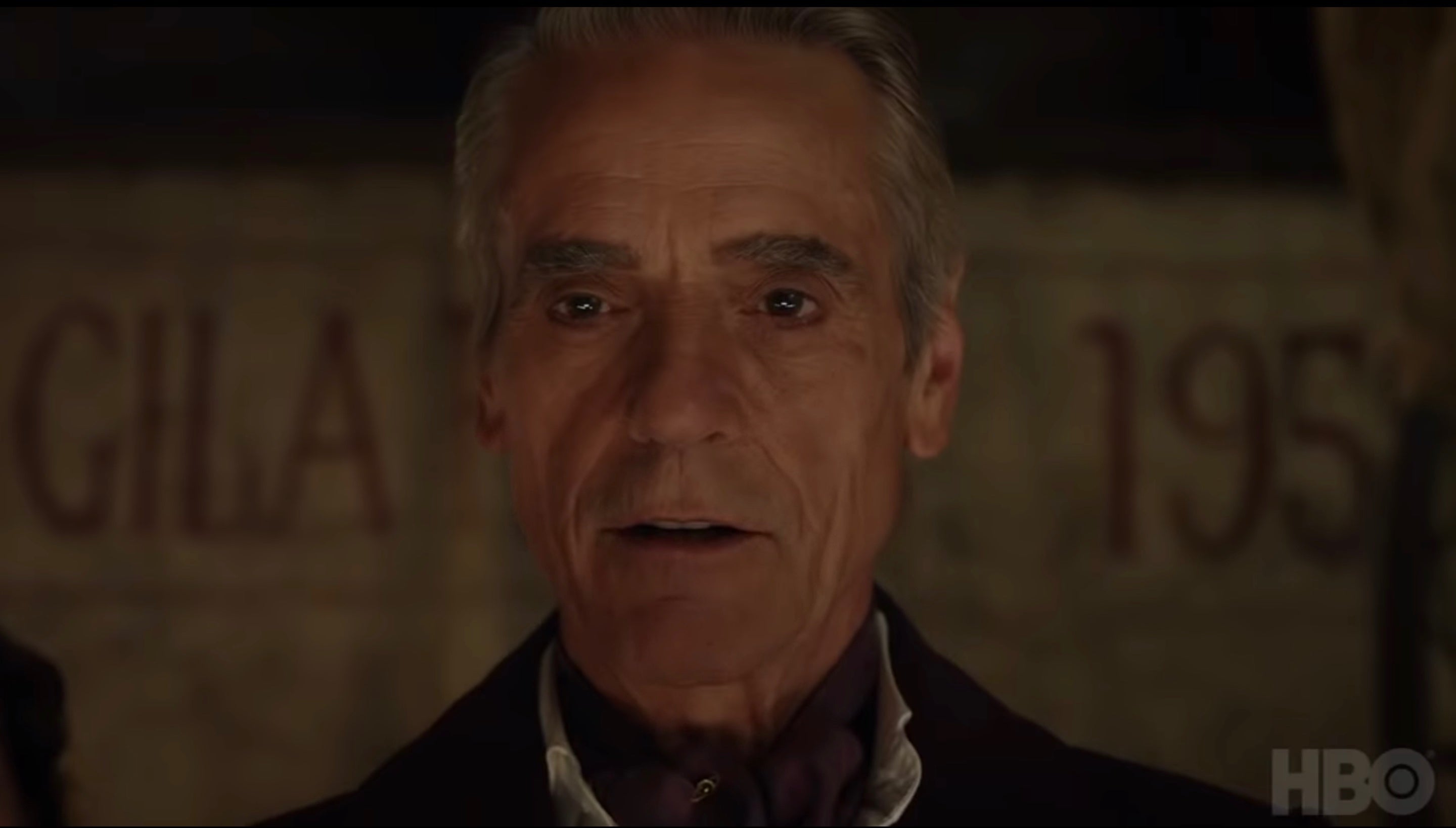 While promoting The Ballad of Buster Scruggs, Nelson revealed that he's playing a new character called Looking Glass, who is described in casting call as an Oklahoma cop, an interrogator, and a behavioral scientist who "may also be a bit of a sociopath." Speaking to Collider, Nelson said that Lindelof expanded the role after initially approaching him.
"He said, 'You know what, I really would like you to be a part of this. Here's how I wanna enlarge the role. If you'll trust me, then I'd really like you to come on board,'" Nelson explained. "What he had to say was certainly enough, but more importantly, the pilot script and what it seemed like he wanted to address with the show, which is way beyond your run of the mill comic adaptation, really intrigued me."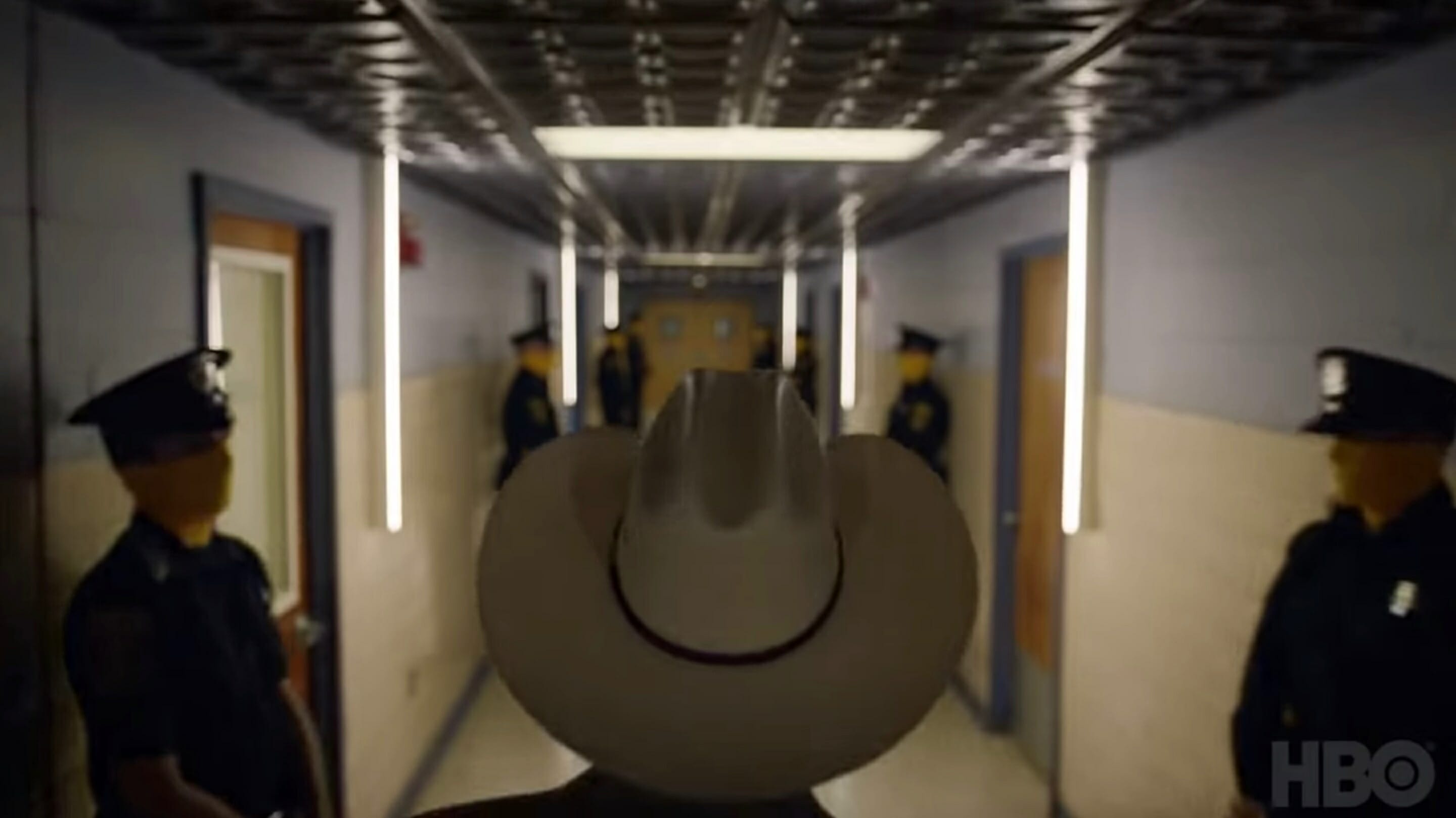 Watchmen plot
At the TCAs, Lindelof revealed that Watchmen will take place in an alternate present where there are no internet or smartphones because the Robert Redford administration "saw the writing on the wall and stepped in to make sure we could not troll each other."
The other big reveal? That Robert Redford eventually became president, a nod to a throwaway line in the comics
"Robert Redford is the president of the United States and has been the President in the world of the show since the early '90s since they've abolished term limits," Lindelof explained. "We're interested in exploring what would happen if a very well-intentioned liberal white man was President for way too long. Nixon was still president in '85. He remained president, was re-elected in '88. He died in office. Gerald Ford became President as Nixon's Vice President and then was defeated in '92 by Robert Redford."
Watchmen, according to Lindelof, won't be a straightforward adaptation, and it won't be a sequel. His show will look at the universe created in the comics while adding new storylines. But it also means that everything that happened in the comics also happened, so his show won't be retconning those choices, either.
Lindelof confirms that the source material of Watchmen is canon and that he has no desire to mess around with any of the events that occur in it. But he also stresses that his Watchmen, on top of a new and original story within Watchmen's world, "must be contemporary."
The Old Testament [of Watchmen] was specific to the Eighties of Reagan and Thatcher and Gorbachev… ours needs to resonate with the frequency of Trump and May and Putin and the horse that he rides around on, shirtless," Lindelof wrote. "And speaking of Horsemen, The End of The World is off the table… which means the heroes and villains — as if the two are distinguishable — are playing for different stakes entirely. The tone will be fresh and nasty and electric and absurd. Many describe Watchmen as "dark," but I've always loved its humor-worshipping at the altar of the genre whilst simultaneously trolling it.
Set photos appear to indicate that at least part of Lindelof's Watchmen series will take place after the events of Watchmen given the involvement of one of the characters in newspaper headlines created for the show.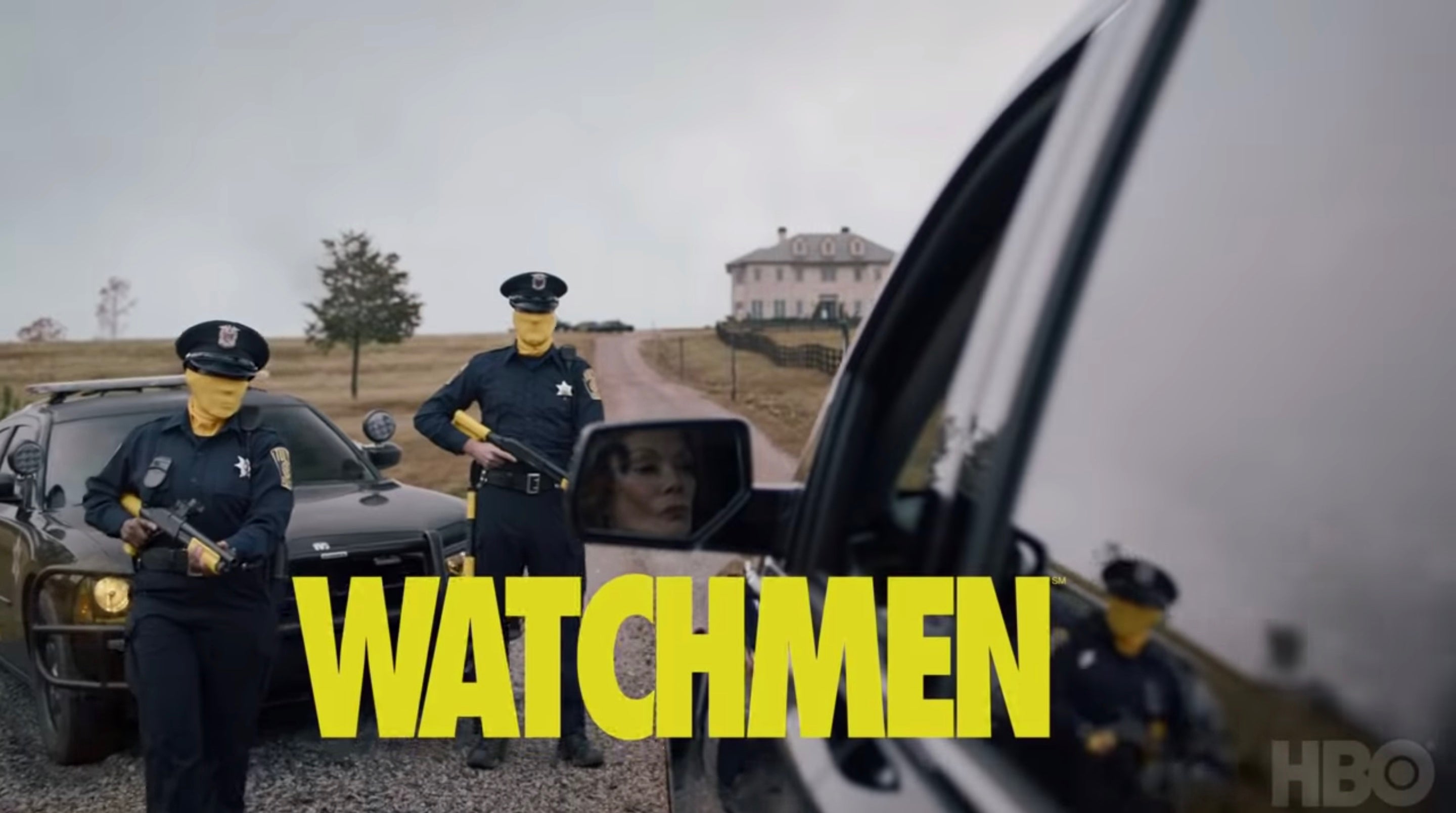 Watchmen trailer
HBO released the first full trailer for Watchmen during San Diego Comic-Con, which reveals an alternate future that's just as uncertain as the one portrayed in the comics.
There are a few familiar names among a slew of new characters—Aaron Veidt, Laurie Blake, and Dr. Manhattan among them—but the trailer largely focuses on Angela Abar (Regina King), a lead detective at the Tulsa Police Force who also dons a vigilante costume of her own, and the many, many masked figures in the world.
https://www.youtube.com/watch?v=1yKq1PRvPJQ
Touches of the original comic are ever-present in the trailer. Apart from the superheroes name-checked or seen, we also have a group targeting police who don versions of Rorschach's mask, a completely masked police force to protect their identity, and the many unique masks surrounding them in the world.
Watchmen release date
Watchmen season 1 will premiere on Sunday, Oct. 20 at 9pm ET.