President Donald Trump continued to attack Special Counsel Robert Mueller's investigation on Monday morning by tweeting a quote from Fox News about there not being a "smoking gun."
However, when typing out the tweet, the president misspelled "smoking" twice, writing "smocking" instead each time.
"Democrats can't find a Smocking Gun tying the Trump campaign to Russia after James Comey's testimony. No Smocking Gun…No Collusion." @FoxNews That's because there was NO COLLUSION. So now the Dems go to a simple private transaction, wrongly call it a campaign contribution,…" Trump wrote in a series of tweets on Monday morning. "….which it was not (but even if it was, it is only a CIVIL CASE, like Obama's – but it was done correctly by a lawyer and there would not even be a fine. Lawyer's liability if he made a mistake, not me). Cohen just trying to get his sentence reduced. WITCH HUNT!"
The Fox News quote comes from a segment that Fox & Friends aired on Monday morning, according to Mediaite.
However, the "smocking" typo quickly caught the eyes of people on Twitter, for not just being the latest time the president has used "smocking" when he meant "smoking," but also because "smocking" is an embroidery technique.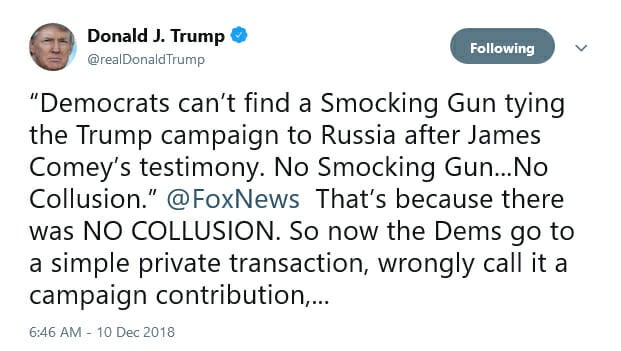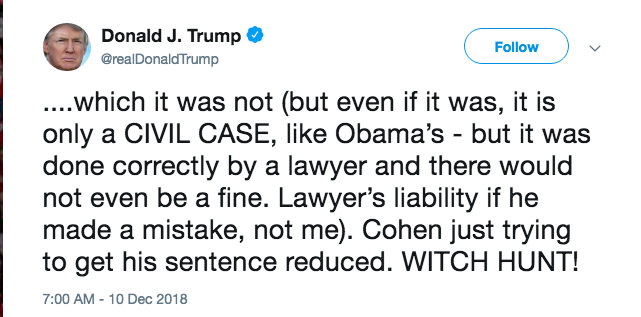 Soon #SmockingGun was trending on Twitter, and people were cracking jokes.
https://twitter.com/HamillHimself/status/1072128592891535365
https://twitter.com/Apple_Chinbolt/status/1072098368321716225
I used my #SmockingGun to put the final touches on my covfefe this morning.

— RJ (@rjthinks) December 10, 2018
https://twitter.com/JerriGrail/status/1072113942539980800
Songs on Trump's playlist today:

Smock On The Water
Smock From A Distant Fire
Smock Gets In Your Eyes
Smockin' In The Boy's Room
Smock and Mirrors
and Smocky Robinson's Greatest Hits. #SmockingGun

— Warren (#4,905,098 on Facebook) Throckmorton (@wthrockmorton) December 10, 2018
https://twitter.com/johnlundin/status/1072122121457934337
DID YOU FIND A SMOCKING GUN???

#SmockingGun pic.twitter.com/z54cfVJvaT

— Pièce de Résistance (@PieceDeReSister) December 10, 2018
https://twitter.com/JDBuffington/status/1072114589347823616
https://twitter.com/MonicaLewinsky/status/1072108744211861504
In his tweet, Trump claimed his payment of hush money to women was not a campaign finance violation and went after former President Barack Obama, whose campaign in 2008 failed to report certain contributions to the FEC.
READ MORE: