Tom Brady has once again become a meme, thanks to yet another questionable fashion choice from the all-star New England Patriots quarterback.
The former UGG model wore a wide brim hat that is somewhere between a cowboy hat and a barbershop quartet boater to a postgame presser on Thursday night. This left football fans alternately scratching their heads and rushing to produce memes on the subject.
Meanwhile, Tom Brady is just happy people forgot about that other hat he owns.

— David Carty (@David_Carty) August 23, 2019
Briefly, football fans of all stripes united around the fact that this is simply a terrible hat. The hat was made all the more terrible in light of the fact that Pats were playing the Panthers, who have a QB who can really pull off a hat: Cam Newton.
This is gentrification. This silly ass hat is like Tom opened a Whole Foods right across the street from Cam Newton's mom and pop operation. https://t.co/Lkp9OAt9ib

— Rae Sanni (@raesanni) August 23, 2019
This is also not the first time that Tom Brady has become a meme. With his weird fashion choices and legendarily obnoxious persona, he can't help but attract internet ire. In fact, this hat meme won't likely even stand as a top Brady meme when the legendary QB hangs up his cleats.
Here are a few other times that Brady received the meme treatment.
Tom Brady memes
1) The Super Bowl trench coat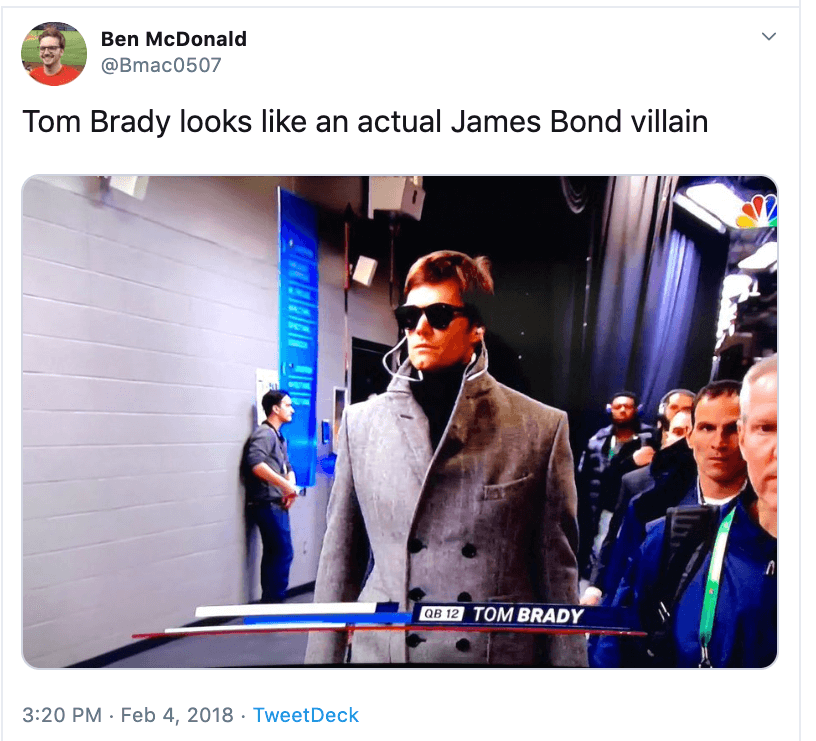 Tom Brady arrived at the Super Bowl LII in 2018 looking like a spy. He wore a gray trench coat over a black turtleneck and completed the ensemble with thick black sunglasses. A screengrab of Brady walking in the trench coat with a stoic expression became a big Super Bowl meme.
2) The courtroom sketch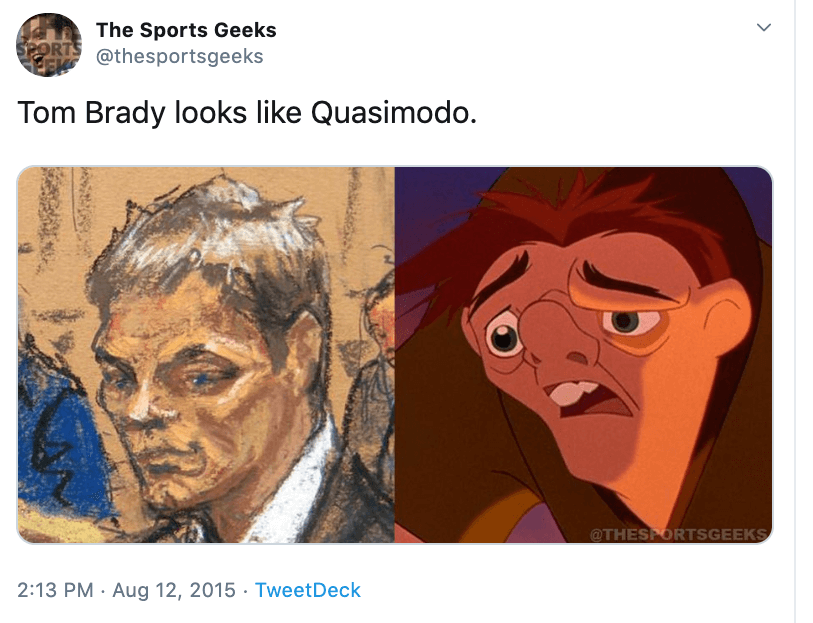 Deflategate, which led to NFL suspending Brady for four games, spawned a number of submemes. Most notable among this was the awful courtroom sketch that was drawn in a New York City courtroom during a hearing on the issue. The troll-like image of Brady gave off serious Portrait of Dorian Gray vibes and the internet had a field day.
3) Bradying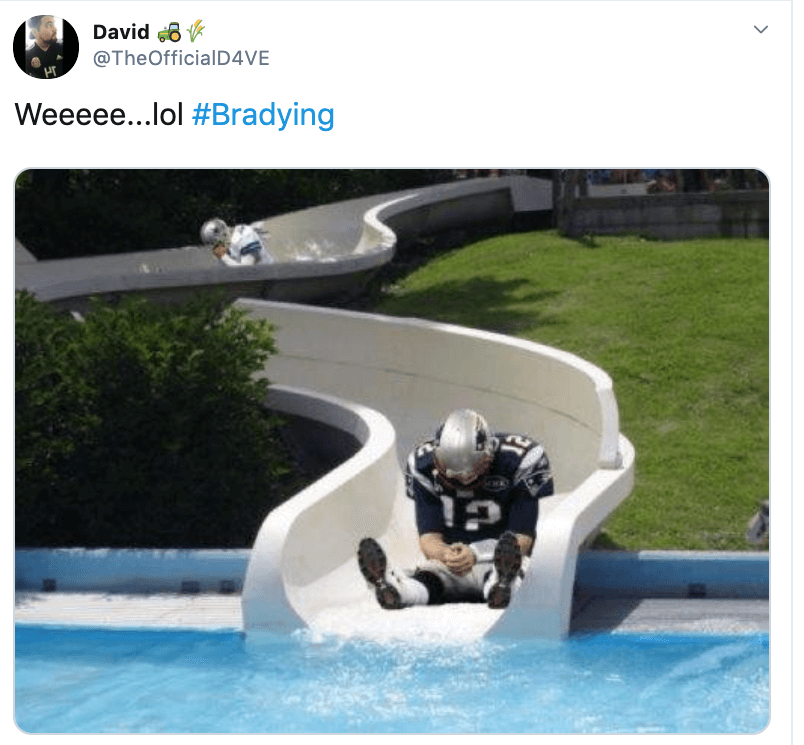 When "Tebowing" was at the height of its inexplicable popularity, "Bradying" came into vogue after the QB struck a particularly pathetic pose following the Pats 2012 Super Bowl loss to the Giants. People began taking photos of themselves copying the pose, and Bradying was born.
4) Tom Brady kissing his son
In a Facebook docuseries called Tom vs Time, Tom Brady asks his son for a longer kiss after he gives him what Brady describes as a "peck". While kisses between parents and children aren't unusual, many were disturbed by the length of the mouth kiss.
why is literally everyone on twitter not talking about this rn this i what this website was explicitly built for https://t.co/MAgeju22Vk pic.twitter.com/FSfkcC5K9H

— Ashley Feinberg (@ashleyfeinberg) February 1, 2018
But Brady apparently likes kissing everyone on the lips, from his father to Patriots owner Robert Kraft.
5) Angry Tom Brady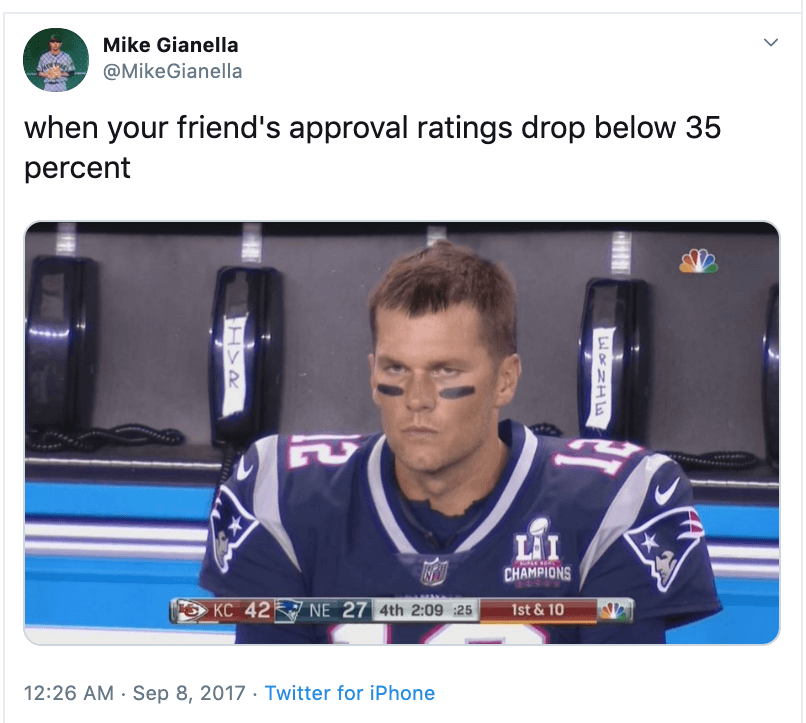 Tom Brady instantly created a relatable meme when he was captured with a sour expression on his face during a 2017 game in which the New England Patriots lost to the Kansas City Chiefs 42-27.
6) Tom Brady in Uggs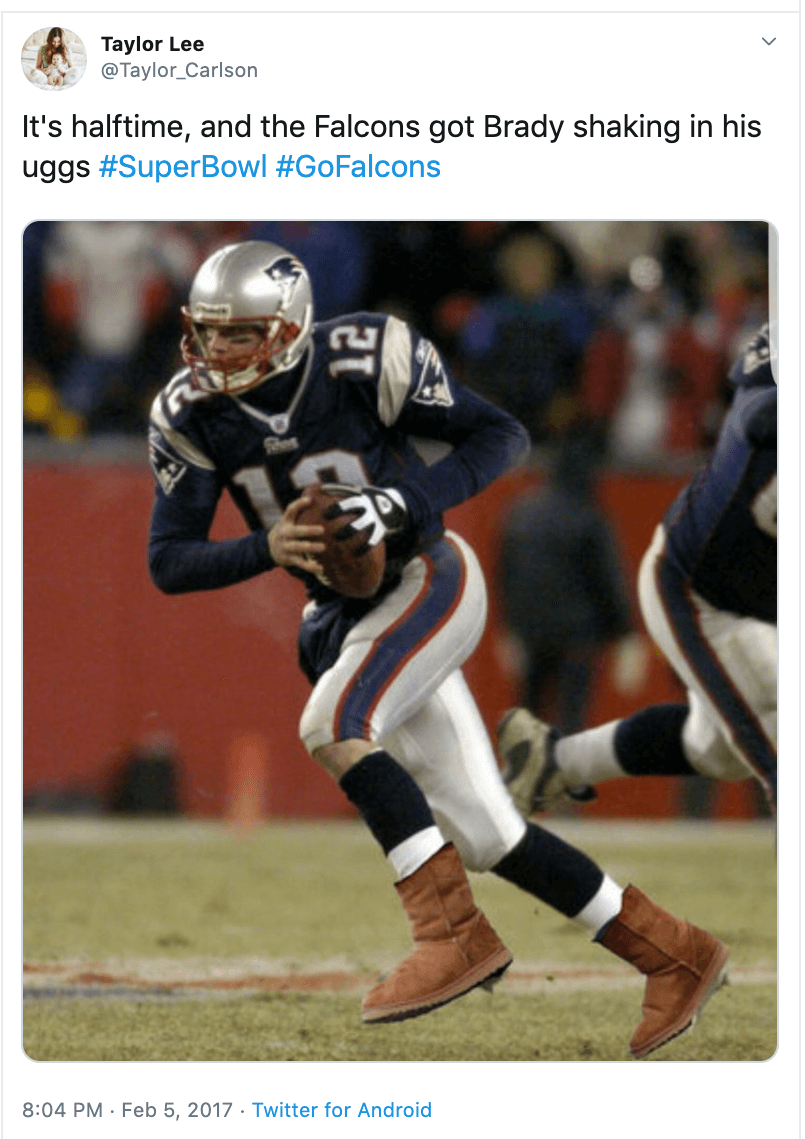 Tom Brady, in case you were unaware, appeared in a 2011 ad campaign for UGG. While Brady seems to love the sheepskin-lined shoes, people have criticized the fact that he was the face of UGG, a brand that is popular with young women. Naturally, this has led to memes of the QB in UGG boots.
While there have been some amazing Tom Brady memes over the years, we trust that there will still be many excellent internet moments left to come from perhaps the greatest quarterback/meme combo that has ever played the game.
READ MORE: