If you had a time machine, how would you use it? Would you give your teen self a pep talk, prevent the death of Harambe, or give Native Americans weapons to defeat Christopher Columbus?
According to the time travel meme, the answer is all of the above.
The time travel meme puts a spin on the classic "girls vs. boys" formula by suggesting how men and women would react differently to the invention of a time travel device. According to KnowYourMeme, the meme originated on Reddit in early July when u/Korina-chan shared a photo of a running Arnold Schwarzenegger, who is on his way to save Harambe upon learning of the invention of time travel. This sexist version of the meme suggests that boys would make the heroic decision to save a beloved gorilla, while girls would waste time travel on something frivolous like reliving their best moments with their ex.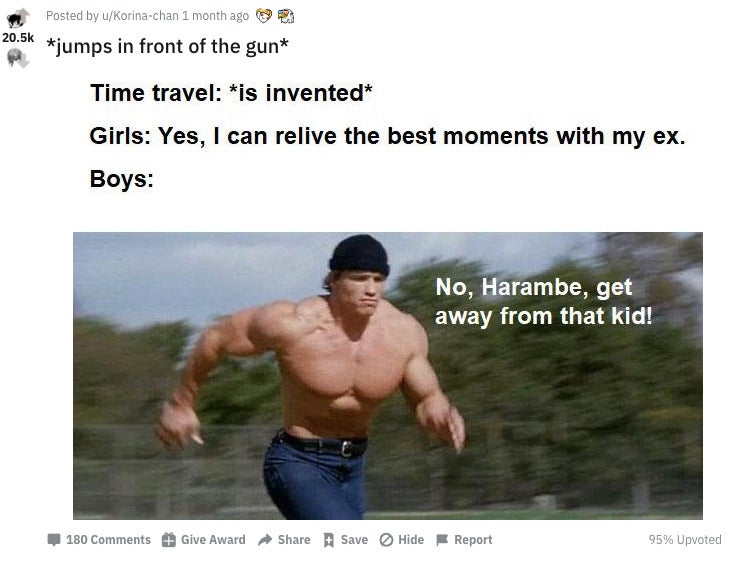 On Aug. 1, redditor u/Soviet_yakut brought the time travel meme into a new realm, incorporating the Doomer Girl and Chad characters. In this version of the meme, Doomer Girl is typically talking to a more demure version of herself from the past (in several variations, she's traveling back in time to meet her grandmother). Meanwhile, Chad is talking to… another Chad, or a historical figure whom he has convinced to do something that will drastically alter the course of history.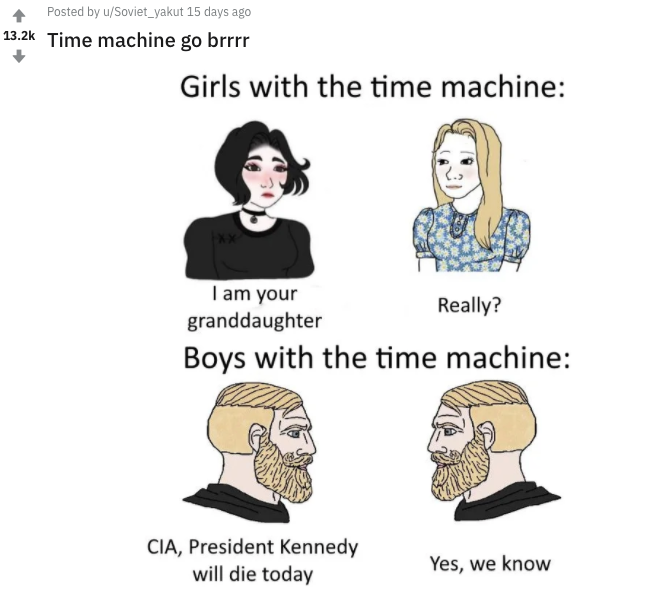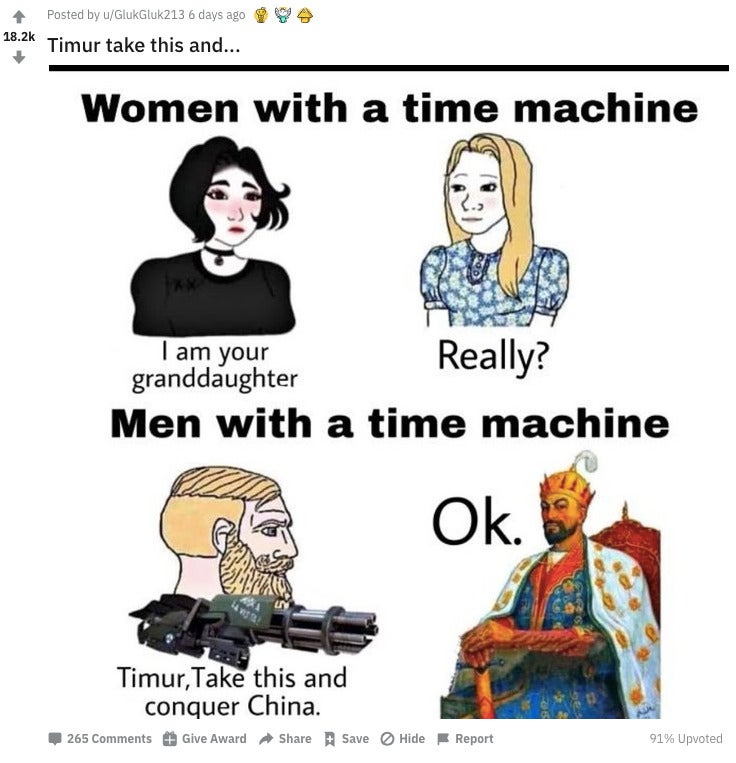 The argument presented by these versions of the time travel meme is obvious: boys smart, girls dumb. But over the past couple weeks, Twitter users have run wild with the time travel meme, tweaking the template so that the women are the ones killing Henry Ford and dismantling capitalism, while the Chads are… trying to have sex with dinosaurs, or something.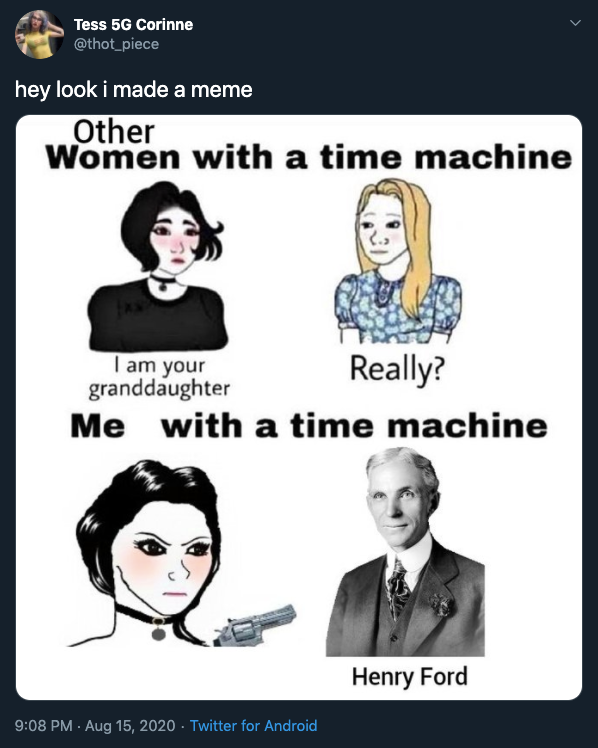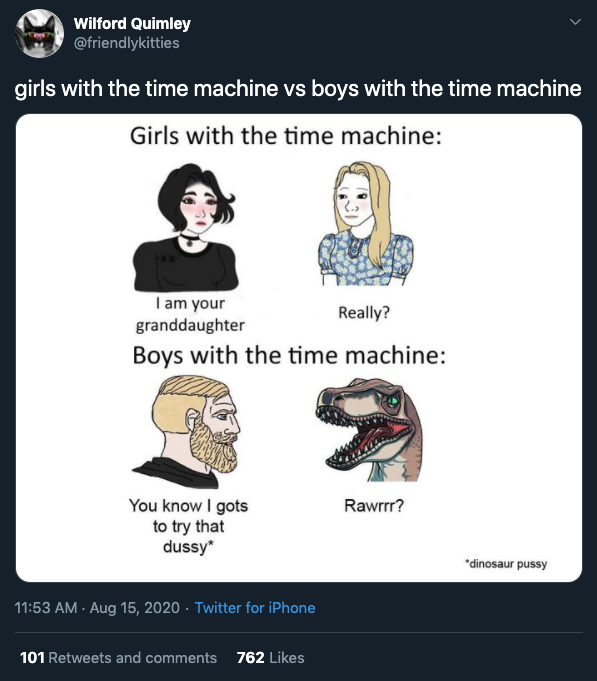 Some time travel memes involve two different Doomer Girl scenarios, and others stick to one scenario while omitting Chad entirely—which, honestly, is probably for the better.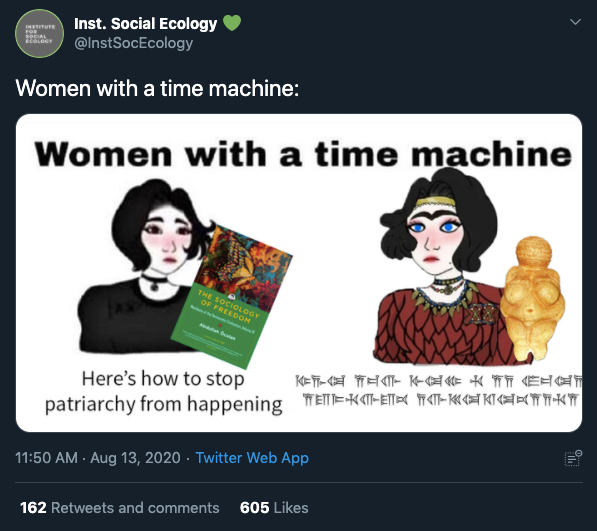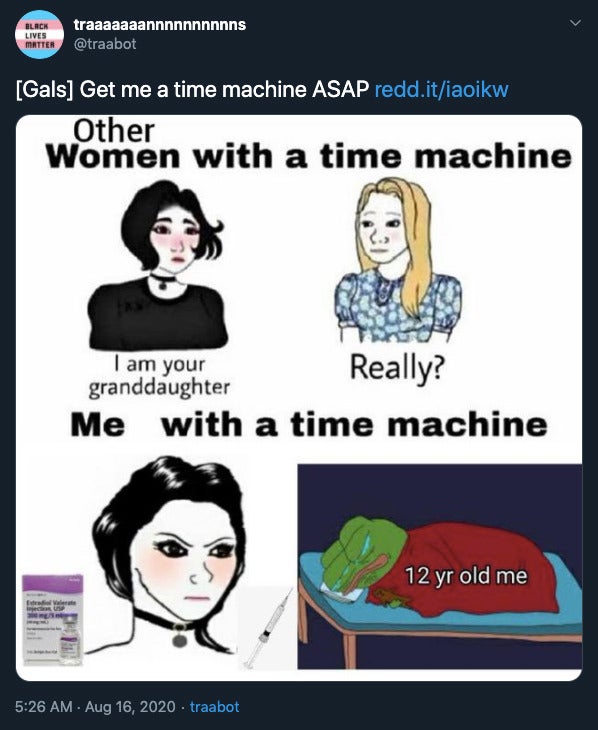 Here are some of the best takes on the "men vs. women" time travel meme.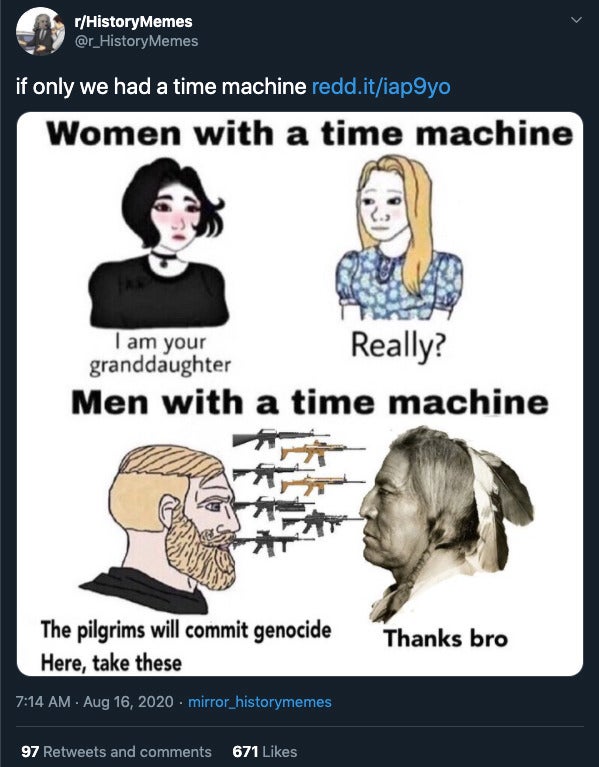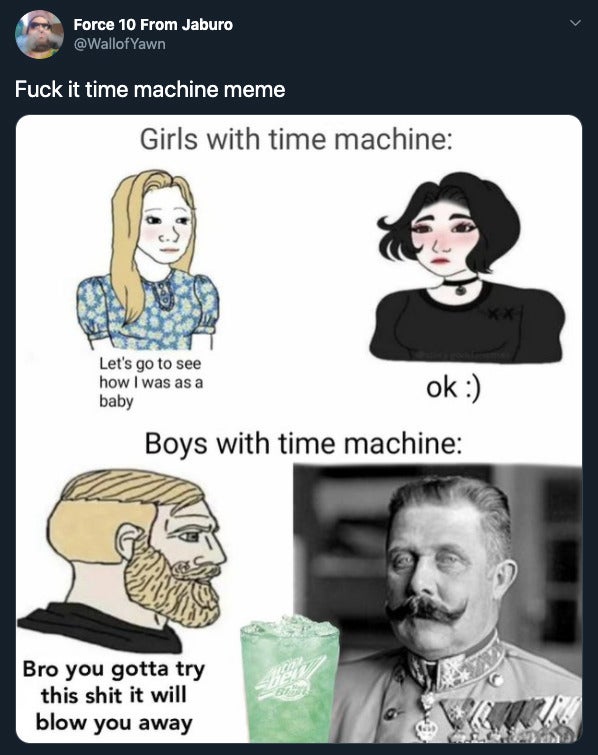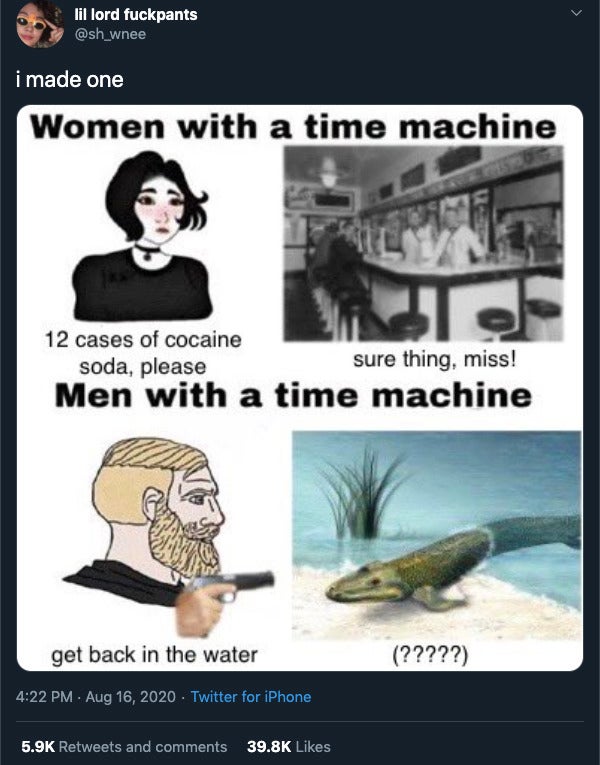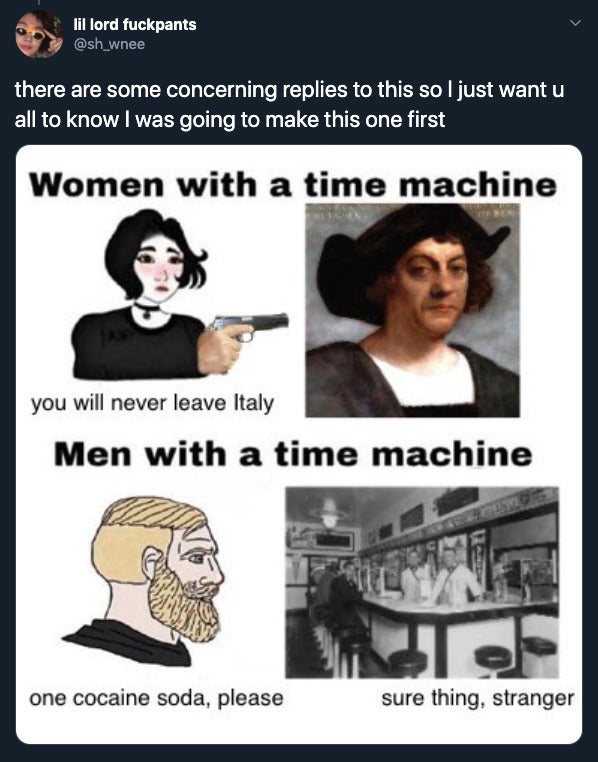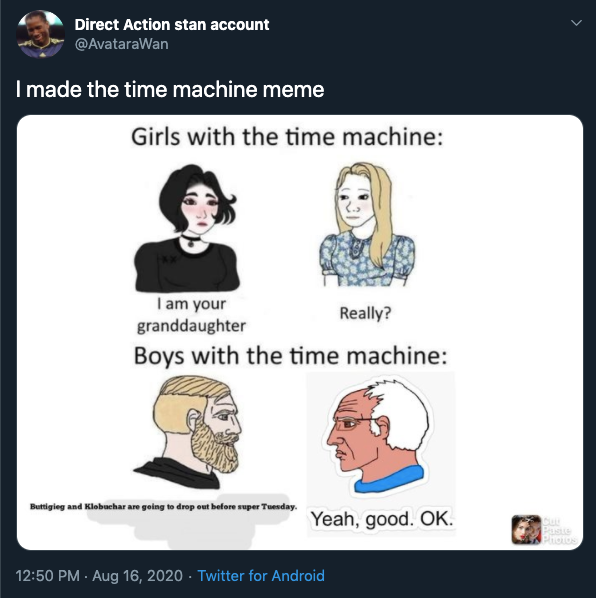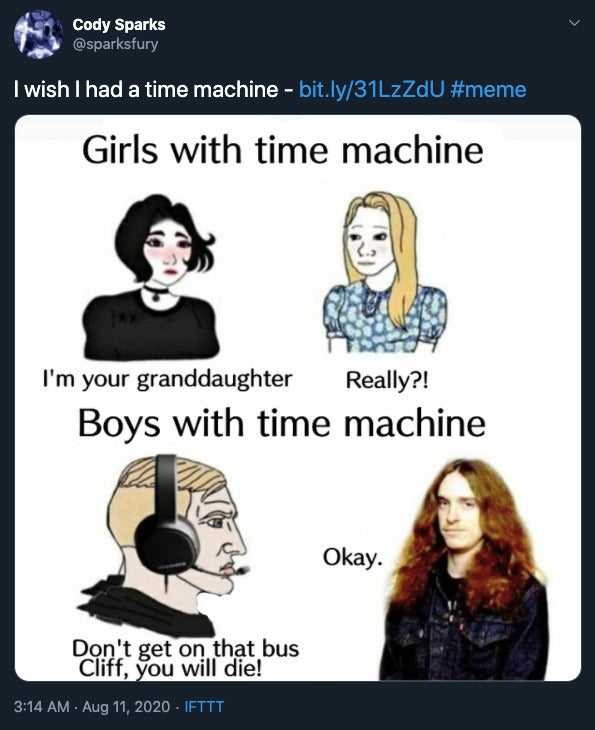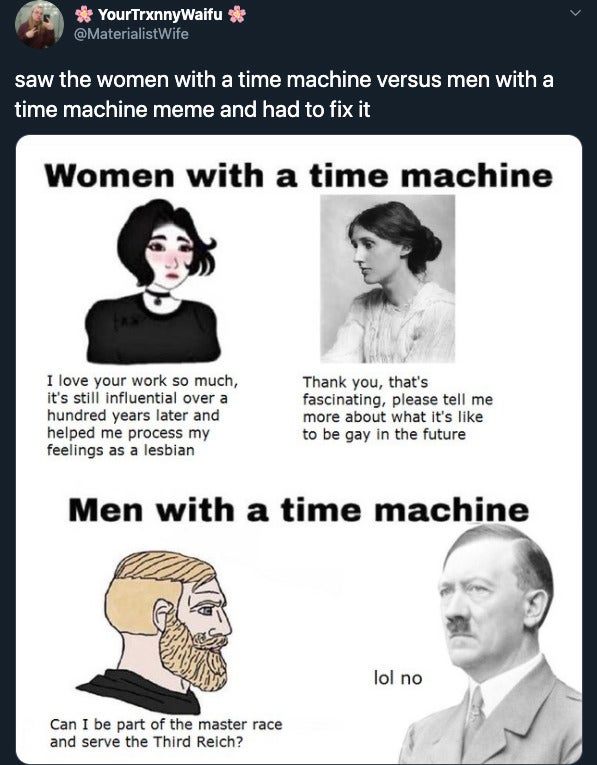 ---
Today's top stories