A Colorado teen says the Randonautica app took her and a friend to a shooting scene where a gunshot victim was lying in a gutter.
The teen, who goes by Mykena Rae on TikTok, recorded the aftermath of her Randonautica adventure and posted it to the platform. In her TikTok, Rae, who is in hysterics, recalls that when asked what their "intention" was when selecting what kind of adventure experience they wanted, they chose "Death."
"We were on our way to the spot, and I look out my window, and there's someone lying in the gutter with their wife literally like on them, holding them," she says. "So I parked and got out, and he got shot, and then she gave me the phone, and I had to call the cops."
Rae says her friend, "Darius," wrapped his jacket around the victim's wound, and then they were questioned when the police showed up.
She issued a warning to viewers in text on the video and in the video's caption: "Please do not go randonauting."
Viewers shamed Rae in the comments for allegedly manifesting "Death." "Sis started out saying 'mY iNtEntion wAs dEatH' and then cries about being traumatized… did you not ask for it????" one questioned.
"The comments on the video are pretty crucial but i guess what's just what happens when you receive a little bit of recognition on social media," Rae told the Daily Dot.
In a six-part follow-up series, Rae addresses choosing "death" and elaborates on her Randonautica experience.
In parts one and two, she says that "every single 'intention' that I've set hasn't really worked out," so she didn't think choosing "death" would manifest anything sinister. However, she apologizes for choosing it because it is not "something to play with."
Rae told the Daily Dot that she and Darius are only 18 years old and were just looking for an "adventure." She said that they weren't taking the app seriously and didn't expect to "come across something like that." "But who knows if the app had anything to do with it or not!" she said.
In part three, she says the app took them to an area where shootings are common, and the man had been shot "by some random guy." When she reveals the area this happened in, Colfax, commenters began saying she was bound to find "death." "Girl u were in the hood its nun to do wit the app lmao. this happens nearby 24/77777," one wrote.
In part six, Rae says she's probably never going to go randonauting again.
As for proof, Rae includes a tweet by the Aurora Police Department alerting the public it was responding to a "shots fired" incident in the area in question. She also reveals she took a photo but will not be posting it.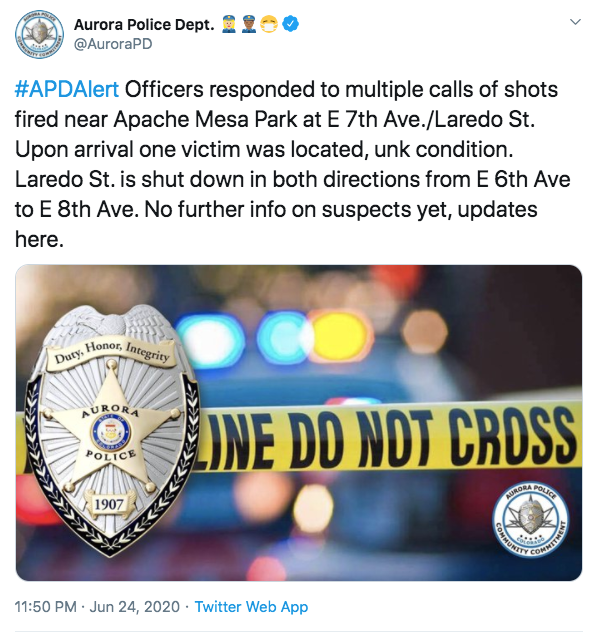 A Denver Post report on six shootings—four fatal, two nonfatal—in the area within a two-day period includes the same APD tweet that Rae included. The Post reports the victim is 23 years old and is in the hospital and expected to survive.
Rae told the Daily Dot that it makes her "feel a little better at the end of the day knowing that Darius and I helped as much as we could."
In the teens' most recent update on the matter, Rae gives Darius her platform to talk about what happened from his perspective.
"It was a good thing we came across it because we were able to help somebody out," Darius says before defending them against people accusing the teens of causing the shooting. "I feel like it would have happened either way."
Still, both the teens state they would not recommend picking "Death" as an intention.
"That was not a good idea for sure," Darius says. "It's not good to have negative energy. You get what you look for."
Recently, a group of TikTok teens went viral for going on a Randonautica adventure only to find a suitcase filled with human remains. The Terms of Use for the app, which sends users to random locations, states it is "not liable for any positive or adverse affects (sic) or consequences from the use of this platform."
This story has been updated to include comments from Mykena Rae.
READ MORE: