Amid a pandemic and the start of autumn, ghost photoshoots have become a viral trend on TikTok. And now a Twitter thread about the phenomenon is facing sharp criticism for the connotations of groups of people donned in white sheets.
The thread, by New York Times internet culture reporter Taylor Lorenz, highlights several of these ghost photoshoot videos on TikTok. While the idea might seem innocent enough, Lorenz was quickly called out for, critics say, celebrating something that harkens back to photos of Ku Klux Klan (KKK) members in white robes and masks.
Simultaneously, Twitter users accused Lorenz of whitewashing the trend. The internet is infamous for "bad tweets" suddenly becoming viral dustups—but this seemingly innocuous celebration of Halloween sparked surprising passion even by Twitter standards.
What is the ghost photoshoot trend?
The idea behind the trend is exactly what you might think: Teens and young adults (and even dogs) dressed up in sheets. On TikTok, the "ghostphotoshoot" hashtag has received more than 2 billion views as of Wednesday. TikTok encourages users to participate in the trend with this note on the tag: "Grab a camera, throw on a sheet and show us your #GhostPhotoshoot." On Instagram, the same hashtag has at least 11,000 posts. People are also sharing images of the trend on Twitter.
While some people are doing the photoshoots alone, it's popular to do the photoshoot with friends or family. Many of the images show people wearing black sunglasses over the sheets.
The KKK
Lorenz, who often tweets long threads about new TikTok trends, is being criticized for featuring mostly white people participating in ghost photoshoots. Given the tumultuous state of the U.S.—with Black Lives Matter protests erupting nationwide and a hugely important presidential election upcoming—many Black Twitter users were stunned by what appeared to be a tone-deaf thread.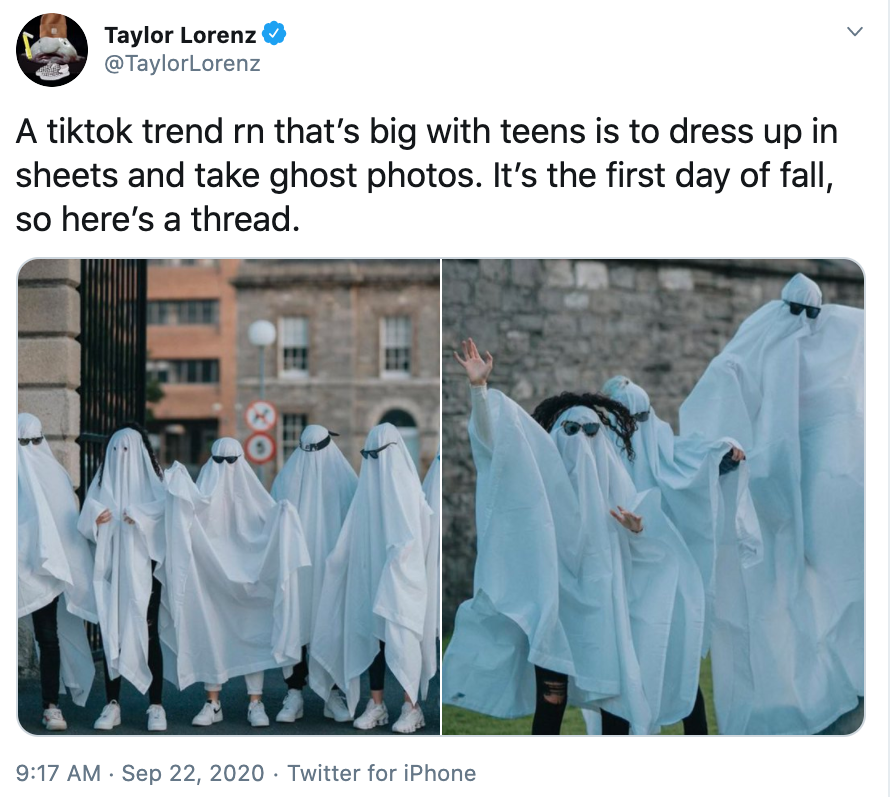 Multiple users noted that the featured ghosts recalled the infamous white outfits of the KKK, a white supremacist hate organization that still boasts members in 2020.
In response to the criticism her thread received, Lorenz buckled down on the idea that the trend was entirely innocent. She called out her critics for "trying to cancel literal children."
Speaking to the Daily Dot on the phone, Lorenz also noted that "this is not a new thing, this discourse around it is a new thing." In response to the people her thread offended, she said it "is a totally valid gut reaction" for people of color to be startled by the images. "I think it is different to see something in the context of Twitter versus real life," she continued. The photo she chose to begin the thread with, which features several white-clad figures in a row, was a misstep, according to Lorenz.
Lorenz went on to apologize for any offense her thread may have caused but continued to lean into the non-racist history of white sheets as costumes. Some Twitter users were not convinced, however.
One user noted that the trend, and Lorenz's adamant defense of it, reminded her of "the hand symbol game that had white supremacist ties and the kids were allowed to keep doing it cuz it was just 'harmless fun.'"
Lorenz continued to defend the trend through the criticism. User @yumcoconutmilk called Lorenz out for "belittling the trauma and the impact this could have on actual Black folk like me, whose families have actually been terrorized by the Klan."
In her interview with the Dot, Lorenz noted that people of color have a right to dictate the narrative on what makes them uncomfortable. "Things are lost in communication… but if people want to say 'these are problematic costumes, and we don't want them anymore' that is fine," she said. "I just think people need to have that conversation as a society, and recognize that this costume is hugely popular, not just for Halloween. This is a thing that people do, so if it's not acceptable anymore, I just think that needs to be a broader conversation."
The negative responses soon reached far past the KKK ties, and into the allegedly whitewashed nature of the original thread.
Whitewashing on TikTok
While Lorenz was fielding KKK-related criticism from one half of Twitter, the other half was unable to ignore the skin color of nearly every participant in her thread. The first participant of color finally showed up several tweets into the thread. When speaking with the Daily Dot, Lorenz disagreed with critics stating that people of color showed up too late into her thread. "Give me a break, I literally just shared the ones that I liked on my phone," she said.
The lack of creators of color came across as problematic, as several users noted that the trend appears to have started on "spooky hood alt TikTok." TikTok is notorious for boosting videos from conventionally attractive, thin, white creators.
Indeed, several videos show posts from "spooky hood alt TikTok" with earlier upload dates than most of the viral participants. Lorenz was called out for whitewashing the TikTok ghosts thread on Twitter, though her thread did feature creators of color in subsequent tweets.
According to Lorenz, the trend appears to have started in Southeast Asia. She noted that many of the earliest uploads originated in that area of the world.
One user noted that "if dressing up as a ghost makes you look remotely like a KKK member" it may be best to avoid the practice entirely.
Correction: Lorenz's original thread featured creators of color.