Being Extremely Online can be can a lonely and isolating lifestyle, at times. Maybe that dank meme you uploaded to Reddit got upvoted 32,000 times or you had a tweet that went somewhat viral—but that doesn't mean squat in the real world. Recently, this sad phenomenon was captured in this "they don't know," or, "I wish I was home" meme that's been circulating on the internet.
How the "they don't know" meme originated
The meme's origin dates back all the way to December 2009, according to Know Your Meme, when a crude, MS Paint drawing of Feels Guy (also known as Wojak)—a character popular for depicting feelings of melancholy, regret, or loneliness as a reaction meme—was uploaded to a humor website. The meme illustrated Wojak standing in the corner at a party while others happily socialized around him, to depict feelings of inadequacy in social situations.
"I wish I was at home playing video games," states the caption, adding, "The music is too loud, my feet hurt, I'm hungry."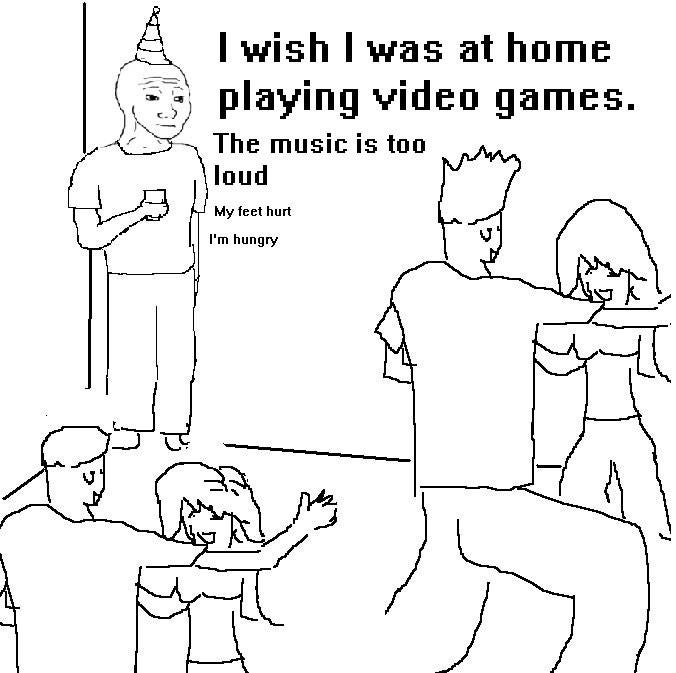 However, the meme resurfaced in November 2020, where it took the sentiment a step further.
Twitter user @urmomlolroasted is credited with the resurgence of the meme, which once again depicts Wojak standing in the corner at a party. Only this time, he's watching his fellow partygoers have a great time while he ruminates, "They don't know I'm mildly popular on left Twitter."
In less than two weeks, the tweet was liked over 200,000 times. Clearly, it resonated with more than a few folks who know all too well the pain of having contextually impressive online achievements that are virtually irrelevant in social situations.
As the meme began to circulate on Twitter, Instagram, and Reddit, others came up with similar variations. As you can see from the examples below, the "they don't know" setup was followed by everything from owning a "mildly popular instagram account" and literally starting the meme, to being good at speedrunning in Super Mario 64.
As the meme continued to spread, others began to get creative with it. In some instances, the "they don't know" referred to having blush on your nose under your mask at the grocery store or running for mayor of New York City. Other examples took it meta or removed the "they don't know" setup entirely.
The following example mashes up "they don't know" with the relatively obscure Rugrats stuck in Paris-Joker meme.
Though many of us feel inadequate in social situations, at least it will probably be six months to a year before those are a thing again? In the meantime, rest easy knowing that you're still a king on the internet—don't let anyone tell you otherwise.
More essential culture reads:
The bimbofication of horror villains is a very 2020 meme
Oxford's COVID vaccine is officially 'Chad AF'
The human-extraterrestrial 'Galactic Federation' alliance has already become a meme