On Dec. 22, President Donald Trump announced Sean Spicer as his press secretary, the person tasked with conveying the administration's most important messages to its most skeptical audience: the White House Press Corps.
A week before the official announcement, Spicer spoke out against the daily press briefings that his job would require. "I think that's a view shared by a lot of former White House press secretaries, a view by some in the media, in fact, that the White House press briefings have become somewhat of a spectacle."
Sean Spicer wasn't the man to put an end to that spectacle. Well, he sort of was. He moved the briefings off camera, a move that irked the press. But more than that, his time is now up. Spicer resigned in protest on July 21 over an appointment of a new White House communications director. Spicer is now gone from the administration forever, but theses memes live on forever.
The best Sean Spicer memes
April 2017
Sean Spicer says not even Hitler "gassed" people; calls concentration camps "Holocaust centers (April 11)
We really should have know this was gonna be the end. Because this was Spicer at his nadir. After saying Hitler was better than Syrian dictator Bassar al-Assad, he called concentration camps "Holocaust centers." And then it took four corrections to get his statement right.
But at an on-camera briefing, Spicer dropped some infamous lines.
"I think when you come to sarin gas," he said, "[Hitler]e was not using the gas on his own people the same way that Ashad [sic] is doing, there was not in the—he brought them into the Holocaust center… but I'm saying in that the way that Assad used them, where he went into towns, dropped them down, to innocent—into the middle of towns, it was brought, the use of it."
https://twitter.com/yashar/status/851862930752778242
The Pepsi United Spicer meme is Twitter at its absolute best, and its most annoyingly derivative (April 11)
The second week of April will be taught in public relations history books, remembered for the kind of ignominy that only the truest, greatest, most embarrassing disasters can muster. That week was the Hindenberg crossed with the Titanic all shoved into a Holocaust Center—which is how Sean Spicer referred to concentration camps in a press briefing. That came on the heels of Pepsi using Pepsi to end racial injustice and United using brute force to end a paying customer's face.
Somehow, somehow, Sean Spicer topped them all by saying Hitler didn't gas people.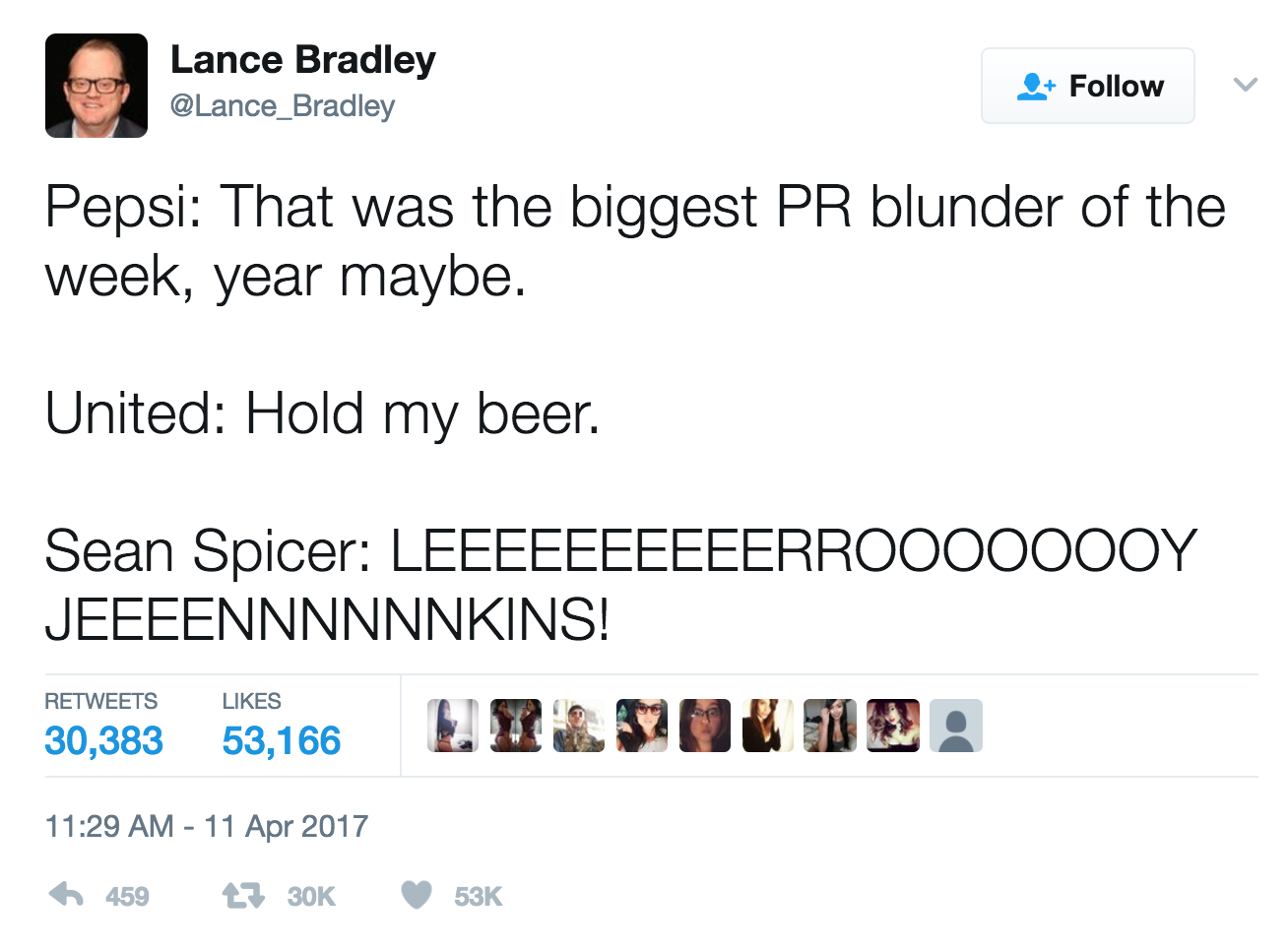 Sean Spicer can spin anything—even famous movie plots (April 7)
You have to admire the way in which Spicer has persevered at the podium. This has been an administration that has pretty much messed up every single thing they've attempted, and he's person refusing to publically eat crow every time.
He keeps chugging along, and it got Twitter wondering, what couldn't Spicer try and somehow defend, or even better, distort back into somehow blaming the media?
https://twitter.com/MarshallSbar/status/849759417277046788
March 2017
Is Sean Spicer doing promo for 'House of Cards' now? (March 10)
We've all had that feeling that, when we screw one thing up, we suddenly feel like we can't do anything right ever. It's not that we somehow became instantaneously worse, but that, after making a mistake, there's so much more scrutiny, so mistakes you normally make that would go overlooked get caught.
Even if it's just an upside down pin, which Sean Spicer wore to a March briefing. A noted symbol of distress, everyone was left wondering if, like that Navy pilot blinking Morse code, Sean Spicer was signaling he needed out.
Instead of helping him though, we just all made fun of him some more.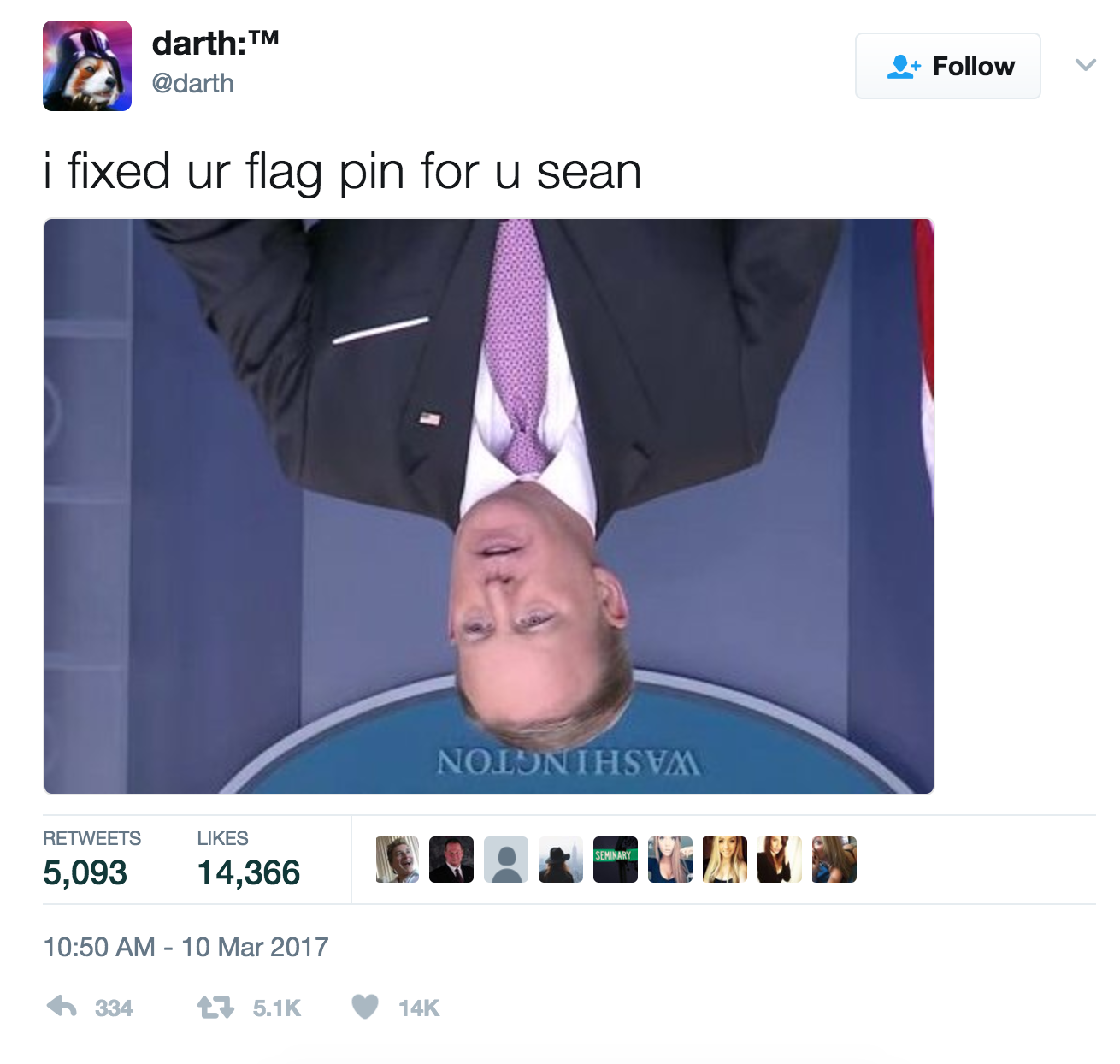 Even House of Cards got in on the punking.
Your loyalty has not gone unnoticed. https://t.co/ba1kz1yvXF

— House of Cards (@HouseofCards) March 10, 2017
Sean Spicer announces Donald Trump as new HUD Secretary (March 2)
While the president does have a background in real estate, he was not named HUD Secretary on March 2 after getting approved by Congress. That is because he is the president and was not his own nominee for HUD Secretary.
But that didn't stop Sean Spicer.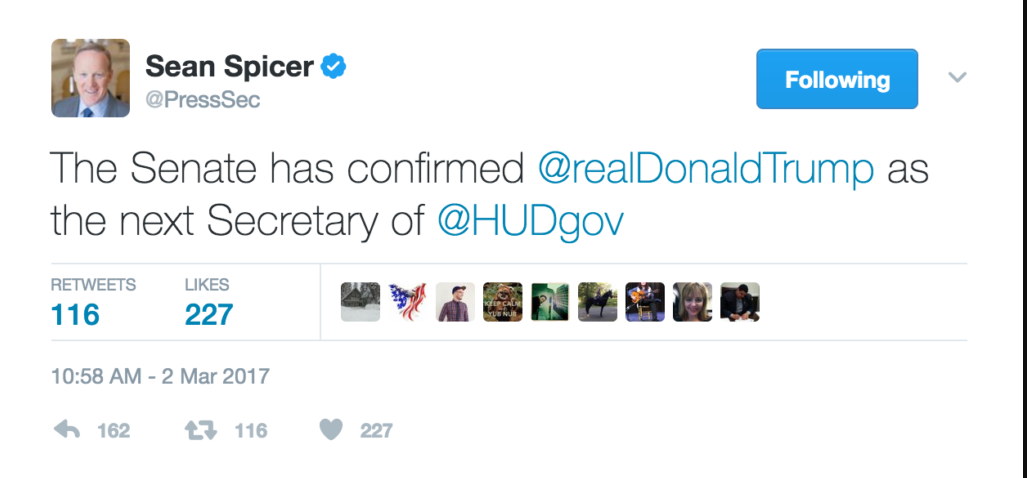 February 2017
Sean Spicer's leak search of his staffers' phones was immediately leaked, and Twitter is loving it (Feb. 26)
At the onset of the Trump administration (and, well, to be honest, still), the White House was beset by leaks.
Who was telling the press who was really behind the travel ban? Why were reports of dysfunction showing up in many mainstream newspapers? Was Chris Christie really forced to eat meatloaf?
There was only one man capable of getting to the bottom of it.
Ehhh, there were probably hundreds of thousands of people who could get to the bottom of it, and pretty much any podunk, small-town policewoman or man could have solved the case.
So let me rephrase that. There was only one man not capable of getting to the bottom of it.
You guessed it. Sean Spicer.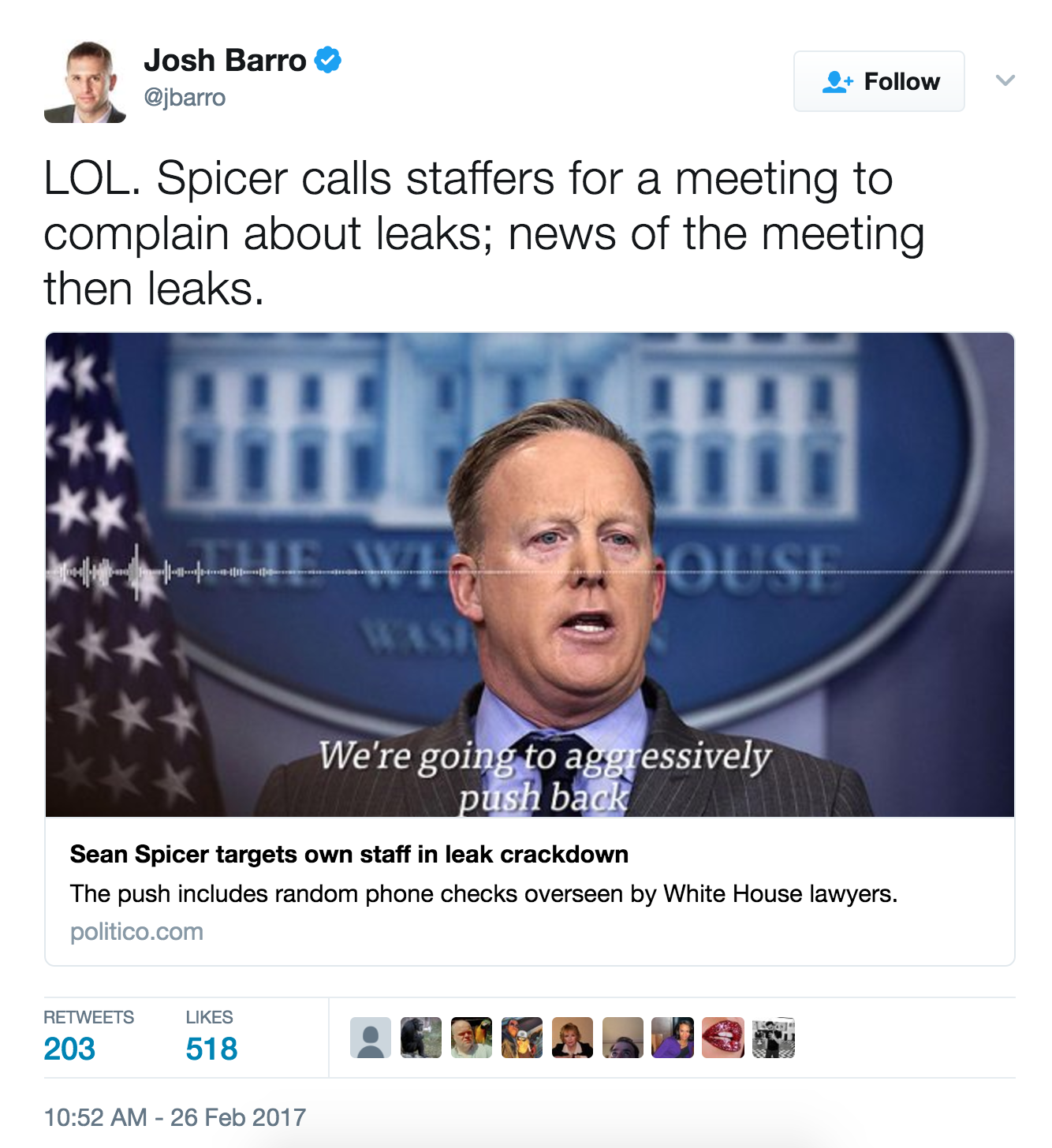 Breitbart's Sean Spicer interview is the new gold standard for awkwardness (Feb. 10)
Sean Spicer is not good at the podium while being heckled and pestered by reporters. Perhaps he's better one-on-one?
No. No, he is not. In an interview with Breitbart we learned that, yes, this is the real Sean Spicer.
Ok I just ripped the whole Breitbart interview because as many people should be able to enjoy this as humanly possible pic.twitter.com/Lyfu5QPQus

— Ashley Feinberg (@ashleyfeinberg) February 10, 2017
Everyone is asking Sean Spicer for money after finding his public Venmo (February 7)
When then 26-year-old Hope Hicks stepped into a role with the communications teams on Donald Trump's campaign, she wisely locked down and/or deleted her entire social media presence.
When 45-year-old Sean Spicer did the same, he did not.
After he took office, his Venmo account was found and everyone started hitting him up for money.
READ MORE:
January 2017
White House Press Secretary Sean Spicer retweets embarrassing 'Onion' video about himself (Jan 30,)
When Spicer started out, his first few days were the stuff of … well, as you'll see further down, the stuff of made up stuff. So, naturally, the Onion took some shots at him.
Oddly though, the press secretary retweeted a video they made about him. Whether he was mocking himself, sarcastically mocking the Onion, or just really proud of mention in a media outlet, no one will ever know.
You nailed it. Period! https://t.co/AUmS1C222b

— Sean Spicer (@seanspicer) January 29, 2017
Did the White House press secretary just tweet out his Twitter password? (Jan. 26)
Yes.
He did.
Twice.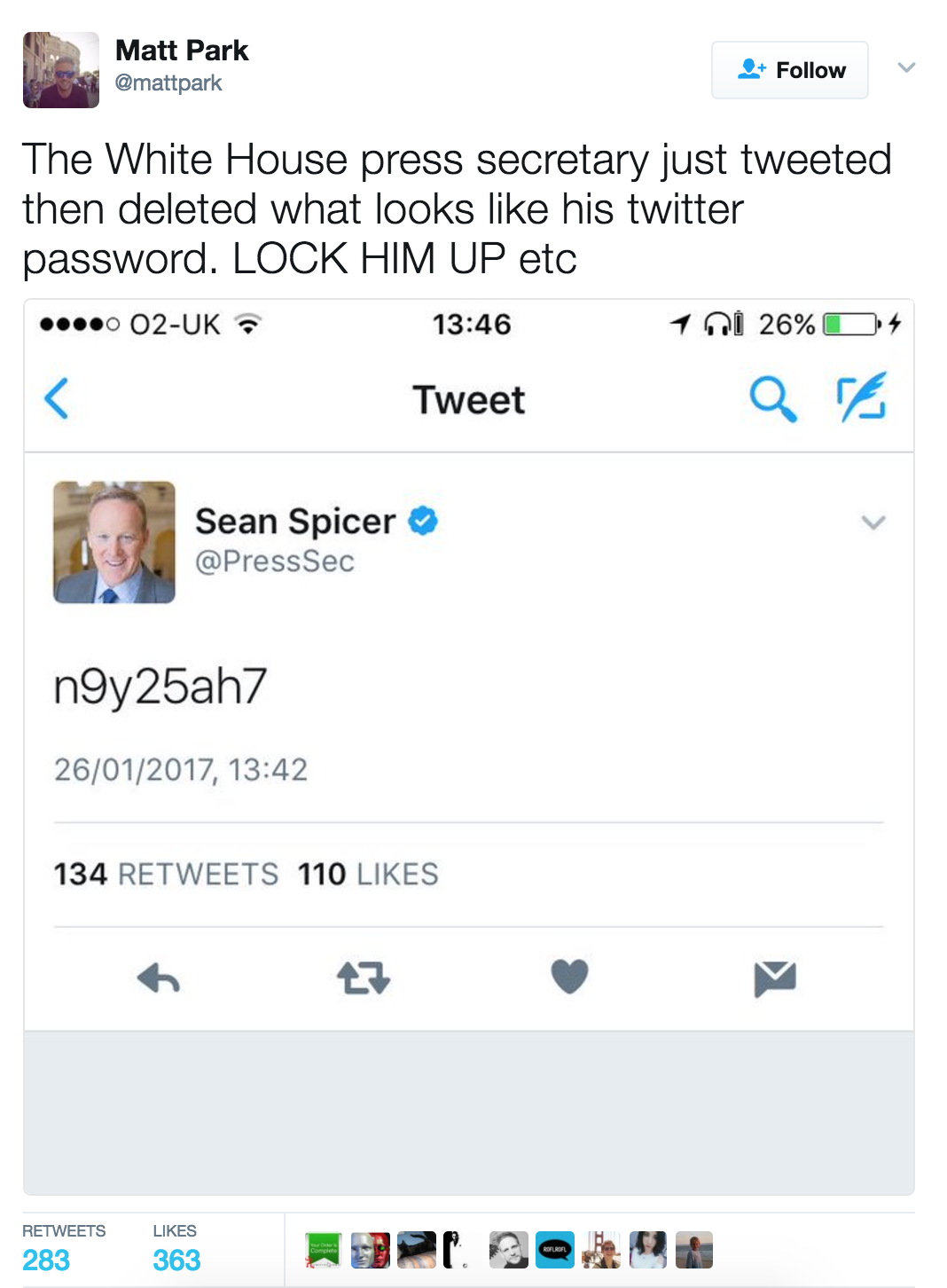 The internet mocks Sean Spicer for his press statement, turns him into a meme (January 22)
On like Sean Spicer's first day as press secretary, he came out and said like 8 billion people attended Trump's inauguration.
And that was only the beginning.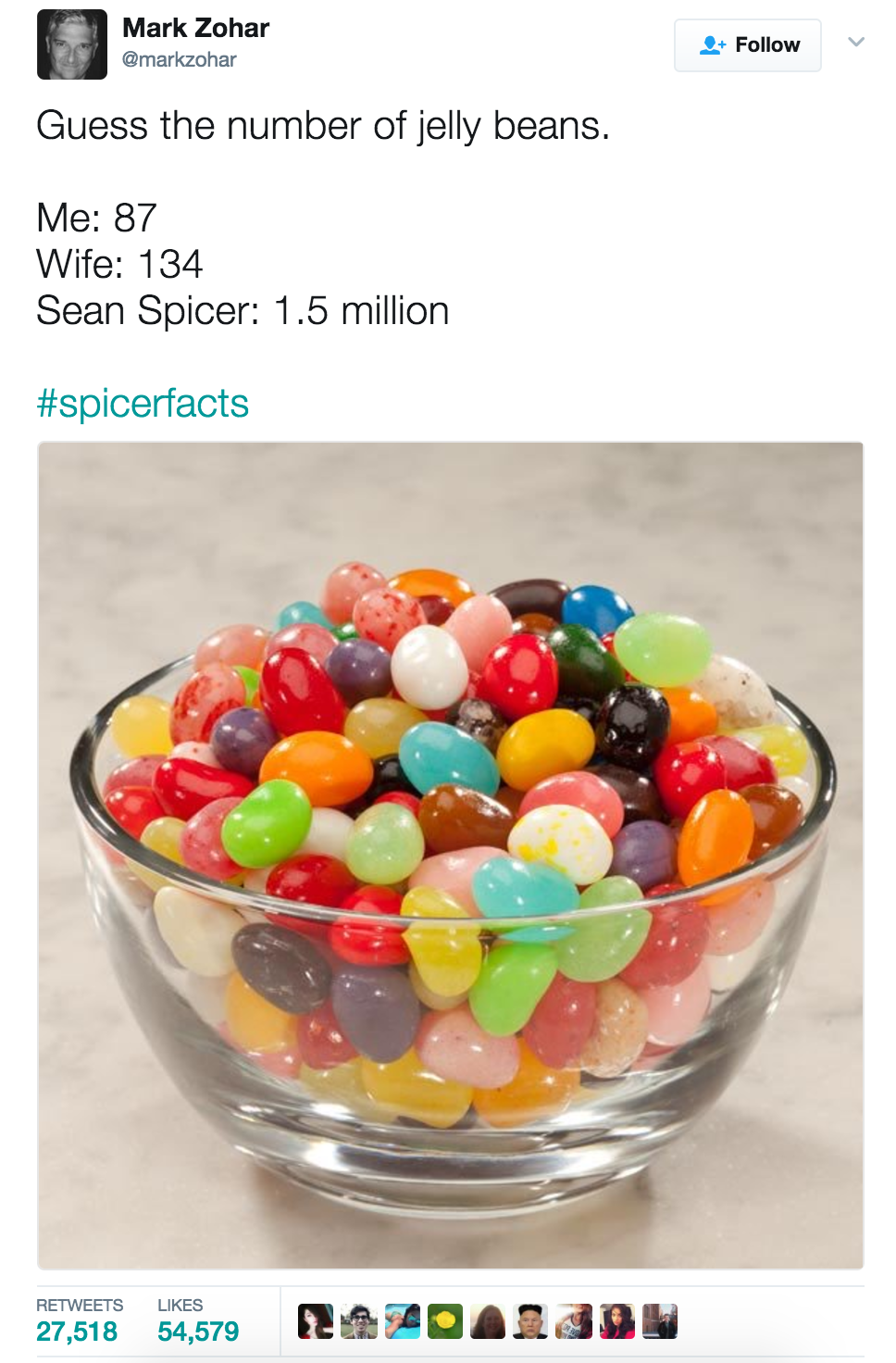 This story has been updated to reflect Spicer's resignation.