Samaria Rice, the mother of Tamir Rice, accused activists Tamika Mallory and Shaun King of profiting off the death and trauma of Black people following the Grammy Awards.
"Tamika and the crew you bitches chasing clout," Rice posted on Facebook on Monday. "Y'all might as well be junior pigs cops."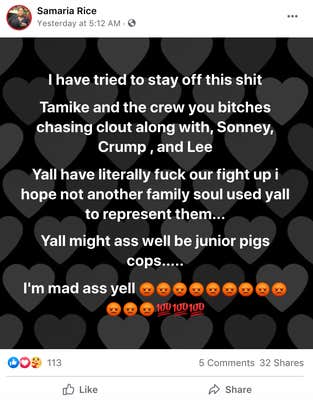 Police killed 12-year-old Tamir Rice in 2014 while he was playing with a toy air pellet gun in Cleveland, Ohio. The U.S. Department of Justice did not charge any of the officers involved in the shooting.
Samaria Rice has been active on social media in calling for celebrities and activists to center those who have lost Black lives in the Black Lives Matter movement. On March 7, she criticized the Black Lives Matter Global Network for raising $90 million but not "doing right" by families affected by police violence.
In her speech at the Grammys, Mallory pointed out the need for accomplices in the quest for freedom. "This is not a trend, this is our plight. Until freedom," Mallory said.
Rice shared Mallory's speech, calling her out as a clout chaser and saying it was a barrier to obtaining justice. "Did she lose something in this fight? I don't think so," Rice said.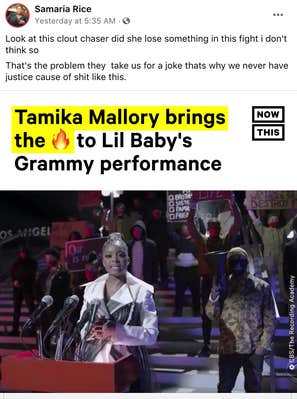 Following Rice's condemnation of Mallory, social media activist Shaun King wrote an essay Tuesday for the North Star titled "Understanding the pain, grief, and fury of Samaria Rice." In it, King said Rice's anger came from grief and defended Mallory's Grammys performance. Rice responded to King's essay, "You are the problem too."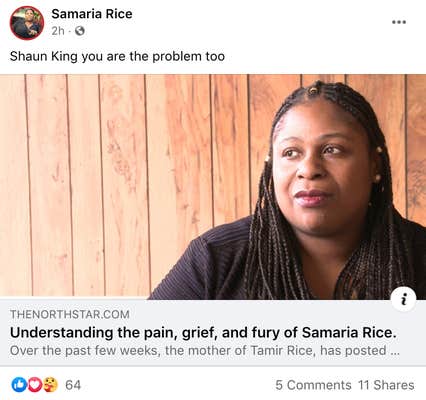 Rice's comments prompted further criticism from Twitter users about King and Black Lives Matter fundraising organizations.
"Shaun King implying that Samaria's Rice anger is irrational and is solely coming from a palace of pain and grief when she is CORRECT in what she is saying about BLM is gross and disgusting," one user tweeted.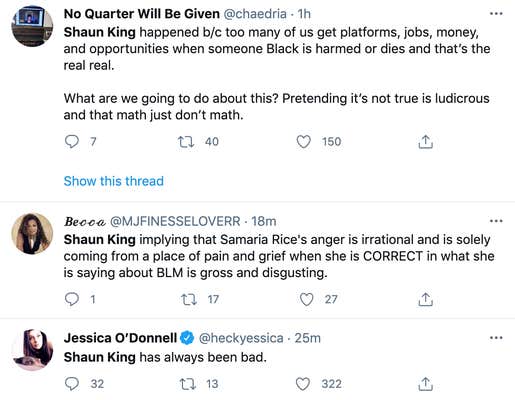 "Shaun King has been profiting off these grieving family's pain for many years now," another person commented. "The fact that he and others who've profited as well are being passive aggressive and trying to police how families should feel who've lost their loved ones….."

Rebecca Wilcox, user @_Rawilcox on Twitter, said she stood by Rice's call out of "the commodification of Black Death."
"The activists she has called out continue to stabilize state-violence as they funnel Black Death through the market economy," Wilcox tweeted. "Black people must continue to die for them to eat. Enough is enough!!!"
Further scrutiny came after rapper Chika said she left a Black Lives Matter "celebrity group chat" last summer after the group allowed rapper YG to film a music video during vigil for Breonna Taylor.
"I had to divest from the BLM celebrity group chat last summer bc when I voiced disgust that they'd allowed [rapper] YG to turn a march and vigil for Breonna Taylor into a concert/music video, nobody wanted to admit it was wrong," Chika tweeted.
Chika said the people in the group chat genuinely cared about the Black Lives Matter movement but that she didn't trust the leadership in the group.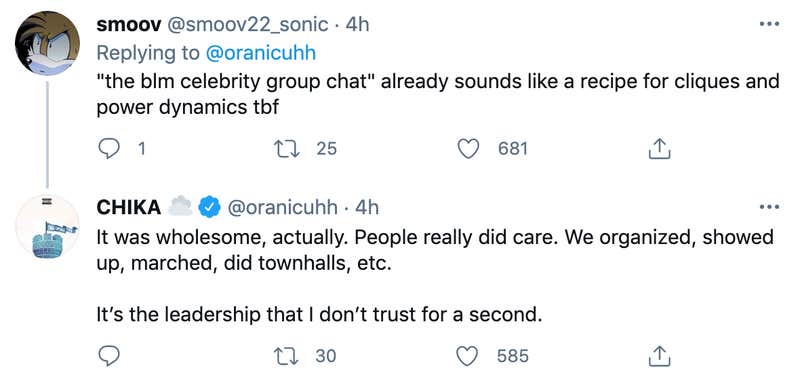 "When your desire for attention & proximity to powerful black celebrities comes at the expense of the fight for justice, you've sold your soul," Chika tweeted.
Social media users said it was disheartening to see celebrities use Black grief and trauma for the purpose of gaining fame or profit, referencing rapper Lil Baby's BLM-inspired Grammy performance that reenacted a police shooting.
Mallory wasn't the only person to invoke Black Lives Matter in a Grammys performance. Rapper Lil Baby reenacted a police shooting during the awards show. "I didn't feel right in my soul seeing fireworks and protest imagery used for aesthetics in a man's performance," one user wrote.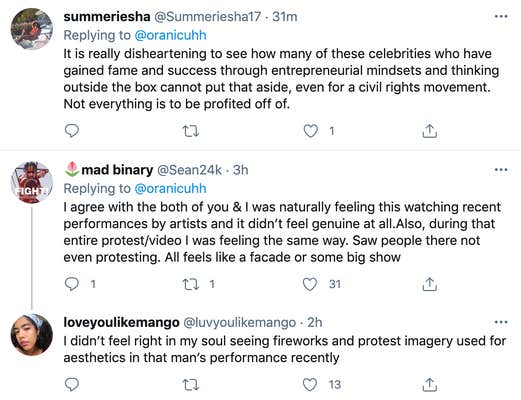 ---
Must-reads on the Daily Dot