What exactly is going on in South America, and why are hundreds of people in funny robes suffering from shock, broken bones, and… bites?
It must mean only one thing: It's time for the Quidditch World Cup. And this year, Harry Potter fans who can read dispatches from the unexpectedly dangerous Quidditch stands—as written by J.K. Rowling at Pottermore.
Chaos and mayhem erupted in Patagonia during the 427th World Cup when organizers made the unwise decision to host a parade of magical mascots, some of whom turned on each other. (Apparently, Norwegian lake monsters don't play well with Fijian shark-men.) The daily writeups come straight from the mouth of former Quidditch pro and reporter Ginny Weasley, who as all die-hard Potter fans know had a career as Seeker for the Holyhead Harpies before becoming the Quidditch correspondent for The Daily Prophet.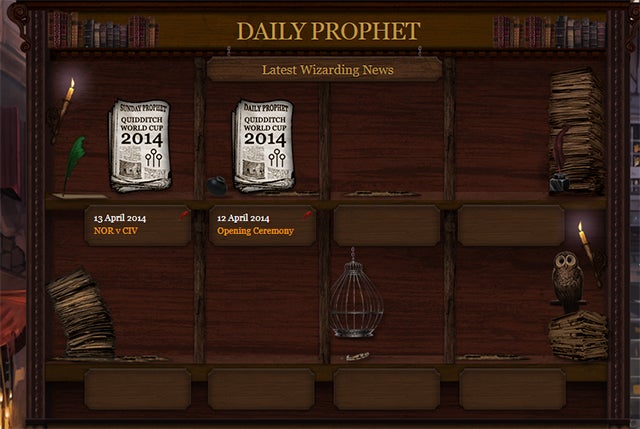 The Prophet comprises Pottermore's new subsection, where Rowling is turning out dispatches from the fictional World Cup this week. Rowling, partly inspired by her home nation of Scotland's rugby team, has been churning out Quidditch-related projects all year. Last month, she unveiled a special new two-part history of the game on Pottermore, where fans learned that sadly, mass carnage and unexpected magical disasters are nothing new to the wizard world's favorite sport.
Undoubtedly that's part of the charm for die-hard wizarding fans who risk life and limb every to return to watch their favorite Quidditch teams duke it out for the championship.
It's been a banner 12 months for Harry Potter fans, as Rowling has been incredibly busy and active with plans to continue and extend her magical universe. In addition to writing a whole new adult series under the pseudonym Robert Galbraith, she partnered with a playwright to dramatize Harry's early years in a play for children, and is currently scripting three new films in the Harry Potter universe. And, of course, she's bringing us play-by-play writeups on international magical sports.
How does she do it all, again?
Oh, right. Magic.
Photo via jinglesthepirate/Flickr