The Daily Dot has shown no reservations in declaring our love for R. Kelly's "Ignition (Remix)" or the We the People petition to make the song our national anthem.
The story broke Monday—at which point the petition had wrangled up about 500 signees—and seemed to spread throughout the vastness of the Internet's outrageous epicenter for much of the early half of this week. For this, we're genuinely excited.
More than 7,200 people have signed the petition to change the national anthem to the 2003 R. Kelly hit as of Thursday morning. Last night, we received an email from the petition's creator.
We promptly responded by asking for an interview and sent him a lineup of questions. The creator, a 24-year-old screenwriter from Wilmington, N.C., named Stephen Ruiz, countered appropriately, sending a series of answers our way just before 5am PT.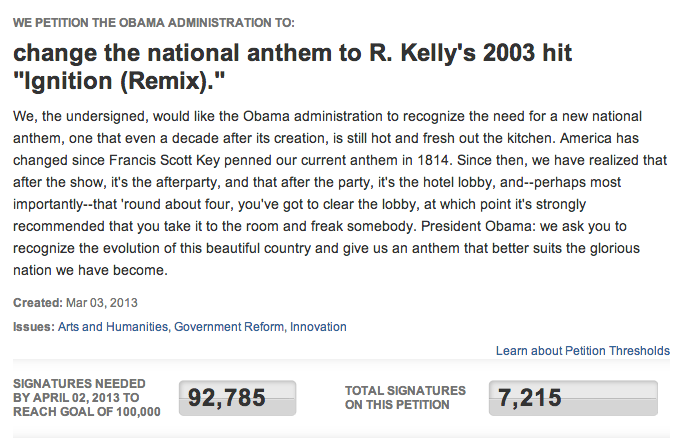 Daily Dot: Why "Ignition (Remix)"?
I made this petition because I was bored and nobody wanted to go out on Sunday night. It's Spring Break, so a lot of people were out of town. I chose the song because everyone knew it and I thought my Tumblr followers would get a kick out of it. I almost did "I Believe I Can Fly," but I figured it would be funnier with "Ignition (Remix)."
DD: Other than the fact that you'd like to replace it with an R. Kelly song, what do you think of our national anthem?
Honestly, I don't care too much about the national anthem. The third verse is kind of f***ed up, but we don't generally sing that one at games. Really, this was a joke through and through. All of our national symbols, to me, represent a de facto requirement of the government to foster unity more than any actual patriotism on the part of the citizenry. I didn't think this would become as big of a deal as it has.
DD: How are you feeling about the petition's success so far?
I'm feeling pretty good about it. It was a joke, but the farther it goes, the funnier it is. And as a writer, the fact that more than 7,000 have signed it and likely thousands more have read it, it feels great to know that something I wrote, however silly, is getting viewed.
DD: What's your favorite R. Kelly song besides "Ignition (Remix)?"
"Bump and Grind." It made me profoundly uncomfortable as a child for reasons I couldn't begin to understand, but good lord, it's a good song.
DD: What's your favorite national anthem besides "The Star Spangled Banner?"
To be honest, as much as I'm a student of politics and history, I'm not entirely familiar with most other countries' national anthems. When I think of "God Save the Queen," I think of the Sex Pistols, not the UK's anthem from which they derived their hit song's name. "O Canada"'s pretty sweet. As a hockey fan, I know that one.
DD: Should you reach 100,000 signees, how do you reasonably expect the Administration to respond?
Oh, they're going to deny it immediately. It was never intended to be a genuine plea for change. And as much as I'd love to see Alicia Keys on the field singing "Ignition (Remix)" before the Super Bowl, I don't especially care that it will never happen.
DD: What do you think could sing "Ignition (Remix)" as well as R. Kelly? Who is "Ignition (Remix)"'s Marvin Gaye?
I could see Adele or Beyonce killing it. In an ideal world, not bound by any form of logic or reason, I'd love to see Ricky Reed of Oakland-based pop duo Wallpaper. cover it, whether before a sporting event or just for fun, but in terms of raw talent, Adele or Beyonce.
Photo via R. Kelly/Facebook