Conservatives have been forced to reckon with some uncomfortable truths about racism and police brutality in America over the past two weeks. But perhaps no pill proved harder to swallow than this: Rage Against the Machine is a political band. 
Yes, that Rage Against the Machine. The one that wrote "Killing in the Name" in response to the Rodney King riots. The one that equated the police to the Ku Klux Klan in that very song. The one whose debut album cover features a photo of the self-immolation of Vietnamese Buddhist monk Thích Quảng Đức, who was protesting Vietnam's oppression of Buddhist people. 
In the year 2020, not knowing Rage Against the Machine has revolutionary politics is kind of like not knowing Fox News supports Donald Trump. Alas, some conservative RATM fans recently had the veil lifted by none other than guitarist Tom Morello himself.
On Saturday, Morello tweeted a screenshot of an interaction he had on an Instagram photo that featured his guitar with the words "F*CK TRUMP" on the back.
"Another successful musician instantly becomes a political expert," Instagram @davez67 wrote.
Morello fired back.
"One does not have to be an honours grad in political science from Harvard University to recognise the unethical and inhumane nature of this administration but well, I happen to be an honours grad in political science from Harvard University, so I can confirm that for you," Morello wrote in reply.
He then posted the interaction on Twitter.
"Like shooting fish in a barrel," Morello captioned his tweet, which has earned nearly 297,000 likes.
Morello similarly dunked on Twitter user Scott Castaneda, who told the guitarist he "use to be a fan until your political opinions come out [sic]. Music is my sanctuary and the last thing I want to hear is political bs when I'm listening to music."
The tweet got ratio'd into oblivion, and Castaneda has since deleted it—but not before Morello caught wind of it.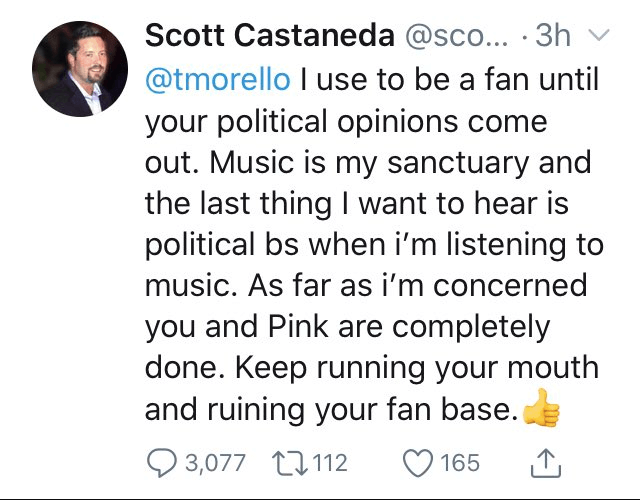 "Scott!! What music of mine were you a fan of that DIDN'T contain 'political BS'?" the guitarist asked. "I need to know so I can delete it from the catalog."
Twitter user @howfink countered Castaneda's criticism with the question on everybody's minds: "What 'Machine' did you think he was raging against? The dishwasher?"
Liberals—and honestly, anybody with reading comprehension skills—had a field day roasting conservatives who were just discovering RATM's lyrical content.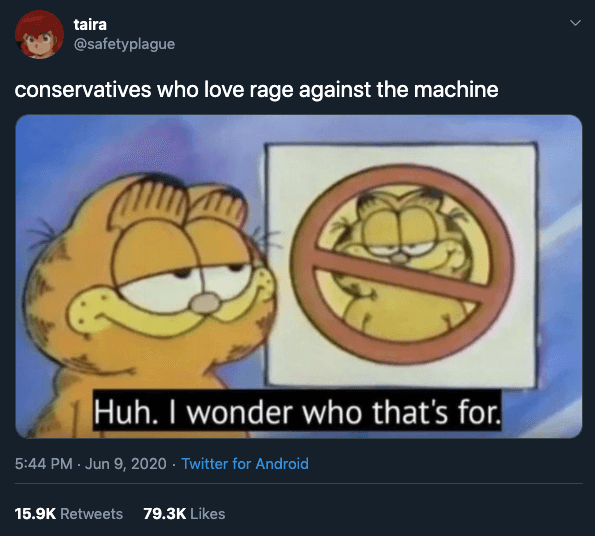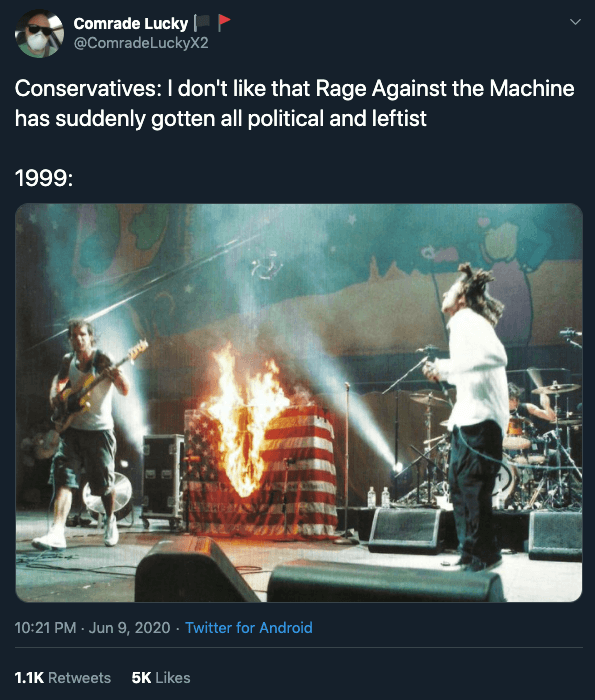 This isn't the first time Morello has slammed conservative hypocrites for liking his band. In 2012, he wrote an open letter to Paul Ryan, who previously cited RATM as one of his favorites.
"Paul Ryan's love of Rage Against the Machine is amusing, because he is the embodiment of the machine that our music has been raging against for two decades," Morello wrote. 
Rage Against the Machine was supposed to be in the middle of a massive reunion tour right now. The band postponed all dates until 2021 due to the ongoing coronavirus pandemic.
READ MORE: