Streaming service Quibi met its end last month, after just six months of nonstop content and people wondering who exactly was watching. It never really had a breakout hit, though the "Golden Arm" episode of 50 States of Fright became a meme.
Quibi wanted to capture the mobile streaming market, and even had its own Turnstyle technology for watching on your phone. It didn't quite capture one phone-first demo, Gen Z, but a clip from Quibi series Wireless is showing just how close the company was to engaging.
According to Distractify, in early October a clip from the Steven Soderbergh series, which stars Tye Sheridan as a man stranded in a snowstorm with a dying phone, was posted to TikTok. It's a front-facing clip in which Sheridan's Andrew Braddock, face bloodied, sends a video to his mother. "Mom, if you're watching this right now it means that I never made it out of here," he says. It has more than 6 million views, in part because people apparently think it's real.
The user who posted it only has that TikTok on their profile, but there are more than 46,000 comments on the clip. Some people seem to be confused as to whether they're actually seeing a person in distress (it is snowing in some parts of the country) while others seem to be anticipating him saying, "I ain't never seen two pretty best friends," a reference to a recent TikTok meme. Others made jokes about being "too late" to help him, since the video is a month old.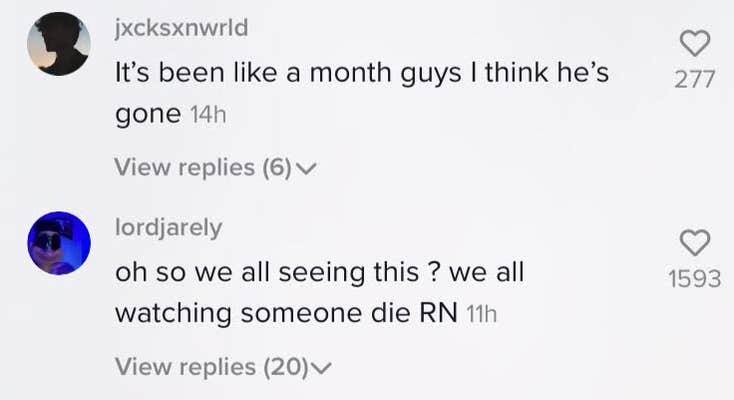 While there are also plenty of comments clarifying that it's not real, the TikTok account is called ineedhelp438 and it's the only video on the account: Was this some sort of covert Quibi marketing? A last-ditch effort to get someone, anyone, to watch? Another TikTok account recently appeared with only that video on it, and the user name call7783302389please. That number is apparently one used to rickroll people.
So it could also just be trolling. But the fact that it's going viral now (and maybe even getting people to watch the show) is kind of fitting.