If you weren't looking for it, you may not have even noticed Pinterest's makeover.
Late Monday night, the site rolled out several changes to the way users interact with pinned images—with no mention on its official blog, Facebook page, or Twitter handle.
Now, clicking on any pin directs the user to a lightbox interface that singles out the pin and all its vitals: the URL it comes from, who originally pinned it, who repinned it, and which board it's on.
In the photo below, the Daily Dot demonstrates how clicking on a pin now fades out all other pins, allowing the user to focus on the image at hand. Before this change, clicking on a pin forced the user to navigate to a new page each time he or she wanted to view the details, losing one's place in Pinterest's endless scrolling feature.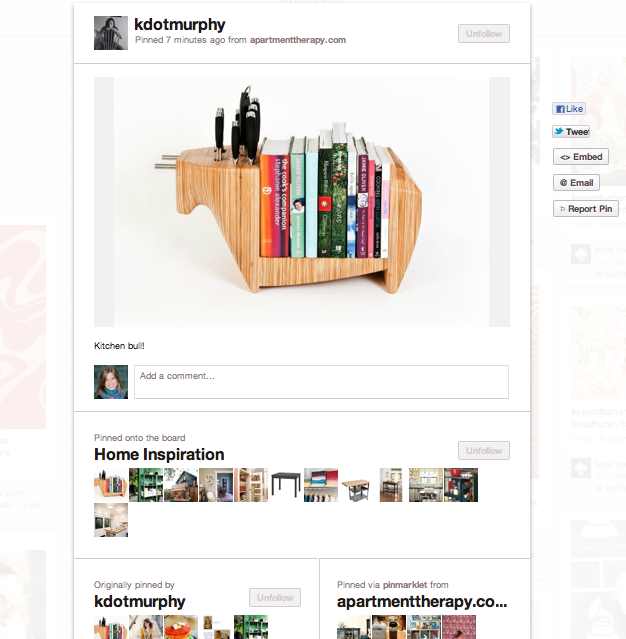 There will not likely be a press release indicating the change, since the feature does not add anything new; it just makes the same tasks more efficient.
The only reason the Daily Dot knew to look for something new was because cofounder Ben Silbermann tweeted a hint on Jan. 30: "Excited to launch a new feature today!"
Several users, including Pinterest expert  and recent Daily Dot interviewee Jennifer Mehditash, were expecting a private boards feature, a highly anticipated addition that would allow designers to restrict board sharing to partners and clients.
"[At Alt Summit] Ben told me yes, private boards are something high up on the list and many people had been requesting it," Mehaditash told the Daily Dot.
On Pinchat, an open Facebook group for Pinterest enthusiasts (including this reporter), Drew Hawkins of Board of Man fame approved of the update.
"[It's] not world changing but its a much cleaner aggregation of data," he said. "Also, it rewards members who are contributors to a board by offering a direct 'follow' option inside of the pin."