A bright pink house recently decorated with two large emoji in Manhattan Beach, California, is tearing apart the small neighborhood of El Porto.
One of the emoji painted on the house is a crossed eyed face with its tongue sticking out. The other is crosseyed with a zipper across its mouth, the emoji for "shut up." Neighbors say the new additions to the duplex are retaliation for reporting the owner for violating city ordinances.
Owner Kathyrn Kidd insists it's nothing of the kind.
"The artist is kind of a friend of mine," Kidd said in an interview with local paper Easy Reader News. "Instead of everybody being so gloomy, always so depressed, always in other people's business, I just wanted to send a message to be happy, be colorful, be positive, and enjoy. Everything doesn't have to be gray. It can be full of colors. Life is full of rainbows. I get tired of looking at gloomy buildings so I do something that makes me smile and probably makes someone else smile, too. That was my inspiration."
Kidd's artist friend goes by Z the Art. According to Easy Reader News, when he originally posted a photo of the house to his Instagram, he included the caption, "Are your neighbors constantly ratting you out? Have they cost you thousands in fines? Have you wanted to tell them off lately? Why risk a case, when you can hire me to paint them a pretty message? No verbal confrontations, speedy turnaround, open to photorealism and custom emojis. Hit the dm for a free quote today."
While the post still exists, the caption now simply reads "THE EMOJI HOUSE" along with several hashtags.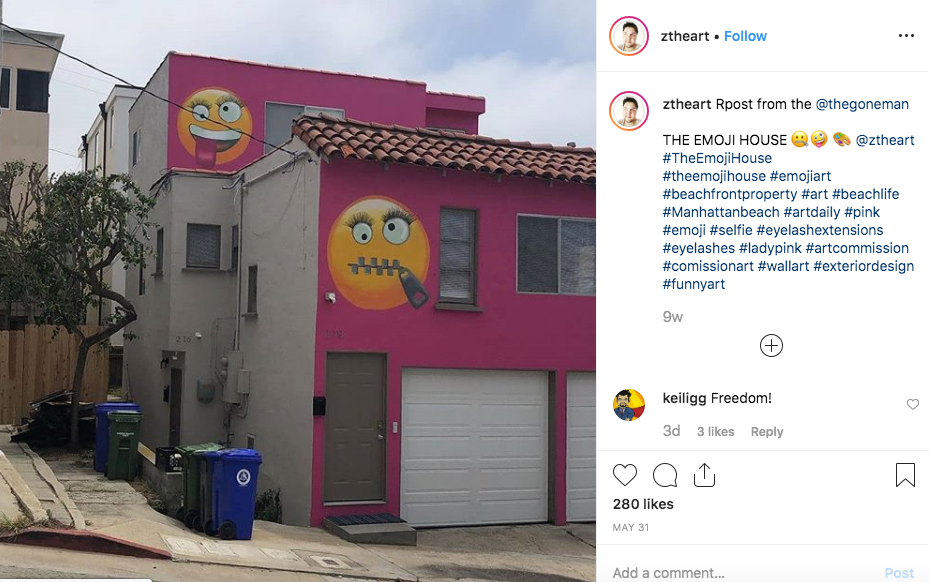 Several of Kidd's neighbors don't find the art very amusing and say it's her way of getting revenge. Several months ago, they reported Kidd for using the house for short term rentals, which are illegal in Manhattan Beach. Kidd was fined $4,000.
Susan Wieland, who lives almost directly across from the house, said that the emoji are painted in her likeness to mock her.
"I feel like I've been directly attacked with my eyelash extensions," Wieland said. "It's definitely directed. I had them done here in Manhattan Beach, and they did them way too big. Now it's painted on the house."
So far, the city has done nothing to compel Kidd to remove the murals.
"If it's private property, no public funding or involvement, and it meets the definition of a mural and it is not a sign, we have very little if any ability to prevent it," said Assistant City Attorney Micheal Estrada during a public planning commission meeting.
The fight is ongoing, but for now, the emoji remain.
READ MORE:
Got five minutes? We'd love to hear from you. Help shape our journalism and be entered to win an Amazon gift card by filling out our 2019 reader survey.
H/T Easy Reader News