The creator of a cartoon frog beloved by online right-wingers is suing conspiracy theory site Infowars, the Associated Press reported Wednesday. Infowars, best known as the home of Alex Jones's red-faced on-camera rants, had been selling a "MAGA" poster that featured Matt Furie's Pepe the Frog character alongside Donald Trump and other faces of the right.
Furie filed suit Monday against Infowars, claiming that the $30 poster, created by artist Jon Allen, constitutes copyright infringement. Alex Jones, who called the lawsuit a "publicity stunt," told the AP his site had sold 1,000 of the prints so far. He also dismissed Pepe as "stupid looking" and "a dumb meme."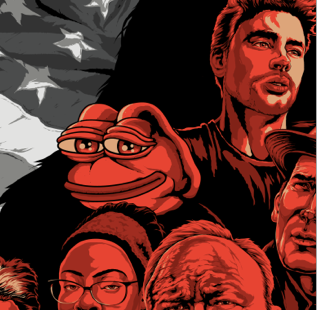 That dumb meme has done a lot for the insurgent online right, though. Pepe became the mascot for pro-Trump meme groups, and he was beloved on 4chan's /pol/ and Reddit's the_donald, the biggest online hubs for young "MAGA" men. Many /pol/ posters credit Pepe and "meme magic" for Trump's election victory.
Since 2016, Furie has been vocally opposed to people using Pepe, who was a laid-back dude in Furie's original "Boy's Club" webcomics, as a far-right mascot. In 2017, he reached a settlement with the creator of an anti-Muslim children's book called Pepe and Pede, and the book was removed from shelves. The AP reports he also has a lawsuit pending against a Kansas City, Missouri woman who sells Pepe oil paintings.
Furie's battle to reclaim Pepe isn't over, but it has seen some minor successes. Infamous white supremacist Richard Spencer agreed to stop using Pepe, and the frog has been removed from some controversial subreddits. Still, once a character becomes a meme and gets treated as "property of the internet," it's awfully hard to convince people otherwise.
"It's a bit like whack-a-mole," Furie's attorney, Louis Tompros, told the AP.