Owls are fearsome nocturnal predators, with sharp talons and even sharper vision that allows them to zero in on unsuspecting prey. Their large eyes not only give them enhanced night vision but also give them a scholarly appearance and Owls are often used as a symbol of wisdom in works of fiction.
You probably knew all that, though. What you probably didn't know was how cute they look when they run.
https://twitter.com/NewYorkNeek/status/1225573662507573249
On Feb. 6, @NewYorkNeek posted the above video to Twitter along with the caption "Y'all ever saw a owl run?"
In the relatively short amount of time it's been up, it's already garnered over 23 million views. Everyone seems to love it.
What an absolute Darling. #LoveOwls

— Ange – You must be joking!! (@AngelaCar999) February 8, 2020
Wait wait wait …. I wanna see! pic.twitter.com/BedyMXWGsy

— MCFC Tnarrat (@la_tarrant) February 7, 2020
Owls are cats with a pilot license

— K-Ci's ad-libs (@frodecision) February 7, 2020
We don't currently know the name of the owl in question, but it's quickly become a meme.
feeling confrontational today pic.twitter.com/kRaB2wvEXG

— JP (@jpbrammer) February 7, 2020
Me when I see a cater waiter at an event pic.twitter.com/bRKxzNWjeQ

— JOHNNY SIBILLY (@JohnnySibilly) February 7, 2020
When I overhear someone saying they know how to reverse this weird spell that turned me into an owl pic.twitter.com/TeY85uGCFd

— eric af (@ewfeez) February 7, 2020
It's even inspired an audio remix.
February 7, 2020
Running Owl has been with us less than a week so who knows how long it might stick around or what wacky turns this meme might take.  If we've learned anything from Duoling (other than some basic Spanish) it's that owls memes can't get really weird really quickly.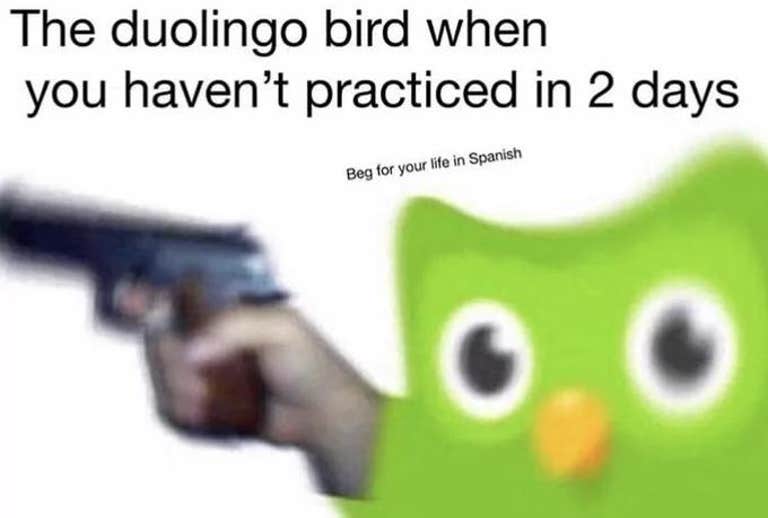 READ MORE: