A group of apparently Russian hackers, working on the website "exposed.su," claims to have published the private personal information of—or "doxxed"—17 politicians and celebrities. Victims include Michelle Obama, Jay-Z, Beyoncé, Attorney General Eric Holder, FBI Director Robert Mueller, all of whom had credit reports posted to the website, as well as Hillary Clinton, and Joe Biden, whose social security numbers were published.
Much of the information in the "dox," or "documents," is available in the public record. But the people behind exposed.su were also able to obtain social security numbers, which seem to have been used to access credit reports and loan and mortgage information for nearly all of the affected celebrities.
According to one posted document, Michelle Obama used to have a Banana Republic credit card (and a Gap one):
Jay-Z has an outstanding balance of $227,115 on his American Express Card, and has a Cox cable bill for $892 that's been turned over to a collections agency.
Kim Kardashian has roughly $5.85 million left on a mortgage, with a monthly payment of $26,679.
Paris Hilton has a very respectable credit score of 742.
The other doxxed celebrities include Mel Gibson, Ashton Kutcher, Britney Spears, Sarah Palin, Hulk Hogan, Donald Trump, and Arnold Schwarzenegger. Some of the affected—Joe Biden and Hillary Clinton—managed to escape the doxxing without their credit reports being accessed, though the website appears to be continually updating.
It's unclear who, exactly, is behind the doxxing. The website's title is "The Secret Files," and it contains the quote "If you believe that God makes miracles, you have to wonder if Satan has a few up his sleeve." It links to a Twitter account with two tweets in Russian: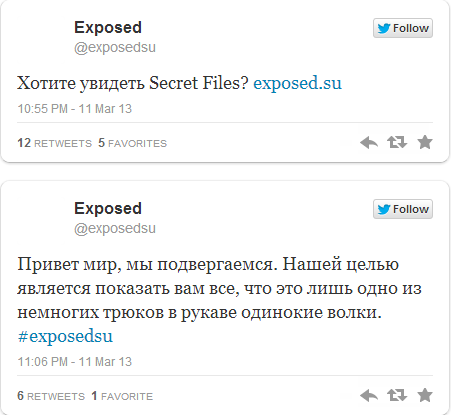 The first says "Want to see secret files?" The second roughly translates to "Hello world, we are exposed. Our goal is to show you all that this is only one of a few tricks up our sleeves."
Though the information in the site hasn't been definitively confirmed as accurate, the social security numbers provided by the website match partial numbers provided in public records databases, as do the addresses.
TMZ, which first reported the information Monday evening, said the LAPD is investigating the hack, which also targeted Charlie Beck, the LAPD's Chief of Police. The FBI is also looking into the attack, though sources tell the New York Daily News that agency wouldn't confirm or deny an official investigation, and Forbes reports that the credit agencies involved are also investigating.