Reddit was knocked out Sunday evening thanks to a flood of crazed NFL fans.
During the National Football Conference Championship game last night between the Seattle Seahawks and the San Francisco 49ers, Reddit was temporarily taken offline thanks to a surge in traffic on r/nfl, according to the following tweet from Reddit general manager Erik Martin.
Never thought I'd live to see the day when a thread about NFL playoffs got enough traffic to take down reddit for a bit. #fuckthebirdteams

— erik martin (@hueypriest) January 20, 2014
At this time it's unclear which r/nfl thread was responsible for crippling the social news site but chances are it was the post titled "Game Thread: San Francisco 49ers (12-4) at Seattle Seahawks (13-3)." The thread collected an impressive 28,272 comments from redditors essentially live-blogging the match. In comparison, President Barack Obama's historic AMA ("ask me anything") in 2012 collected 24,000 comments.
r/nfl mod TurnerJ5 told us, "It was in fact a very busy night, busier than last year's Super Bowl as far as raw traffic." He also sent along this traffic report screenshot to prove the massive numbers.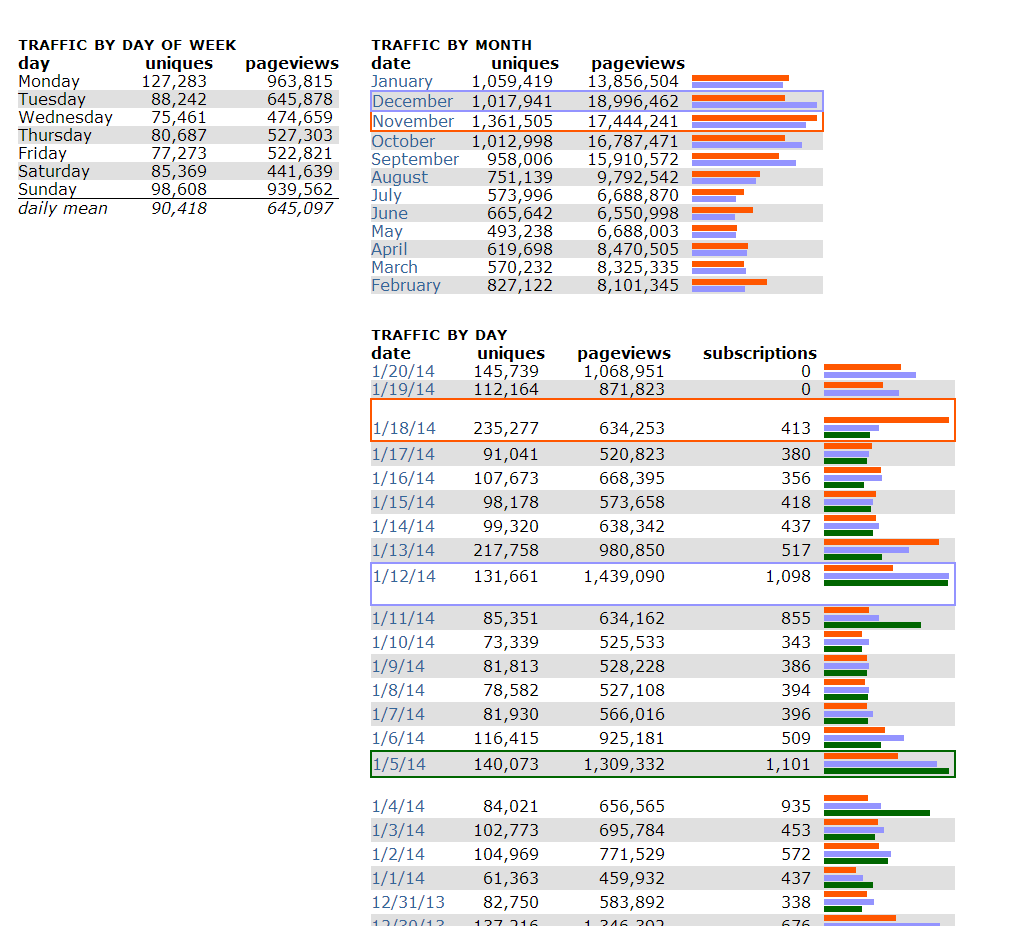 The Seahawks/49ers post followed one for the American Football Conference Championship match between the New England Patriots and the Denver Broncos. That one collected more than 20,000 comments.
The Seahawks defeated the 49ers 23-17. The Broncos dominated the Patriots 26-16.
Both NFL games were also a huge hit on Twitter where they collected 5.6 million tweets combined.
174,656 tweets-per-minute (TPM) during @49ers v @Seahawks #nflplayoffs game — nearly at Super Bowl 2013 heights pic.twitter.com/sOJ8gX9Try

— Twitter Data (@TwitterData) January 20, 2014
One of the most tweeted moments of the day happened during a post-game interview with Seahawks cornerback Richard Sherman, who had just made an impressive block to seal his team's victory.
"I'm the best corner in the game, when you try me with a sorry receiver like [49ers wide receiver Michael] Crabtree, that's what you're going to get," Sherman shouted to Fox sideline reporter Erin Andrews. "Don't you ever talk about the best."
The moment was further etched in history with the following images:
Well, that escalated quickly! #sherman pic.twitter.com/hb8pRyVRbn

— Fireball Whisky (@FireballWhisky) January 20, 2014
Richard Sherman… The Angry Birds version pic.twitter.com/7P9swRUOBF

— NFL Access (@NFL_Access) January 20, 2014
Wonder if Erin Andrews had nightmares about Richard Sherman last night? pic.twitter.com/Ppky4XhBvd

— Andrew Luck's Head (@AndrewLucksHead) January 20, 2014
Photo by dnak/Flickr