The hyperbolic phrase "break the internet" is thrown around with such abandon these days, it barely tends to register. But that's exactly what happened mere hours after the Morris Animal Refuge in Philadelphia posted photos of their latest adoptable cat, "Mr. B," to social media on Thursday—which instantly went viral and literally crashed the shelter's website.
(At the time of this writing, the site currently redirects to the Facebook post.)
And it's not hard to see why. BeeJay—who has since been nicknamed "Big Boi," or "Mr. B" by the staff at Morris, for relatively obvious reasons—is quite simply a breathtaking creature. Clocking in at a whopping 26 pounds, with the saddest Eeyore eyes you've ever seen, it's hard not to immediately fall in love with this enormous, approximately 2-year-old tabby cat.
"He's a chonk of a chonk. He redefines the term," tweeted Morris Animal Refuge on Thursday morning. "Can you guess how much he weighs? More importantly, can you give him a home? Adopt this jumbo-sized package of fluff & love. Please RT to help this sad-eyed guy find happiness!"
OMG, big boi Mr. B is a CHONK. He's a chonk of a chonk. He redefines the term. Can you guess how much he weighs? More importantly, can you give him a home? Adopt this jumbo-sized package of fluff & love: https://t.co/v8aB6PzBbL. Please RT to help this sad-eyed guy find happiness! pic.twitter.com/tquRuvRaws

— Morris Animal Refuge 2020 (@MorrisAnimal) August 22, 2019
And RT the people did. As it stands, the post has been retweeted over 11,000 times and shared over 7,000 times on Facebook. (Not to mention, the shelter raised over $1,300 in Mr. B's name.)
By Friday morning, news of Mr. B had swept across the nation like wildfire. Dan Solomon, the social media and outreach coordinator at Morris Animal Refuge, told the Daily Dot during a shelter visit that and a few prominent New York City-based morning shows had even reached out about a studio visit.
However, it seems highly doubtful that Mr. B is going to be up for such a trip anytime soon.
When I visited Morris on a gloomy Friday morning, Mr. B was already completely exhausted from his newfound fame. By 11am, he had already received visits from at least two local news stations and was refusing to come out of his trailer. And by "trailer," I mean a shelf of the closet in the upstairs office of the shelter–which happens to be the oldest in America, founded in 1874.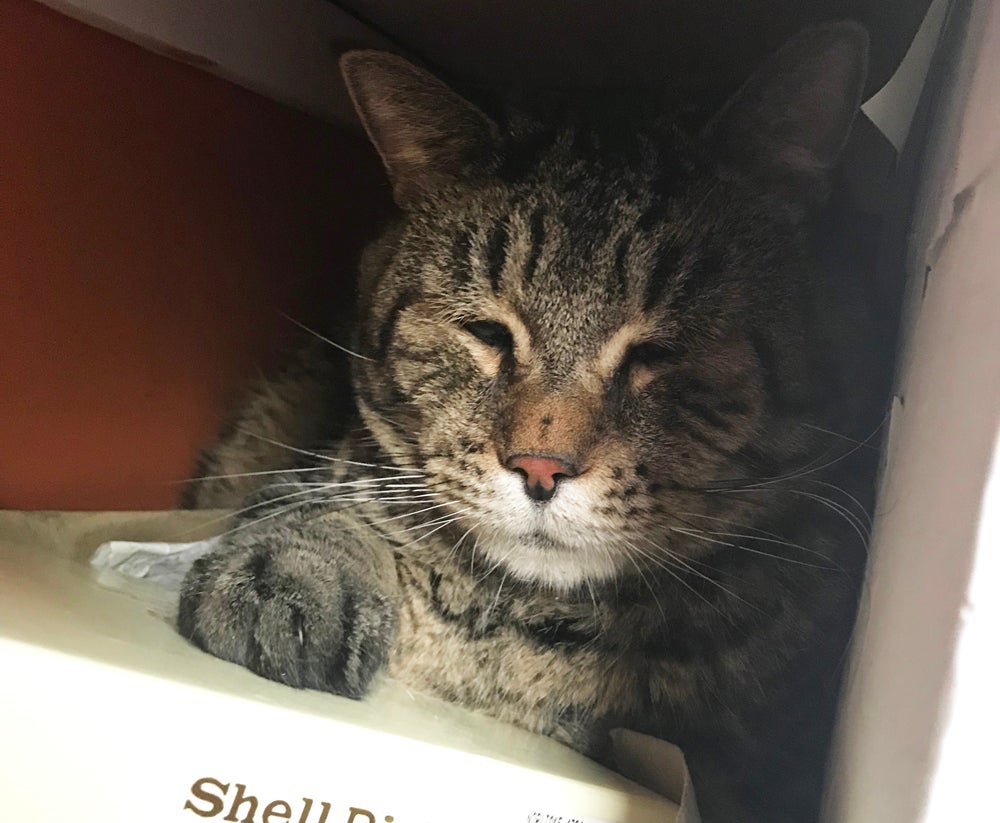 But folks, the hype is real. Mr. B's head is roughly the size of a small melon, or perhaps a large grapefruit. His paws, the size of meatballs. I'm not sure why the food comparisons, because aside from being an overall large creature, Mr. B will likely need to go on a diet when he finds his forever home. That is, unless Morris decides to keep him as an office cat, which Solomon joked was a possibility.
Within 24 hours the shelter had received over 1,000 adoption applications for Mr. B. And on top of the media attention (6ABC Action News was just wrapping up a shoot when I arrived), the small, privately run operation is just completely overwhelmed. Not to mention, as a recent addition, Mr. B still needs a thorough vet examination before he's ready to go anywhere.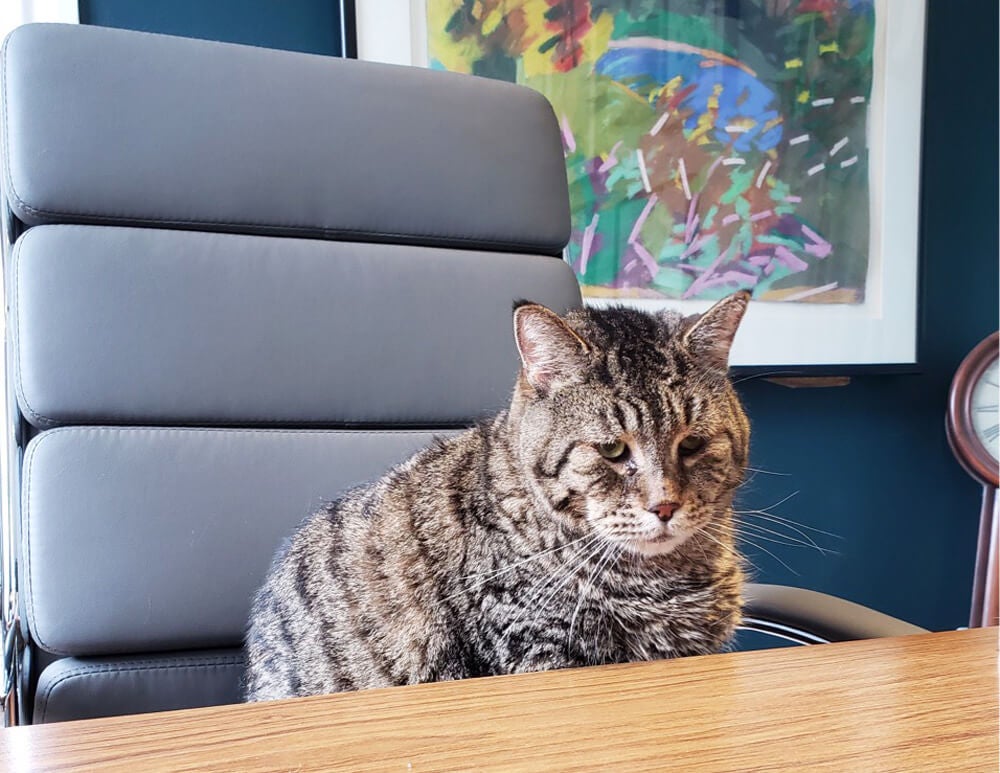 At any rate, while he awaits his forever home, Mr. B has completely captured the attention of the internet.
https://twitter.com/KFILE/status/1164663194880827392
I really want this cat but I'm afraid it would eat my chickens. Pretty sure it's big enough to take down one of my goats, to be honest. https://t.co/igChIShOGF

— Cam Edwards (@CamEdwards) August 22, 2019
Omg want https://t.co/1lot56yUnq

— Rick Wilson (@TheRickWilson) August 22, 2019
THAT is a CAT. And a half! https://t.co/RzcXgPtZBm

— N. K. Jemisin (@nkjemisin) August 22, 2019
update: this cat has now qualified for the third debate https://t.co/wRp6tWi1HS

— Ariel Edwards-Levy (@aedwardslevy) August 22, 2019
And many are questioning whether or not Mr. B is actually, indeed, a house cat in the first place.
https://twitter.com/roseveleth/status/1164565094312763392
That…is not a housecat. I don't know who let a whole wild animal in, but I don't believe in taking in baby leopards. https://t.co/PiRH7z81Mu

— ❄Mikki Kendall❄ (@Karnythia) August 22, 2019
As to why Mr. B found himself up for adoption, Solomon told me that his family was forced to surrender him due to personal reasons. But with a list of over 1,000 potential applicants (and counting!), it seems like the tubby tabby is well on his way to the good life.
For anyone in the Philadelphia metro area feeling lucky, you can view his Petfinder listing here.
READ MORE: