The Miami Dolphins have suspended and fined safety Don Jones for homophobic tweets against Michael Sam, the first openly gay athlete in American professional sports to be drafted.
When the St. Louis Rams drafted Sam, Missouri's defensive end, during the seventh round of the NFL draft Saturday, ESPN cut to a live feed of Sam and his boyfriend sharing a celebratory kiss.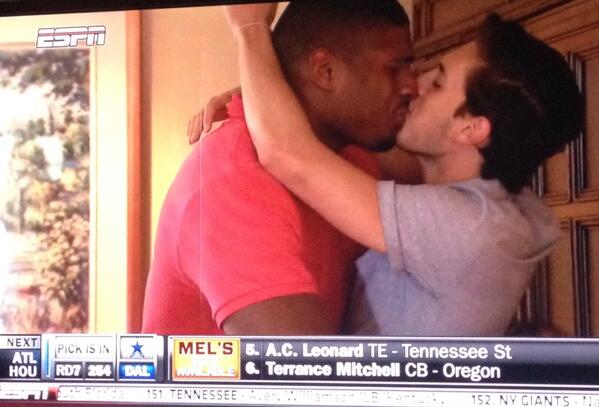 Photo via BSO
Don Jones tweeted this in response: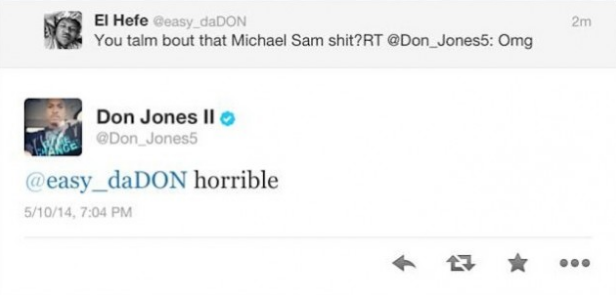 Jones has since made his Twitter feed private.
It was inevitable that Sam's bravery coupled with his unique position would be met with some form of peer prejudice. But with all of the professional vetting NFL players get, Jones's public social media gaffe played as an especially moronic move. A fringe NFL starter, Jones lacks the job security to jeopardize his status in the league. In singling out Sam, he's tarnished goods until he proactively amends his public misstep.
It wasn't just Jones spewing hatred over the weekend. Former Texans and Giants running back Derrick Ward hid his intolerance behind morality.
Man U got little kids lookin at the draft. I can't believe ESPN even allowed that to happen.

— Derrick Ward (@derrickward32) May 10, 2014
Ward has yet to rescind his tirade.
I'll continue to speak my mind because it's my god given right and supposedly u can do it without being frowned upon here in America.

— Derrick Ward (@derrickward32) May 12, 2014
Beyond Ward, fringe college stars Marshall Henderson of Ole Miss and Case McCoy of Texas chimed in with similar dissent. Neither player is a pro prospect, though—and as their college careers are over, both should fade to mass irrelevance before the school year starts up again. But that freedom allowed them to function as textbook trolls during the draft.
Boycotting sportscenter til this michael sam nasty ass shit is off …. My brothers are 7 and 11 and saw that!!! #SICKENING

— marshall henderson (@NativeFlash22) May 12, 2014
But the NFL at large welcomed Sam over the weekend. New teammates, Hall of Famers, and network anchors all rained praise.
Welcome to the squad @MikeSamFootball #D-LineShowtime

— Robert Quinn (@RQuinn94) May 10, 2014
Congrats to my friend @MikeSamFootball on being drafted by the #Rams. Always respected Coach Fisher. But this make me #LOVE Him. Thxs COACH

— Michael Irvin (@michaelirvin88) May 11, 2014
NFL guys get drafted. Kiss girlfriends. @MikeSamFootball kissed his boyfriend. Don't like?..that's a "you" problem. Congrats Mike!

— Stuart Scott (@StuartScott) May 11, 2014
In related news, orders for Sam's St. Louis Rams jersey are the second-highest of any incoming NFL rookie, after Johnny Manziel. 
Photo via niiicedave/Flickr (CC BY 2.0) | Remix by Fernando Alfonso III