The first Meme Election is coming to an end.
The 2012 election will not be remembered for one "Oops" moment, but rather a series of them—gaffes and keyphrases amplified by the hivemind of the Internet. Memes aren't a new concept, but they're hitting the Web faster than ever as people rush to be the first to post the concept on Reddit, Tumblr, or Twitter.
Years from now, the details of Mitt Romney's five-point tax plan will overshadowed by "horses and bayonets" and "women in binders."
"Those three words serve to throw into question Romney's resolve regarding job equity for women, while provoking a little giggle to distract us from more deeply questioning his opponent's own track record on the issue," Helen A.S. Popkin wrote in an article that examined the ways that memes and image macros bottle down a message—as well as distract them from the bigger picture. "It's a simplified message that goes on the attack."
Here's a look back at some of the other defining memes of the 2012 presidential race.
The good, the bad, and the ugly
Any political misstep can become the next Internet sensation all with the click of a button.
Unpopular Opinion Rick Perry // Dec. 8, 2011
The memes started with Herman Cain, but they ended up playing a bigger role in decimating another candidate's campaign.
Texas Gov. Rick Perry's "Strong" video made its debut online in December 2011, and the anti-gay ad united people against him. Perry's ad also cemented as one of the first memes of the election: Unpopular Opinion Rick Perry. Started by a college student from Missouri, the single-serving Tumblr took Perry's walk by a peaceful stream and paired it off with other ideas that the average person would disagree with, but not Rick Perry.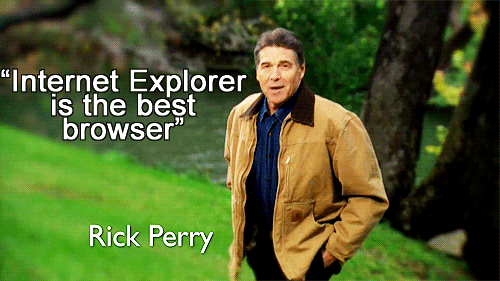 GIF via Unpopular Opinion Rick Perry/Tumblr
Paul Ryan Gosling // May 1, 2012
Wisconsin Rep. Paul Ryan became a meme months before Romney chose him as his running mate. Hey Girl, It's Paul Ryan popped up in May and paired the already popular Ryan Gosling meme with Ryan's economic conservative values. One prominent example reads, "Girl, economics is the ONLY thing thing I'm laissez-faire about."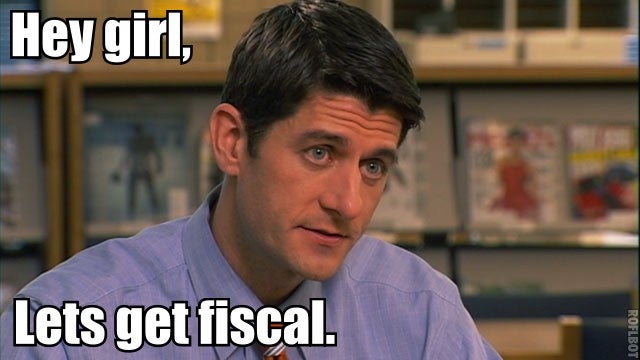 Photo via Hey Girl, It's Paul Ryan/Tumblr
"You Didn't Build That" // July 13, 2012
Even the president couldn't escape his fair share of memes. In an effort to take aim at Romney and the Bain Capital controversy, Obama told the crowd at a Roanoke, Va., fire station that "if you were successful, somebody along the line gave you some help." In essence, you didn't build that. Reddit and conservative bloggers caught on, and soon the president began to tell some of the country's major innovators didn't build their products.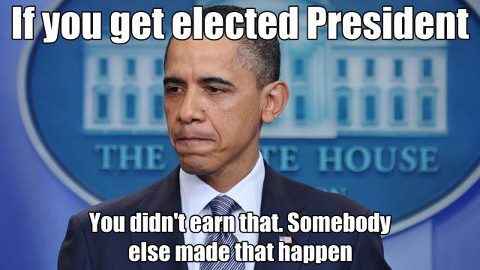 Photo via Know Your Meme
Pumping Iron With Paul Ryan // Oct. 11, 2012
Ryan might be a fiscal charmer, but these days he might be better known for pumping iron. Just one day before the vice-presidential debate, Time magazine released outtakes of a 2011 photoshoot featuring the candidate lifting weights with a backwards cap and his signature smile. The Internet preferred to view him as a Pokémon trainer or part of iconic moments in history.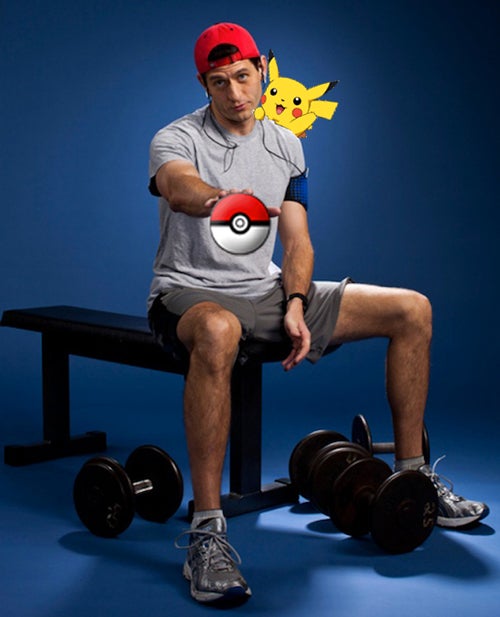 Photo via Comedy Central/Tumblr
Obama's "Wrong Number" // Nov. 1, 2012
During a fundraiser in Orlando, Obama made a simple mistake: He called the wrong number. Captured by the Associated Press, it quickly made the top of Reddit's front page where users immediately started making remixes and posting memes, many which featured Obama in the "deal with it" sunglasses.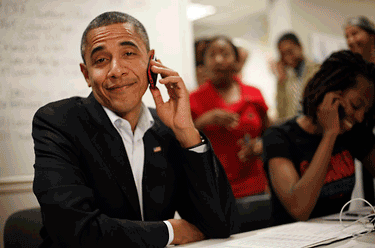 GIF by Fernando Alfonso III
Mitt Romney, the meme darling
If the sheer amount of memes for a candidate determined the winner of an election, Romney would win by a landslide.
Mitt Romney Confusing Children // Feb. 8, 2012
Politicians and babies are part of any campaign, not all of them are happy about it. One single-serving Tumblr gathered photos of babies who looked less than thrilled at being held by Romney early on in his second presidential campaign. Some were confused but others appeared to be terrified.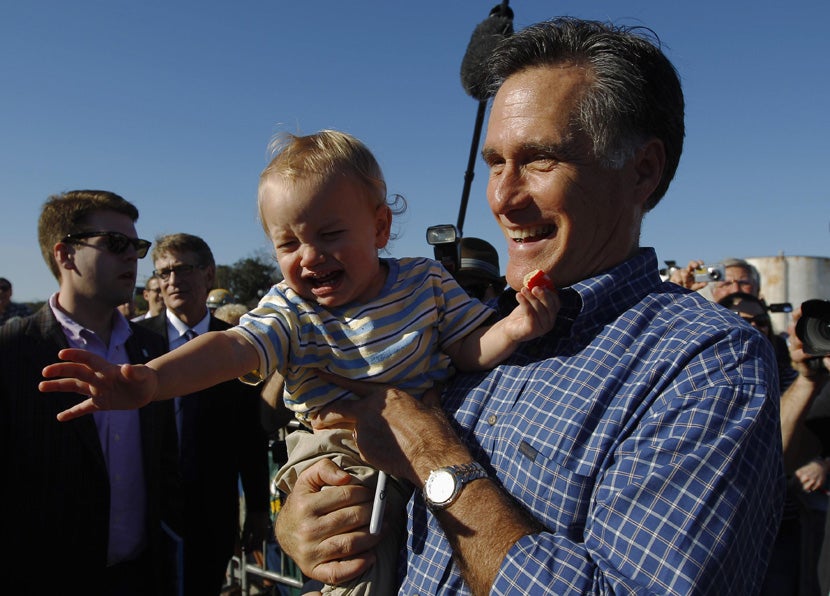 Photo via Mitt Romney Confusing Children/Tumblr
Lucille and Mitt // March 12, 2012
By March, people started to realize that Romney had a lot in common with Arrested Development's Lucille Bluth, in that they're both perceived as being out of touch with the economic realities affecting those around them. The blog, which was created by graphic designer J. Adam Brinson, placed Romney quotes on photos of Bluth's face, the joke being that many could have been said by either Romney or Bluth.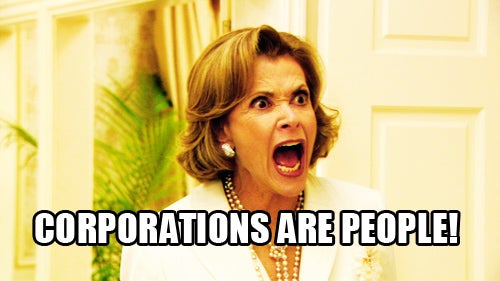 Photo via Lucille and Mitt/Tumblr
Amercia! // May 29, 2012
One of Romney's bigger gaffes came courtesy of an iPhone application. The app allowed users to take photographs with a graphic that said "A Better America." Only the app misspelled America as "Amercia." And everyone from Stephen Colbert to Amercia Is With Mitt had a field day.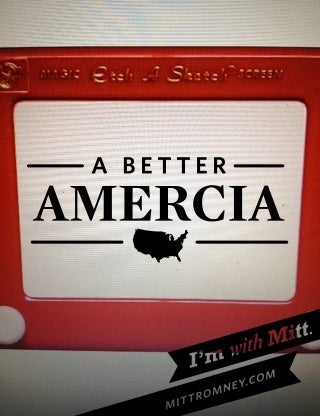 Photo via Amercia is with Mitt/Tumblr
Little Face Mitt // Aug. 27, 2012
By the end of August, Romney had already been GIFed and memed countless times, but the Internet wasn't quite done yet. Reuben Glaser, the creator of Little Face Mitt, got his inspiration from a photo in The Onion, but also realized that "Mitt with a little face would be quite a laugh."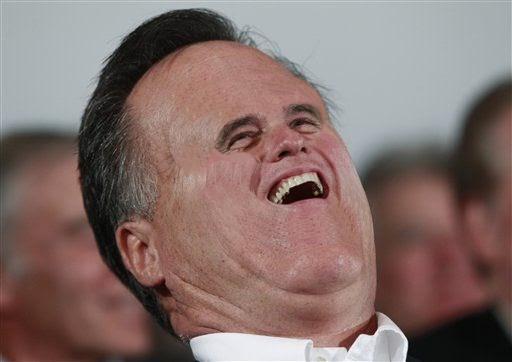 Photo via Little Face Mitt/Tumblr
#AreYouBetterOff // Sept. 5, 2012
The Romney campaign eventually tried to cash in on the viral nature of a meme, but that went awry. The campaign purchased the Twitter hashtag #AreYouBetterOff on Sept. 5 so that people could share how they were worse off since Obama came into office. However, the hashtag backfired whenmost of the replies were from people who were in fact better off now than they were four years ago.
We are the 47 percent // Sept. 18, 2012
One leaked video from a private Romney fundraiser let the world know what he thought about nearly half of the U.S., and a Tumblr blog responded with tongue-in-cheek photos of the very people Romney dismissed complaining about their first-world problems involving kale, glasses, and condoms.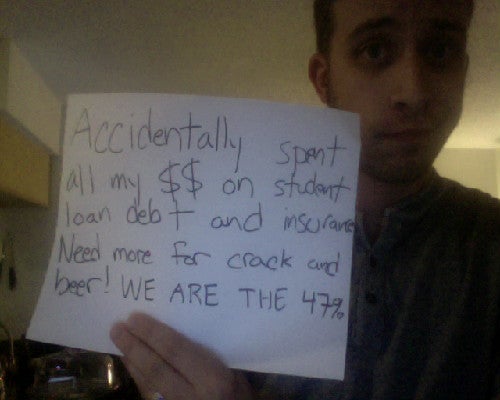 Photo via We Are the 47 Percent/Tumblr
RomCom 2012 // Sept. 20, 2012
Is Romney the next Matthew McConaughey? You can now picture Romney next to some of Hollywood's top actresses in RomCom 2012, which Photoshops Romney into some popular and cheesy romantic comedy movie posters.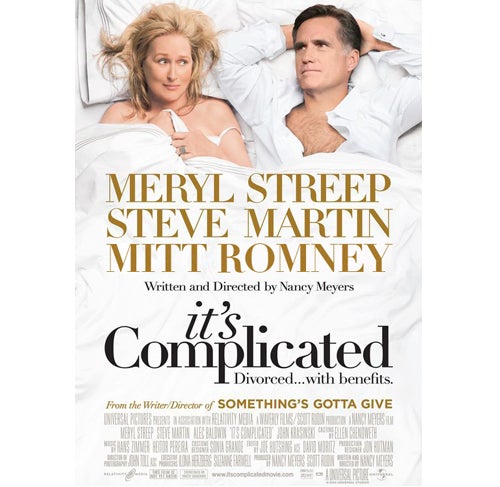 Photo via RomCom 2012/Tumblr
Texts from Mitt // Sept. 25, 2012
Texts from Mitt Romney didn't start from anything that Romney said, but rather—like many of the Romney memes—the candidate's perceived persona by the public.
"It feels good to imagine Mitt as this frat-boy asshole, because I think a lot of us feel he really is, despite the clean living and the robotic persona," Slacktory's Nick Douglas, the mastermind behind the blog that created textual conversations with Romney, told the Daily Dot in September.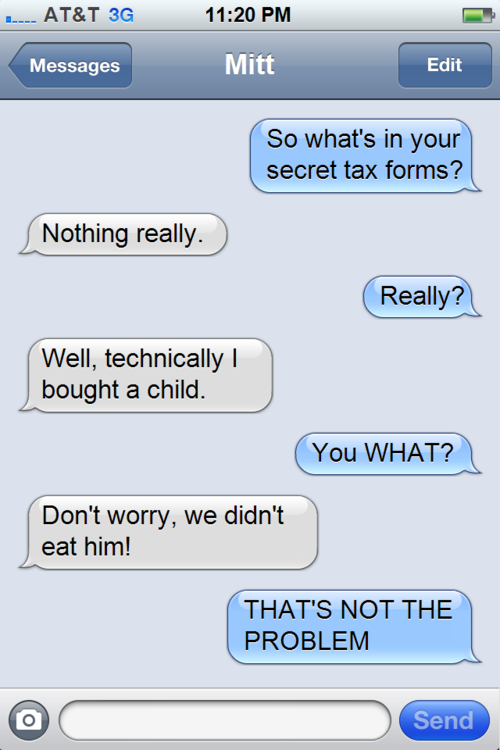 Photo via Texts from Mitt Romney/Tumblr
"Completely Wrong" // Oct. 9, 2012
Some of Romney's memes were lighter than others. After he went back on his comments about the "47 percent," he made a month earlier, he became the victim of an unintentional Google bomb when his face became the first thing to pop up if you Google-searched "completely wrong."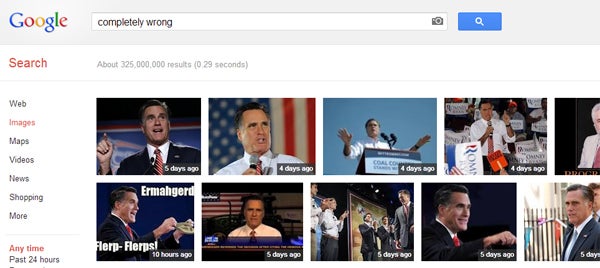 The Republican National Convention
The Republican National Convention (RNC) brought some of the biggest political players together in one convention center. It's what they didn't expect that made the news as much as the convention itself.
Obama does Reddit // Aug. 29, 2012
While the RNC gathered in Tampa to officially nominate Romney, Obama launched a surprise of his own while bringing Reddit into the limelight. With the help of Reddit cofounder Alexis Ohanian and a group of moderators, he participated in an AMA (short for "ask me anything") on Aug. 29, where ordinary users could ask him questions.
Obama ended up answering 10 questions in about an hour. The interview broke Reddit, brought a lot of new users to the site, and the prresident became the subject of memes ranging from a "Scumbag cap" to a painting via novelty Reddit account shitty_watercolour.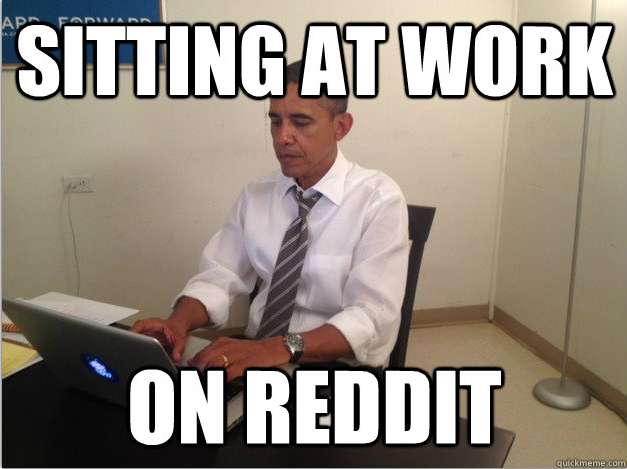 Photo via Quickmeme
#Eastwooding // Aug. 30, 2012
Actor Clint Eastwood's speech at the RNC was one of the worst-kept secrets of the convention. However, politicians probably didn't expect him to steal the show from Romney, who spoke later that night. During his speech, Eastwood made an eight-minute rant at an empty chair, which was supposed to represent President Obama. He got a few nervous laughs from GOP politicians, but it already produced Invisible Obama and inspired many to yell and point at empty chairs, otherwise known as #Eastwooding.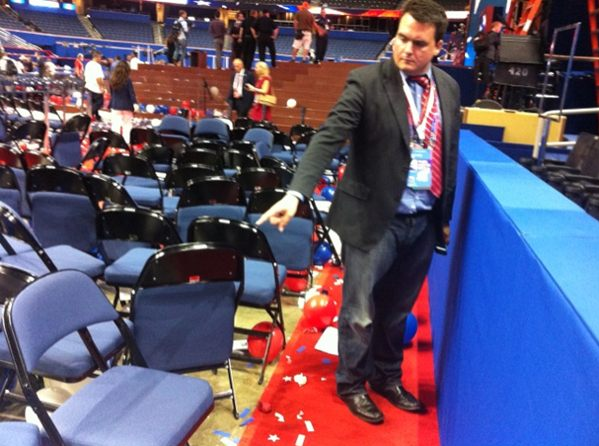 Photo via @BenjySarlin/Twitter
The debates
As the debates played out in October, we came to expect a number of things to happen while the candidates answered (and evaded) questions.
For each debate, a number of fact checkers swiftly uncovered how truthful each candidate was in his answer. Tumblr's Gifwich was there to live-GIF the whole thing, and more than a few made up drinking games for the night. Come the next morning the Gregory Brothers would songify the best sound bites into a catchy tune. And by the end of the night there would be at least one parody Twitter account or meme circulating the Internet.
Fired Big Bird // Oct. 3, 2012
Romney kicked off the first debate by stating that he would cut funding to PBS if he became president, leaving Sesame Street favorite Big Bird out of a job. Sparking an array of Twitter accounts and memes, Fired Big Bird showed the feathered creature recently unemployed and down on his luck.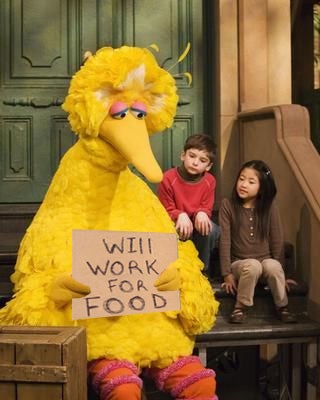 Photo via @pollybeam/Twitpic
"Binders Full of Women" // Oct. 16, 2012
Joe Biden's smile kept Twitter occupied during a debate with Ryan that had more zingers than meme-able moments, but the town hall debate on Oct. 16 more than made up for the vice-presidential debate. A still image of Romney's second eldest son Josh went viral after BuzzFeed posted a photo that zoomed up to him in the audience with the caption "Soon." You also had the chance to view Romney's tax plan courtesy of the Obama campaign—if you could catch it.
But it was Romney's comment about how he had "binders full of women" while filling his cabinet as a Massachusetts governor that caught on and turned an office supply into a symbol of the women's rights movement. Parody accounts, Facebook pages, and a successful Tumblr took off right away, and people were even inspired to write satirical reviews for binders on Amazon. You can even help Romney catch women with his binder in a Flash game.
The GOP tried to turn the meme in its favor and used an empty binder to reference Obama's second-term agenda, but it didn't quite catch on.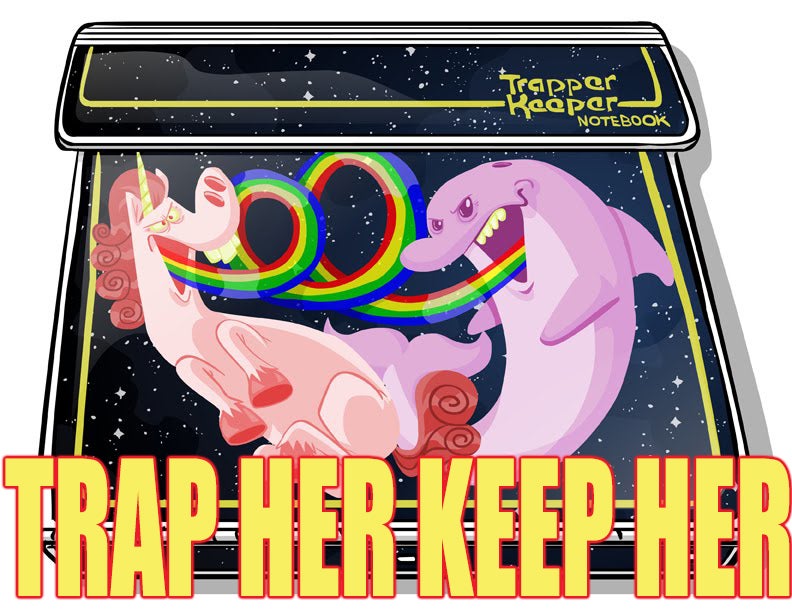 Photo via Binders Full Of Women/Tumblr
"Horses and Bayonets" // Oct. 22, 2012
Obama's "horses and bayonets" comment to Romney regarding the Naval forces during the third debate on Oct. 22 prompted the Internet to make parody accounts and post images of horses and bayonets in action. The phrase peaked at 105,000 tweets per minute, according to ABC News. The Obama campaign got on board with the comment, and before the night was over they created calvarymenforromney.com.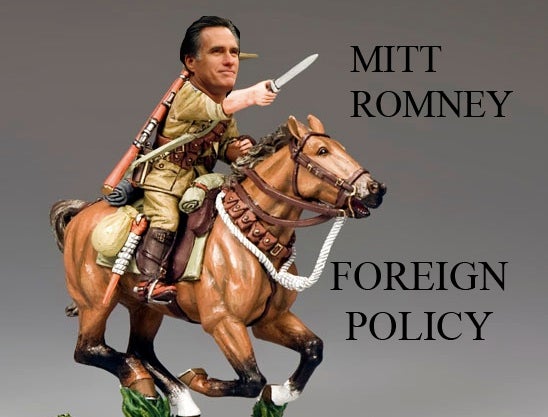 Photo via designerwallcoverings/Tumblr

The Obama campaign also jumped on a comment Obama made towards Romney about the inability to find the governor's five-point plan to fix the budget deficit on his website by creating a site that brings you to a 404 page instead.
Photo via @ShelbyWhite/Twitter