Imagine you're riding the bus home after a long day of work. A woman sitting behind you is reading a book. And across the aisle sits an exhausted robot wearing a disheveled suit and a smirk.
This is almost the exact scene portrayed in Matt Spangler's "On the bus," a beautiful illustration depicting an alternative world where man and robot live in harmony.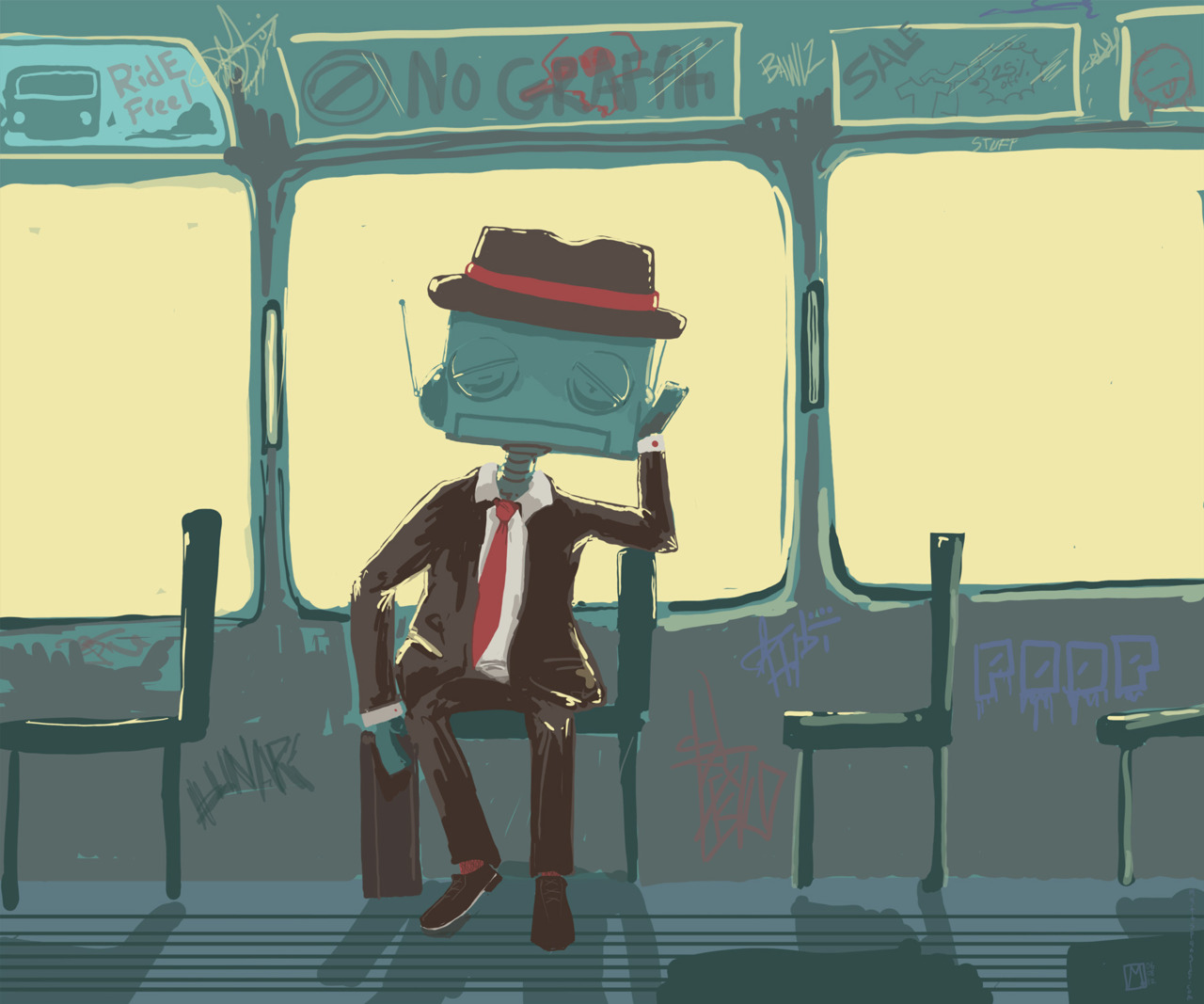 "I have always been drawn to the simplicity of old Japanese tin toy robots," Spangler told the Daily Dot. "They are so funky and ugly, you just have to love them. Hands down, one of my biggest inspirations was The Iron Giant. Giving 'life' to what essentially is a giant metal man has been a driving force in my illustrations."
Over the last 13 years, robots have been Spangler's muse, gracing almost every piece of art he's made—and there has been plenty. On Tumblr alone, Spangler has uploaded more than 120 illustrations of robots in ordinary situations, such as driving a car, surfing the Web, and petting a cat.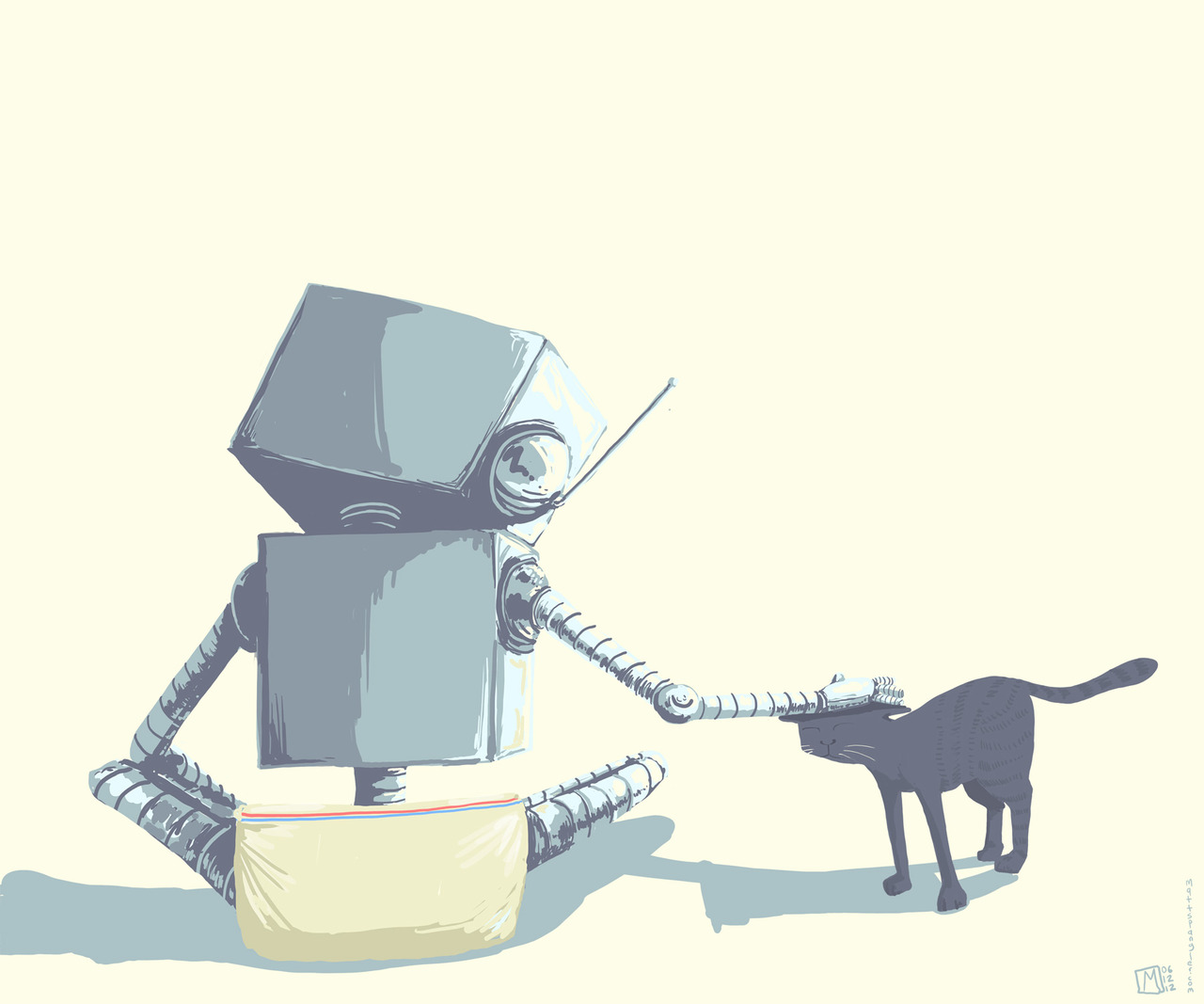 "Although none of my drawings shows the robot interacting with humans, he is very much a part of the human world. I think there is a relatability with what he does that negates the need to even show the human race."
—Matt Spangler
Spangler started drawing robots when he was a student at California State University, Fullerton, majoring in animation. It's there he became known as the "robot guy," since he spent all his free time drawing nothing but robots.
Each illustration typically take about an hour using Photoshop, while a traditional painting can take anywhere between four to 10 hours to complete.
But sometimes inspiration strikes in an instant. That was the case with his tribute to the late Ray Bradbury, the author of the dystopian novel, Fahrenheit 451. Following Bradbury's death on June 5, Spangler took a break from drawing robots to create a special portrait of the sci-fi visionary.
"The finality that he will never produce another piece of fiction again really struck me. I thought about when I die, my work can live on, but the creating is done. He left a legacy of amazing stories/ideas that will continue to inspire future generations, but the sadness that his legacy of creating is over, remains."
There's something altogether poignant about Spangler's work. His illustrations are reflective and active at the same time, capturing the adventurous possibilities of robots in fleeting moments. That's the case with "Walking down" (shown below) and "Sometimes it rains," two pieces that show his robots' more human, vulnerable side.
"Create often, seek inspiration from typically uninspiring things," Spangler said. "You will be amazed at what you can come up with when you look around and see the small things in life."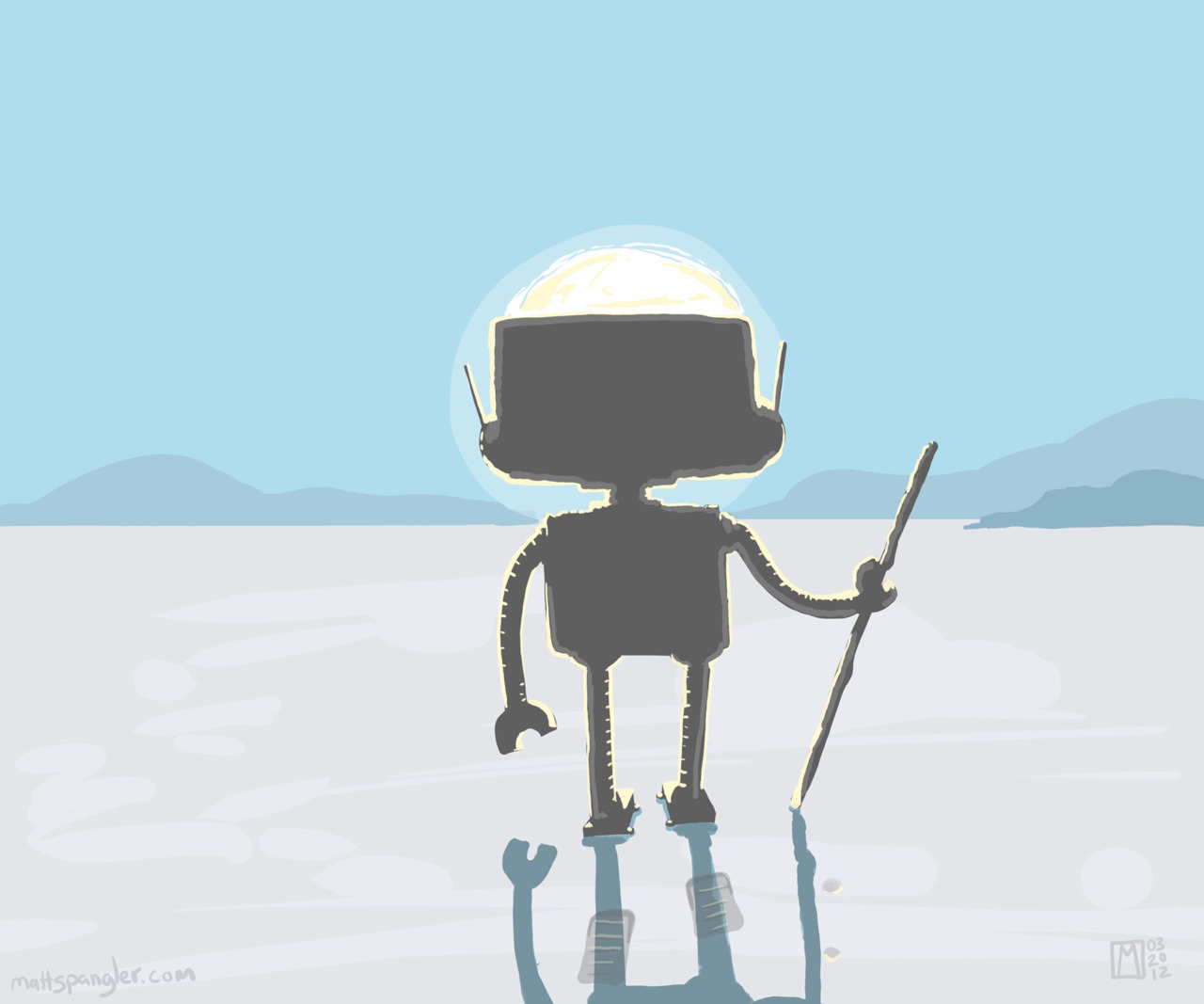 Illustrations and Daily Dot doodle by Matt Spangler