London, like most of Northern Europe, isn't built for the temperatures we're having. A particular scourge is the Tube, the subway system that makes up at least part of most Londoner's commutes, as a lot of the lines have no air conditioning or cooling systems.
Central lines got to be hitting 50.

— Chris (@ChrisMcK2018) July 23, 2019
think i'm gonna have a heart attack thinking about the fact i have to get a tube at rush hour in 39 degree heat tomorrow

— r!m (@__rimsha) July 24, 2019
thought "ugh it's really hot" then stepped on to a dual function train/sauna

— Shin (@sistersinead) July 23, 2019
Come the hour, cometh the man. Twitter user Geoff Marshall, creator of the Station Master app and general expert on the Tube, created a special Tube map showing which lines are air-conditioned or cooled and put it up on Twitter this week.
So with temperatures at 33C today, 34C tomorrow and 37C (!!) in London on Thursday – it's time to roll out what i produced last year, and that's the Air Conditioned Map of London! Please feel free to RT … pic.twitter.com/uwiLGa0qNE

— Geoff Marshall (@geofftech) July 23, 2019
The map was originally created last year when the temperatures were just as intolerable. Marshall's brought it back for again for us so that Londoners can plan the least horrendous journey possible while the heat lasts.
You sir deserve a knighthood.

— Dominic Browne (@DominicBrowne1) July 23, 2019
https://twitter.com/d_w1994/status/1153694002690043905
Unfortunately, helpful as this is, it really highlights how unfit for the new summer temperatures the Tube really is. For context, this is a map of the complete Tube that Marshall's map lays over.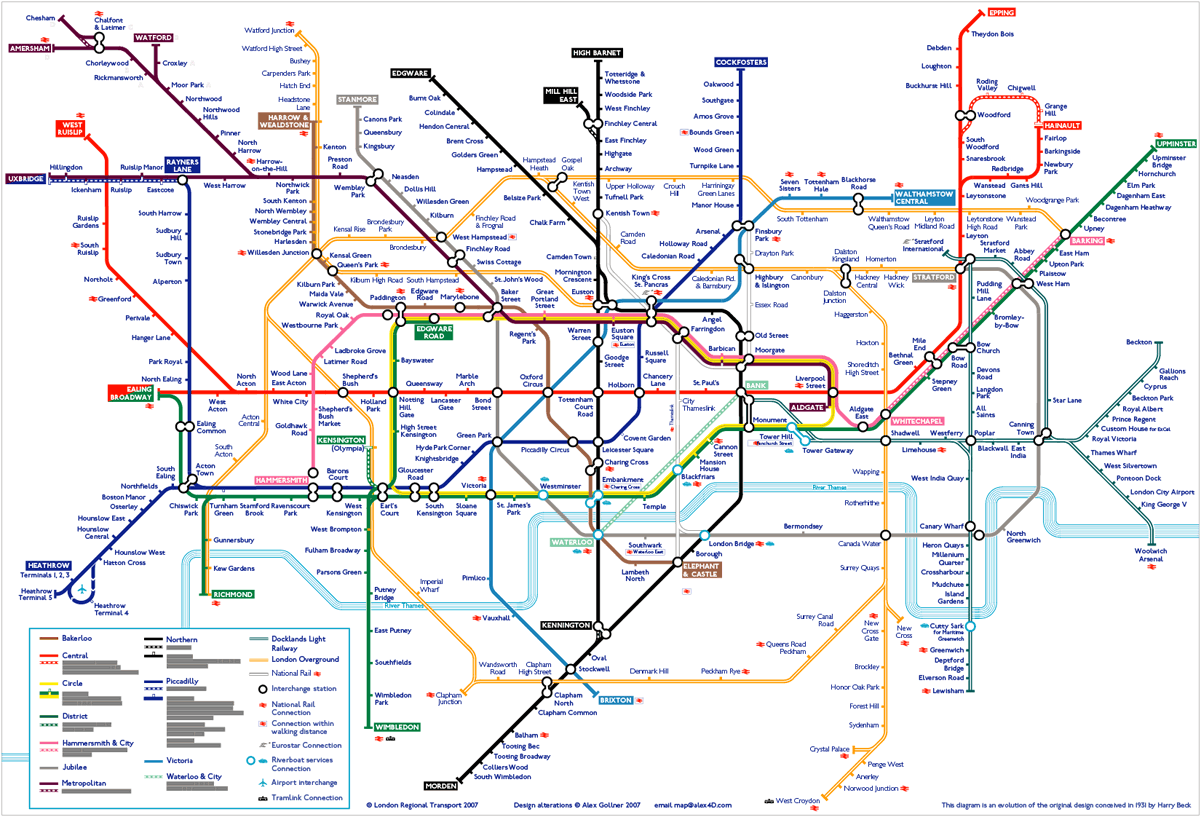 As says user Brett Watkins says, we're now dealing with temperatures akin to Australia without the infrastructure designed to go with it.
That's just a normal summer in Australia. But most of our transport is air conditioned and most of it works well

— Brett Watkins (@Brettski1234) July 23, 2019
Still, some air conditioning is better than nothing and it helps to know which trains you can catch to relieve the misery for at least part of the way home. And people seem to be going out of their way to use the air-conditioned trains.
I purposefully took a route that involved more walking (with my broken foot) because half the journey was district line and cool trains rather than 45 minutes of Piccadilly hell.

— Ann Kempster (@annkempster) July 23, 2019
https://twitter.com/mountlandme/status/1153800775983742980
Used it several times inc in the v hot weather earlier in the year. Can add time but reduces sweat levels dramatically

— Foz (@jamesfoz83) July 23, 2019
This isn't just about convenience, temperatures in London have become dangerous recently, with an amber weather warning being released by the Office of Public Safety. Vulnerable people like babies and the elderly can end up seriously ill without respite from the temperatures outside. A video made by Marshall last year shows that the temperatures can reach 100 degrees Fahrenheit in the Tube during the summer.
People came together to fill in some gaps and generally help each other find the most comfortable route home.
The Moorgate to Finsbury Park lime now has about 50% of services operated by air conditioned trains.

— Andy Stock (@andystock22) July 24, 2019
This is a list of air conditioned trains from Moorgate to WGC. Subject to change during disruption. pic.twitter.com/flOHOlYFCl

— Andy Stock (@andystock22) July 24, 2019
London Overground is equally as air-conditioned as TfL Rail. They use the same system.

— Jasper. (@JaJaWa) July 23, 2019
Marshall also wanted to remind everyone that some London train lines that aren't part of the Tube are air-conditioned as well, so while they're not on his map they're a viable alternative.
https://twitter.com/geofftech/status/1153646856905416705
Though according to these tweets not as many have air conditioning as they should.
Currently sat on @SW_Railway train from Exeter to Clapham for three hours which is most definitely not air conditioned, my train later from Clapham to Whitton, a much shorter journey, will be. The cynical part of me isn't surprised to find the air conditioned trains in London…

— Tom Hewat (@TomHewat) July 23, 2019
If they can be arsed to switch it on

— Kirsty O'Driscoll (@kirstyodriscoll) July 23, 2019
Not on the class 455/456 operated services there isn't.

— James aka Chunk (@chunkyboyjames) July 23, 2019
As always a couple of people managed to bring some humor to the situation.
I've done a map of Air Conditioned Manchester. Feel free to share. pic.twitter.com/0U4PS68M2f

— Neil Cochrane (@neilcochrane1) July 23, 2019
I'm effectively imprisoned in west London, never to leave, albeit in air-conditioned conditions. #districtlinecooler

— Gordon McDonald (@gordonmcdonald) July 23, 2019
This would all be much easier if the fully air-conditioned Elizabeth Line we were promised last year was running already.
READ MORE:
Got five minutes? We'd love to hear from you. Help shape our journalism and be entered to win an Amazon gift card by filling out our 2019 reader survey.