Analysis
Quick: What are the biggest contributing factors to the demise of local media? If you answered "gross overpayment and abject laziness of reporters," you're dead wrong—but you're more than qualified to work as a Republican political consultant. 
Just ask Liz Mair, the Republican communications strategist who on Monday tweeted the Infinite Jest of bad local media takes, got ratioed into oblivion, and promptly deleted her tweet before every reporter on Twitter could lift their jaws off their Wayfair clearance coffee tables.
"One problem contributing to the demise of local media is the very minimal output of some local reporters," Mair wrote. "When you file like one story a week, it's hard to justify high five figure or low six figure salaries and you're not doing much to attract readers. Too little content."
"Too few readers equals too few advertising and too little advertising dollars," Mair wrote in a grammatically incorrect follow-up tweet. "No one wants to have to file three things a day and that's not the necessary standard. But filing a couple things a week, one or more of which is the same thing your competitors have also filed = death."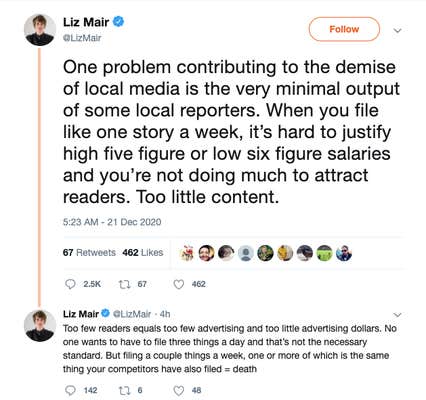 Honestly? I wish Mair were right, as I'm sure many of my local reporter friends do, too. If she were right, then we could afford to replace the laptops that we just spit our coffee on after reading her wrong take. We could also spend the next four days dunking on Mair on Twitter and still file our 300-word regurgitated press releases with time to spare before the Friday happy hour.
But alas, precious few, if any, of us enjoy the utopian fantasy Mair is describing. If I want to make fun of a political strategist with no concept of how big-kid jobs work, I have to mold my snarky one-liners into a blog that's optimized for Google search results, because opinions aren't free and #content never sleeps.
My local media friends probably didn't even see Mair's tweet before she deleted it because they were busy getting B-roll outside a Chipotle that exploded or covering a press conference by a mayor who was busted going maskless at a fundraiser. They will probably make $38,000 a year for their efforts.
There are plenty of reasons local media is dying. You could blame massive corporations that snap up local publications left and right, whittling staffs down to skeleton crews and forcing them to aggregate homogenous national news stories that do nothing to serve their communities. Or you could blame the Republican Party—you know, the one that employs Mair—for demonizing journalists and peddling phrases like "fake news" and "alternative facts" for the last four years.
Jordan Zakarin, a reporter who runs Progressives Everywhere, summed it up thusly: "One problem contributing to the demise of local media is that the political party you shill for has declared war on the media and fully empowered the private equity funds that buy up local papers before squeezing them to death."
Musician and Weird Twitter savant Leon Chang (@leyawn) used Mair's own language against her, writing, "one problem contributing to the demise of campaign strategy is the very minimal output of some comms strategists. when you lose one election a year, it's hard to justify high six figure salaries and you're not doing much to attract voters."
It was an apt response, given that Mair's past clients include presidential also-rans Roy Blunt, Rick Perry, and Rand Paul.
Prior to its deletion, Mair's tweet was sitting at roughly 175 likes and well over 2,000 quote tweets. She should have just committed to the backlash and weathered the storm like an adult. Don't worry, though. Like a phoenix from the ashes, she will surely rise with another terrible opinion soon enough. Journo Twitter will be waiting.
---
This week's top technology stories