Kermit the Frog is arguably the most popular Muppet character. He crossed over from Sesame Street, where he was cast as an intrepid reporter, and captained a wild variety show as the host of the original Muppet Show and subsequent movies. There's even a Muppet Babies animated series imagining Kermit and friends at a preschool.
Since his conception in 1955, Kermit's iconic voice and image have made him an internationally recognized character. Though Kermit remains a beloved children's character, Kermit the Frog memes have given the iconic character new life on the internet.
Already part of the cultural zeitgeist, Kermit has gained even more cache, whether he's sipping tea, facing his evil self, being sad, or doing his signature flail.
According to Know Your Meme, Kermit the Frog memes began surfacing on Instagram in early 2014. Soon after, the internet erupted with memes in a seemingly endless stream.
Here are the best Kermit memes online, along with their uses and origins.
The best Kermit the Frog memes
1) Kermit sipping tea
Perhaps the most popular of the Kermit memes, the tea-sipping Kermit is a passive-aggressive depiction of saying or doing something shady. The first version of this meme features Kermit drinking Lipton tea and it's from a 2014 commercial, where Lipton tea helps Kermit remain calm in a world full of Murray Monsters.
Kermit sipping tea is frequently accompanied with the flippant phrase, "but that's none of my business," which is the name of the Instagram page that helped the meme's popularity soar.
Though often rude or condescending, most "that's none of my business" iterations are about critiquing common social norms, social media practices, or common courtesy.
Soon after the "Kermit sipping tea" meme went viral, the frog puppet made new appearances in the form of old television clips, cartoons, and even people's personal Kermit dolls. Kermit also sipped other beverages, like milk.
2) Evil Kermit
Evil Kermit is a physical representation of grappling with every bad decision you ever made. Evil Kermit first appeared as Kermit the Frog's nemesis and doppelganger, Constantine, in the 2014 film Muppets Most Wanted.
In the extended clip below, you'll see where Constantine first appears:
Evil Kermit gained popularity on Twitter as a collective inner demon of sorts, taunting someone into doing something they shouldn't. After one Twitter user shared a screengrab from the film to illustrate her desire to steal a cute dog, the meme format spread like wildfire. Most Evil Kermit memes are formatted to read like negative self-talk.
Online users began explaining away a variety of poor decisions, from skipping class to cheating on your diet.
Earlier this year, people also turned K-Pop star Jungkook into the Evil Kermit meme when he appeared in a video for the group BTS wearing a hood.
3) Loving Kermit
This Kermit meme is a literal burst of love. Seemingly normal images of the beloved frog puppet have been transformed by emoji hearts in an assortment of colors and sizes. People use this meme to show an intense amount of love.
4) Kermit and Miss Piggy
For years, Miss Piggy has been the friend and sometimes love interest of Kermit the Frog. In these memes, Miss Piggy and Kermit take on some of the biggest woes of relationships. To say that people really got into the famous Muppets' relationship is an understatement. Kermit and Miss Piggy's love affair has become the focal point for some pretty serious fan fiction.
Kermit and Miss Piggy split back in 2015, so many of the memes are spiteful. In fact, Kermit traded Miss Piggy in for a new, younger model named Denise. Miss Piggy not only serves as the female counterpart to Kermit—she is the center of her own memes, too.
READ MORE:
5) Kermit puppet
This meme features an image of a Kermit puppet bent over a bed with the hand hole facing a camera. While the meme has been used as an expression of lust, some people prefer to use this Kermit meme when they just really like something.
6) Kermit in car
This meme originated with a 2005 BMW commercial that featured the frog puppet driving a car and pausing to let a fellow frog cross in front of him.
Despite the commercial being more than 10 years old, the internet has dug up the image from the commercial to complain about real traffic occurrences and other confusing situations. Kermit in the car is used to show confusion and shock.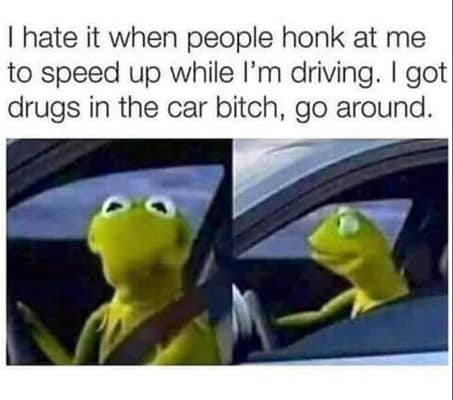 7) Sad Kermit
Sad Kermit first appeared online in 2016, clutching his knees to his chest in despair. Several Twitter users could relate, and soon there were tons of Sad Kermit memes in a variety of positions, including lying in bed, sitting at a tiny desk, and sulking in the shower. According to BuzzFeed, most of these depressed Kermit memes are from the same source: A teenager in Finland who's mother owned a Kermit doll.
After the first meme got popular, Pinja Salovainen started taking requests for Kermit memes. She's created a slew of Sad Kermit images, some of which are hilarious and others that are all too familiar.
But Sad Kermit's been a thing on the internet for a long time; check out this YouTube video from 2007 of a sad Kermit covering Nine Inch Nails' "Hurt."
READ MORE:
8) Kermit flail
This one is a reaction GIF rather than a true meme, but people use Kermit flailing his arms to show a crazy amount of excitement (or panic) about something.
A video of a plush Kermit spinning in a tub of water became a viral meme on Twitter in October after it was originally posted on Facebook. People began adding funny captions to the video, like "Kermit exhausted after keeping Disney's Hollywood Studios afloat" and "when you "dumb drunk."
Kermit spinning in a tub of water is, as the kids say, a mood.
Back in Vine's glory days, one particular video made its way up the ranks as one of the most iconic Vines of all time. It featured someone in the passenger seat of the car, puppeteering Kermit and singing Usher's "I Don't Mind" in the muppet's instantly recognizable voice. You can hear the person recording wheezing with laughter repeatedly.
This video has been viewed millions of times and lives on both in our hearts and in the Vine hall of fame. Sorry, Usher. This is Kermit's song now.
Editor's note: This article is regularly updated for relevance.