BTS, perhaps the best-known Korean pop group in the U.S., released a new video teaser for their song "Fake Love" this week, and their loyal army of fans dissected every frame. By the end of the video, something hilarious had jumped out: Jungkook, the group's youngest member, appeared as an ominous, cloaked figure that looked a lot like … that Evil Kermit the Frog meme from 2016. The Jungkook Kermit memes started rolling immediately.
In case you have no idea what we're talking about, here's a quick recap of the "Evil Kermit" or "Dark Kermit" meme. It features the famous green muppet coming face to face with a dark version of himself. In the captions, regular Kermit usually represents the poster, while hooded Kermit represents their worst impulses. He's the little devil on everyone's shoulder.
me: sees a fluffy dog
me to me: steal him pic.twitter.com/XuJFCBi7st

— anya (@aaannnnyyyyaaaa) November 6, 2016
Now, when you see Jungkook near the end of this video, it's hard to ignore the resemblance.
BTS's fans, called "Army," certainly didn't miss it.
kermit: who are you
jungkook: i'm you but stronger pic.twitter.com/ADcHycse6F

— michelle⁷ #StreamON (@jeonglows) May 14, 2018
confirmed jungkook is a kermit pic.twitter.com/KDTc06rgUH

— dori (@yunkistars) May 14, 2018
Good morning only to Kermit Jungkook pic.twitter.com/tGN04bwqvc

— samara (@vmkobi) May 15, 2018
jungkook: i can't

evil kermit: yes u can

jungkook: yes i can #iVoteBTSBBMAs @BTS_twt pic.twitter.com/Rtx5nuyntW

— a⁷ (@yoonsgays) May 15, 2018
https://twitter.com/musedyoongii/status/995908480828628992
https://twitter.com/jikookcanon/status/995889843212242944
This isn't the first time BTS fans have used Kermit in memes, either. There are tons of BTS fan memes starring a Kermit doll—almost too many to count.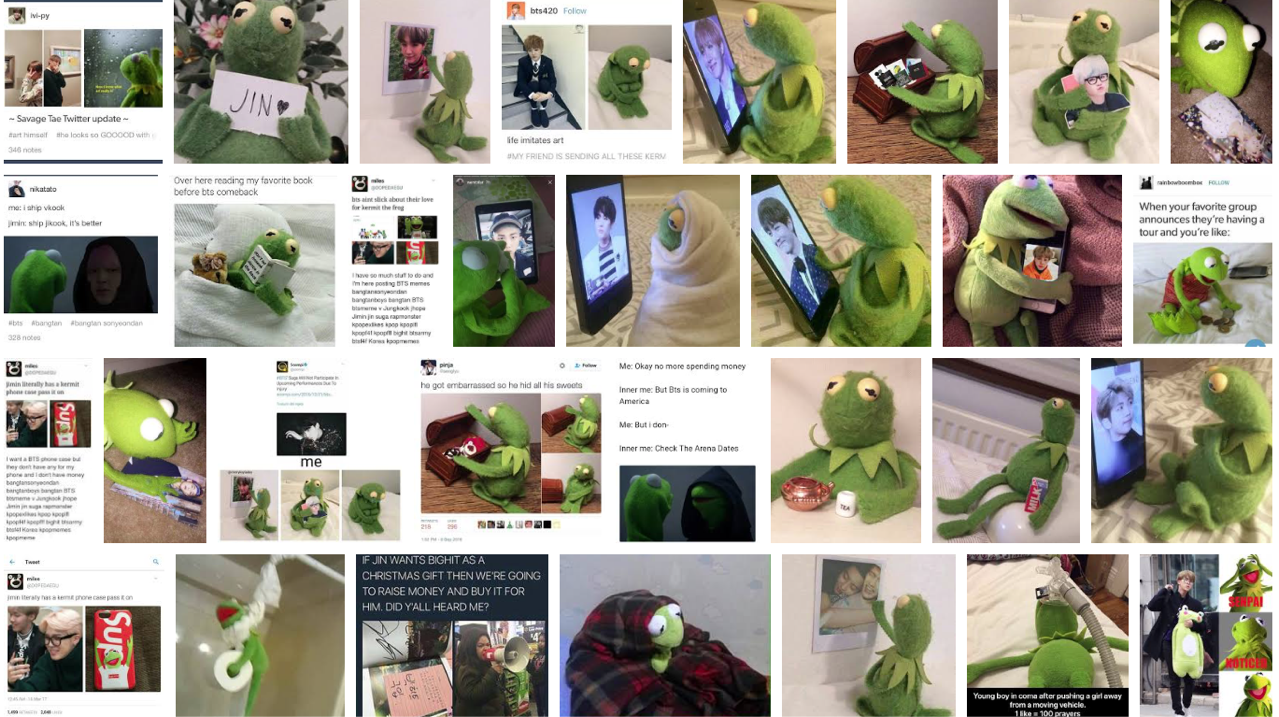 The resemblance between Jungkook and Evil Kermit is obvious, but it's less obvious how Kermit became associated with Kpop fandoms in the first place.
Turns out that the person who created the "Sad Kermit" meme back in 2016 is a big K-pop stan. She's more of a fan of Yixing, from BTS's main rival group, EXO, but her posts introduced the idea of a baby Kermit doll staring at a K-pop idol, and everyone seems to have inserted their own favorite performers.
he told me he was studying … pic.twitter.com/rX8YM4Xv7W

— ⋆ (@seoglyu) September 8, 2016
With all the Army Kermit doll memes, and this new Jungkook/Evil Kermit connection, it's safe to say K-pop Kermit memes are now most strongly associated with BTS.
Not every member of the group thinks Kermit dolls are cool, though.
READ MORE: