Jaboukie Young-White's Twitter account is beloved and loathed with equal fervor. Targets of the comedian's impersonations have included Cats, Sen. Ted Cruz (R-Tex.), and Guy Fieri.
Yesterday, the Daily Show comedian's verified account, with nearly a half-million followers, disappeared after tweets about his latest target: Kaitlin Bennett, better known as the Kent State Gun Girl.
Bennett streamed into the collective consciousness in 2018 with photos and video of her carrying an AR-15 and graduation cap emblazoned with the words, "Come and take it."
Since then, she's made a name for herself by showing up to liberal events, pointing a camera at people, and causing a scene. Bennett, who of late has been keeping company with conspiracy theorist Alex Jones, has also faced accusations of fat-shaming, transphobia, anti-Semitism, trolling, and other bad behavior.
These transphobes at the #WomensMarch shamed Alexandra Jones and I for being proud women of color that identify as goldfish pic.twitter.com/DbJPxZcah2

— Kaitlin Bennett (@KaitMarieox) January 19, 2020
You should start a campaign to get yourself some clothes and therapy, whore https://t.co/c5hb0OqviR

— Kaitlin Bennett (@KaitMarieox) January 19, 2020
Liberals don't take too kindly to her antics. Many reacted with glee to reports last winter that Bennett had defecated on herself at a college party while passed out in a hallway. There is also a photo that purports to be of the incident.
Bennett herself has not commented on the veracity of the allegation, and the picture itself is from behind. Thus, it's not possible to know whether it's actually her.
Since then, Bennett has been dogged by people calling her "poopy pants," sharing the picture and other photoshopped images, and otherwise using the allegation that she crapped herself to troll her. Barstool Sports even published a tongue-in-cheek "investigation" of the claim; Bennett's Twitter bio currently includes an accusation about the author of that article.
Walking around harassing people is not a job, but ok miss poopy pants. pic.twitter.com/Sy9qo5hQEJ

— Norway's Leader (@urmomstinky) January 17, 2020
Ok pooper pic.twitter.com/puvaGdFh7T

— drownded (@down2drown1) January 20, 2020
Yesterday, Jaboukie Young-White's account joined the chorus, pretending to be Bennett, changing his avatar and name, and tweeting repeatedly about poop.
"Sh*t is not even that unhygienic! We all do it! Scientifically, you can eat sh*t and still survive in most countries. And my American sh*t is clean, steam and all," read one of Jaboukie's tweets, screenshots of which are circulating on Twitter.
Another said, "Hillary lost the election, I lost control of my bowels. But only I have an AR-15."
the goat jaboukie pic.twitter.com/fj9rAlg4U3

— biscotto. biscotti? (@randal1211) January 20, 2020
Jaboukie's antics were eventually noticed by Bennett's pal Jack Posobiec, who accused the account of revenge porn, and harassing and falsely impersonating Bennett, in violation of Twitter rules.
Twitter troll @Jaboukie appears to have deleted their account after falsely impersonating @KaitMarieox, a direct violation of Twitter TOS, which was encouraged by multiple large bluecheck accounts pic.twitter.com/J1vUfyMdCQ

— Jack Posobiec (@JackPosobiec) January 20, 2020
Other right-wing figures were equally upset.
A verified account impersonated someone else and then posted revenge porn.

Left wing twitter thinks it's funny but at least one police complaint has already been filed. https://t.co/jCdcX7VNyu

— Mike Cernovich (@Cernovich) January 20, 2020
Soon after tweeting about Bennett, the account disappeared.
According to a tweet, Young-White deactivated his account before he got trolled by the far-right.
https://twitter.com/alx/status/1219055872573308930
Jaboukie did not respond to a request for comment sent to an email address included in the account description, which also states that it's a parody.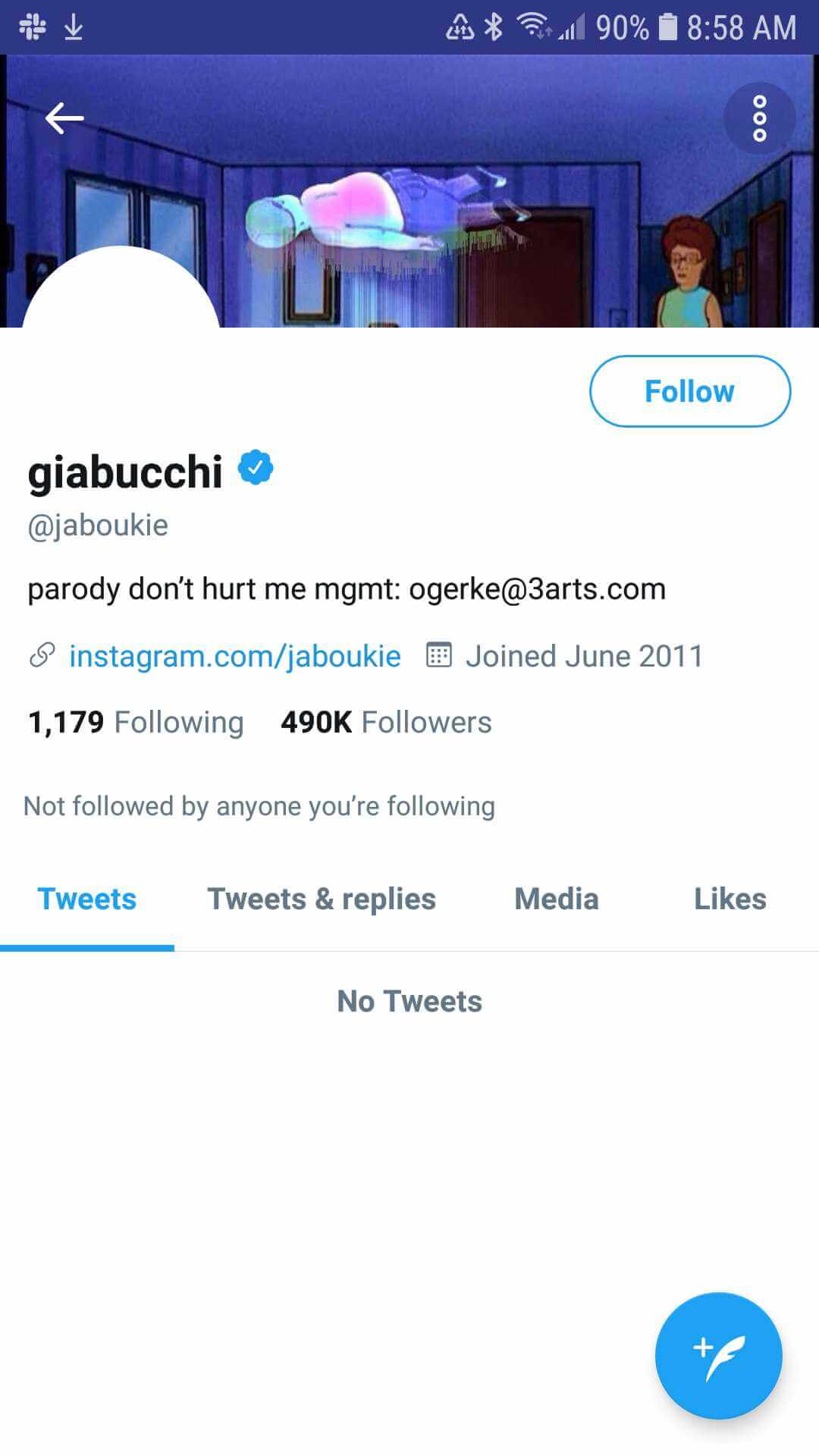 Posobiec wasn't entirely satiated by the account going away, seeming to take the position that people with verified accounts who encouraged Young-White, who is also verified, should be punished.
Revenge porn
Targeted harassment of a young woman
False Impersonation
Disinfo

If any conservative account did all of this at once, they'd be banned immediately from Twitter

When far-left bluechecks do it to @KaitMarieox they celebrate

— Jack Posobiec (@JackPosobiec) January 20, 2020
Bennett's fans were elated, of course. Young-White's fans and the many who take issue with Bennett, on the other hand, were disappointed.
"This tweet rules. Free my man Jaboukie," said one supporter.
both of these should've stayed in the drafts @jaboukie pic.twitter.com/BBWEB6cFfr

— jayveenow (@jayveenow) January 20, 2020
i feel guilty killing bugs but would gladly throw a cinder block at kaitlin bennett's face

— VERY BUSY (@avafalcoo) January 19, 2020
Lmao this is the funniest tik tok ive seen today fuck @KaitMarieox pic.twitter.com/XfwcTgvFlW

— ♒︎ ♒︎ ♒︎ (@yourgirlsheyy) January 20, 2020
Kaitlin Bennett gets so much undeserved crap from people. They hate her because of what they think she represents, so they have no problem dehumanizing her and strawmanning all of her positions. Especially fellow "libertarians."

— Ashley Rae Groypenberg (@Communism_Kills) January 20, 2020
me going to hell for cyberbullying kaitlin bennett and coming back to haunt her pic.twitter.com/f84yaRKpIn

— Alessandra (@alysandera) January 20, 2020
Me trying to forget that picture of Kaitlin Bennett covered in sh*t pic.twitter.com/rxHckgOXTI

— DΞI★N ⋆ PALM TREES AND BROKEN DREAMS OUT NOW (@deionmusic) January 20, 2020
"Can we all collectively stop giving any attention to that Kaitlin Bennett girl, honest to god who cares," tweeted @dylantaylorr.
For her part, Bennett seems to enjoy the attention.
Y'all never learn https://t.co/7hHwtRBeS6

— Kaitlin Bennett (@KaitMarieox) January 20, 2020
Liberals want me to drop dead so bad, but I'm not going anywhere. You should all see a doctor and get medication to cure your Kaitlin Bennett Derangement Syndrome.

— Kaitlin Bennett (@KaitMarieox) January 20, 2020
While everyone on Twitter was hating on me, I was busy getting a tour of the White House. Thank you to the Trump administration for letting me see where the greatest President in our nation's history makes America great! pic.twitter.com/mkfEfXWJUK

— Kaitlin Bennett (@KaitMarieox) January 19, 2020
It is not yet known whether the account will return or if this is the end of the trolling road for Young-White.
READ MORE: