The year of the mega-breach continues.
A new report says that 94 percent of companies worldwide suffered cyberattacks against their data in the past year, a rise of three percent from this time in 2013.
Few attacks targeted specific companies. Instead, they mostly broad broad attacks, with no exact target in mind. The new Kaspersky Labs report, which surveyed 3,900 companies of various sizes in 27 countries for the report, says 12 percent of companies had run-ins with targeted attacks, a number up from nine percent in 2013 and 2012.
On average, a data security breach cost these companies $720,000 but rose up to as much as $2.54 million for a single incident. The victims most often lose internal operations data (43 percent), client data (31 percent), and financial data (22 percent).
There are several industries that do see more specifically targeted attacks. Defense, government, telecom, financial services, and transportation companies have been put in the crosshairs by hackers, with anywhere from 16 to 18 percent of these organizations saying they've been specifically targeted.
The methods of attack vary widely, but the number one external threat was spam followed by malware, phishing, and network intrusion.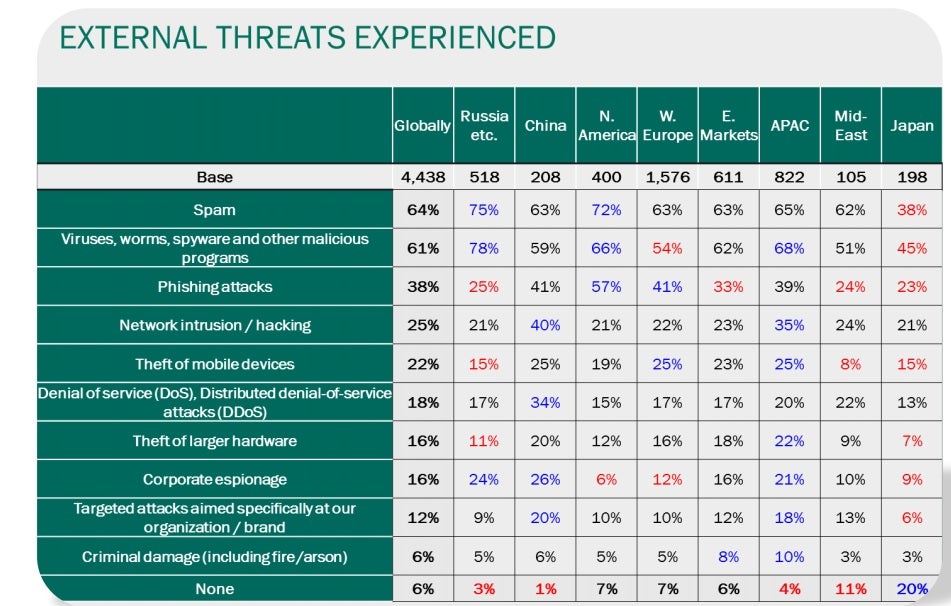 Screengrab via Kaspersky Labs
Everyone agrees that data breaches are more common than ever, but questions remain about just how often they occur. A Sept. 2014 study from the Ponemon Institute found that 43 percent of companies suffered a breach this year, a number they say is up ten percent on the year. The new Kaspersky Labs report covers a much wider range of companies and breaches.
Illustration by Max Fleishman