Kanye West turned heads with another tweetstorm early Wednesday morning—roughly one day after his last one—in which he had some choice words for his wife, Kim Kardashian West, and mother-in-law, Kris Jenner.
In a series of since-deleted tweets, West claimed his family tried to have him committed to a psychiatric hospital and that he wants a divorce from Kardashian West.
"They tried to fly in with 2 doctors to 51/50 me," West tweeted, referring to the section of the Welfare and Institutions Code that allows for a person with mental illness to be involuntarily detained for up to 72 hours.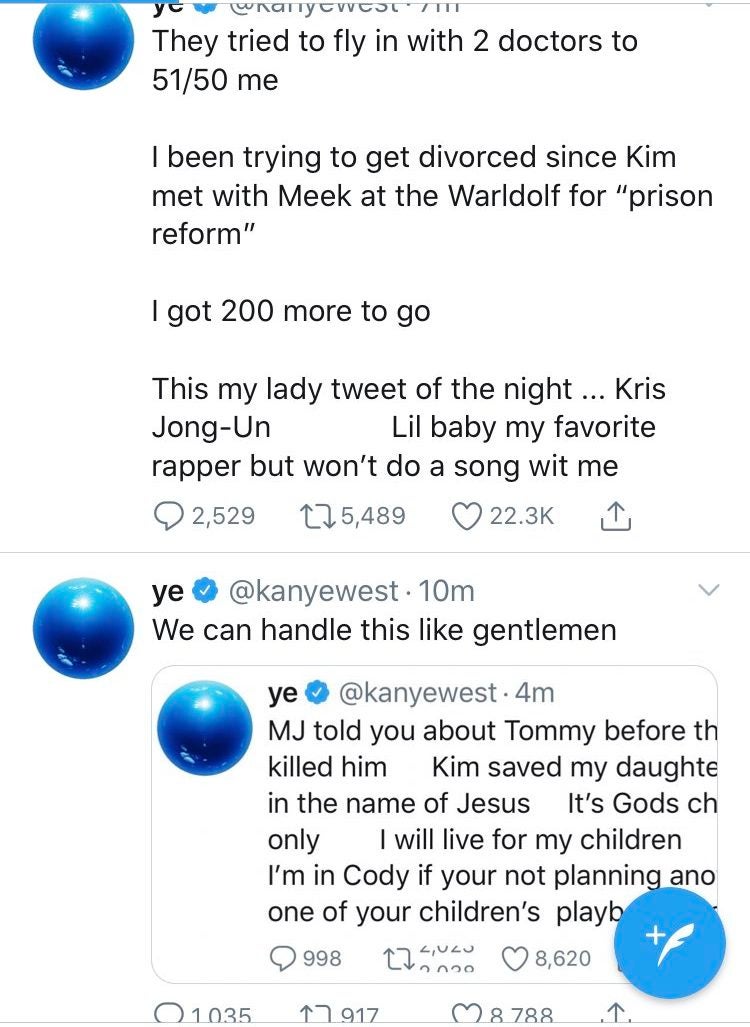 "I been trying to get divorced since Kim met with Meek at the Waldorf for 'prison reform,'" he continued. In 2018, Kardashian West and rapper Meek Mill spoke at the inaugural Criminal Justice Reform Summit in Los Angeles in November 2018.
West concluded his tweet by bestowing a heavily memed nickname on Kris Jenner—"Kris Jong-Un"—and revealing that Lil Baby is his favorite rapper but claimed he "won't do a song wit me." 
"Kim was out of line," West wrote in another tweet. "I'm worth 5 billion dollars and more than that through Christ."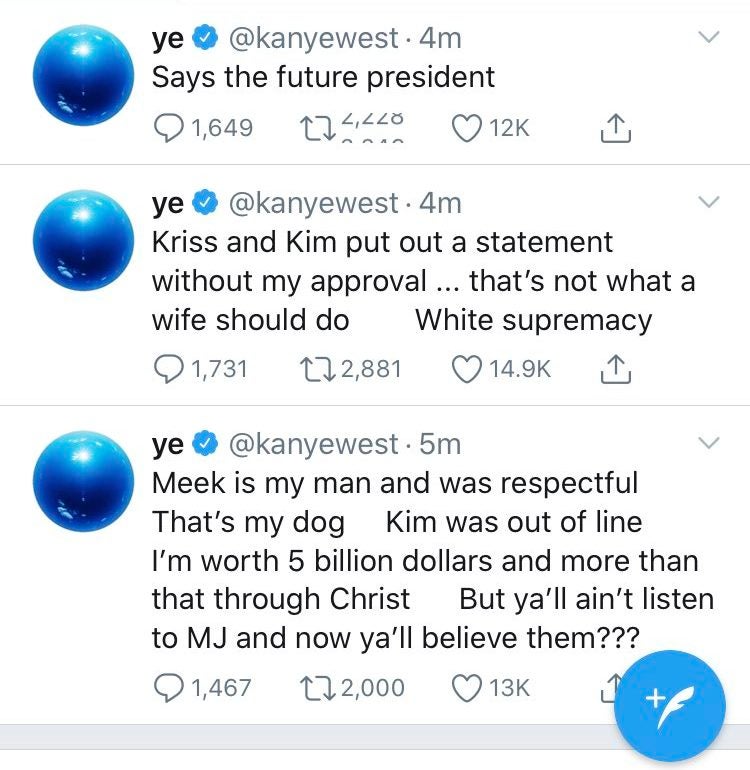 West also accused Kardashian West and Jenner of addressing their public family drama without consulting him, writing, "Kriss [sic] and Kim put out a statement without my approval … that's not what a wife should do White supremacy."
Neither Kardashian West nor Jenner have spoken publicly about West's Twitter outbursts, although a source close to the family told People that Kardashian West was "most upset" about West's claim that Jenner could no longer see their four kids.
West's latest tweetstorm once again prompted Twitter users to worry about his mental health and extend their wishes for him to get help.
"Kanye is showing signs of mental illness," @aproko_doctor tweeted. "Before you make fun of him, would you go to the hospital and make fun of people lying in the wards? Mental illness is just as real as physical illness."
"I can't believe the shit people are tweeting about Kanye West," @luistampagamer wrote. "He's NOT 'Doing this for attention for his new album.' He needs help! There's people trying to guide him towards the right path and he's avoiding it. I just pray he finds the strength to accept it. WAKE UP MR. WEST!"
Other people took issue with the interpretations of Kardashian West's social media silence as proof that she has not tried to help her husband.
"I enjoyed yesterday's 'Why isn't Kim helping Kanye?' hot-takes," journalist and author Caitlin Moran tweeted. "I hope today's Tweets from Kanye, explaining that he's in a bunker refusing to see the doctors she's got him answer that one."
Prior to West's most recent tweetstorm, Dave Chappelle flew out to Jackson Hole, Wyoming, on Tuesday to visit the rapper on his ranch. The two stars have been friends for years, and after West shared a video of them hanging out, many Twitter users dug up an old interview in which Chappelle discussed the toll that celebrity takes on one's mental health.
"The worst thing to call somebody is 'crazy,'" Chappelle said. "It's dismissive. 'I don't understand this person, so they're crazy.' That's bullshit. These people are no crazy. They're strong people. Maybe their environment is a little sick." 
Update 9:56am CT: On her Instagram Stories, Kardashian West just published a statement about West, asking the media and public to give the family the "compassion and empathy" that is needed for West.
READ MORE: