This week, Joe Jonas and Sophie Turner joined the growing chorus of celebrity couples who've announced a divorce or breakup this summer, though the news still shocked fans, like Marion Cotillard.
Jonas' camp seemed to come at the news first; TMZ cited an anonymous source on Tuesday, who subtly placed the blame on Turner: "She likes to party, he likes to stay at home. They have very different lifestyles."
Jonas, who filed for divorce in Miami, is a world-touring musician, so that statement is pretty flimsy. But it was frustrating to see a "bad mom" narrative start to be pushed regarding Turner, amplified by claims that Jonas has been taking care of the kids.
"I wonder what he did that was so bad that he has to get ahead of it and push the 'Sophie Turner is an unfit and bad mother' narrative," said one commenter.
A joint statement was released on Wednesday, stating that "There are many speculative narratives as to why but, truly this is a united decision and we sincerely hope that everyone can respect our wishes for privacy for us and our children."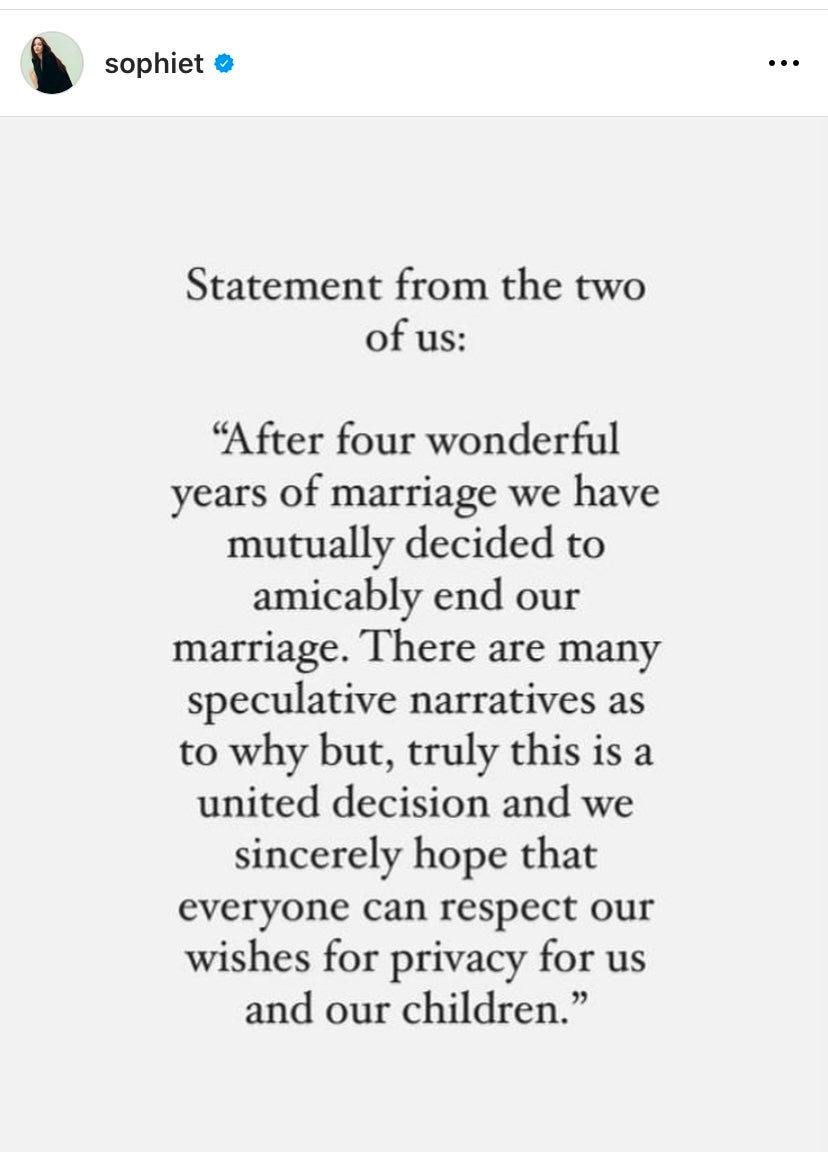 The couple married in 2019, when Turner was 23, and they've since had two children. Turner is now 27 (and Jonas is 34), and a meme that expressed disbelief that Mama Bear of the Berenstain Bears series is canonically 27 years old, and that she "should be at the club," was circulated to defend Turner.
A story from April 2020, in which Turner said she's an "introvert" and enjoys isolating at home, while it's harder for her "social butterfly" husband, was also tweeted out again.
TMZ released more anonymous claims on Wednesday, this time alleging that Jonas saw footage of Turner from a Ring camera, which led to the divorce.


We crawl the web so you don't have to.
Sign up for the Daily Dot newsletter to get the best and worst of the internet in your inbox every day.