Today is April 30. You know what that means: It's Gonna Be May. The long-standing internet joke returns every year during the last week of April. You've probably seen the memes that feature a picture or GIF of Justin Timberlake with the caption "It's gonna be May." Maybe you think it's a clever joke; maybe you're so sick of it that you want to hurl your computer across the room. Either way, you likely know of its existence. But where did the meme come from? And what's the deal with sharing it every year before May 1?
It's Gonna Be May: An internet history
We're here to give you a brief history of the meme. But first, watch the music video for the original song. It will offer important context:
After *NSYNC's hit single "It's Gonna Be Me" was released in 2000, some people noticed that the way Justin Timberlake sings the word "me" in the song sounds like "May." There are many song lyrics that people mishear, but the joke of "It's Gonna Be Me" is on Timberlake's vocal style. Everyone knows that the lyric is "me," but it's funnier to imagine that the song, addressed to a woman who's apparently been in several bad relationships, randomly announces the start of May.
"It's Gonna Be May" is reborn
More than a decade later, a meme was born. The first meme was posted on Tumblr in 2012, according to Know Your Meme. It showed a picture of Timberlake with the text, "It's Gonna Be May." Other versions of the meme soon followed, but most of them stick to the original format of a photo of Timberlake with the May joke. And there are several video memes that include a clip of the original song with Timberlake belting out, "It's gonna be me." But it's hard not to hear the word May:
Another popular version of the meme involves posting a photo of dry ramen noodles that resemble Timberlake's hair in the music video when he's dressed up like a doll. It's a subtle reference—a kind of deep cut "May" meme.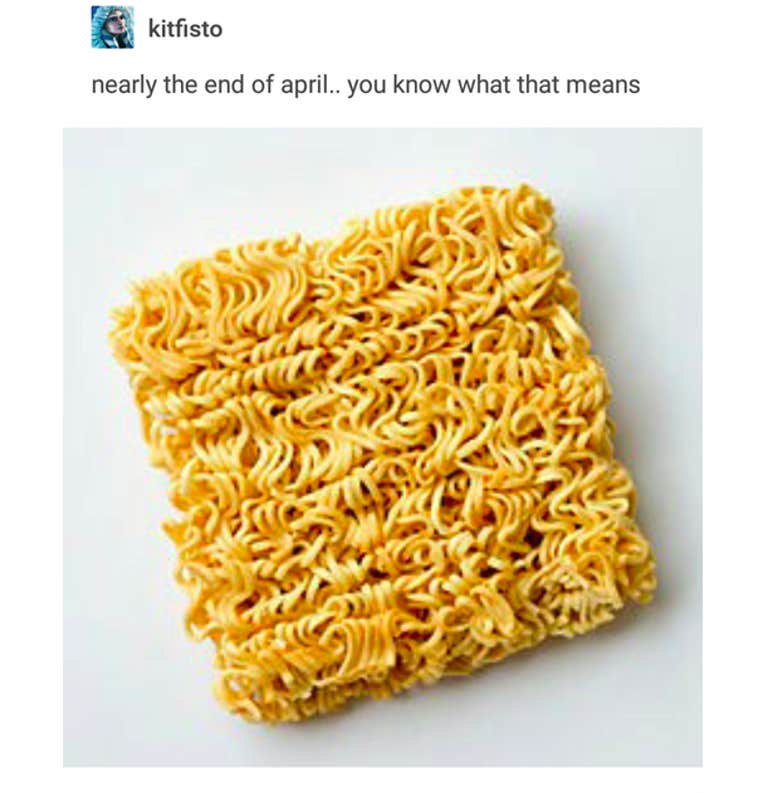 READ MORE:
It's Gonna Be May memes
At the height of the Vine era, some of the most popular vines incorporated the song year-round, with a special emphasis on the end of April.
Two years ago, on April 29, Timberlake tweeted about the meme and asked his followers if he was allowed to meme himself.
Everybody… It is ACTUALLY GONNA BE MAY!#canyoumemeyourself

Probably not, right?

— Justin Timberlake (@jtimberlake) April 29, 2016
Naturally, several people replied to the tweet with "It's Gonna Be May" memes.
In 2018, people seem tired of this six-year-old meme. Just take a look at these tweets over the past couple of days:
https://twitter.com/holden_a_fork/status/990732437251678209
Can we all agree to skip the JT it's gonna be May meme this year please

— coréy (@salemwigtrials) April 29, 2018
I'm gonna get ahead of this early but if you post a Justin Timberlake "it's gonna be May" meme tomorrow then you're catching a block, no hesitation

— Take Lyman (@BLymanWarrior) April 29, 2018
It's Gonna Be May is a silly, yearly reminder of what internet memes were like several years ago. It's a wholesome meme that doesn't need a deep explanation, or a deep knowledge of internet culture, to grasp.

READ MORE:
Like the "May the Fourth be with you" Star Wars joke, the last day of April has become a day that the internet has claimed as an unofficial holiday. There's no reason for the internet to stop acknowledging the meme. And, the meme does serve a functional purpose—it reminds you what month we're in.
Tomorrow, it's gonna be May.
Editor's note: This article is regularly updated for relevance.