Sometimes when a really bad tweet is posted to the feed, you can kind of see how someone down the marketing or social media management chain might have pitched or designed it with good intentions. But in the case of the Gap's attempt to close the ever-increasing political divide in the U.S. the day after Election Day, you have to wonder who the hell thought it was ever a good idea.
As of Wednesday afternoon, we don't know who won the presidential election yet. But as the votes are tallied, some are clinging onto hope that ideals of civility will bridge the, ahem, gap between Republicans and Democrats. Simply put, it's the belief that if we put aside our differences, we can get things done.
That's more or less the sentiment the Gap tried to capture in its post-election tweet, which was posted at 9:32am CT. Within a couple of hours, the retail giant removed the tweet for reasons that soon became abundantly clear. (The tweet is archived here.)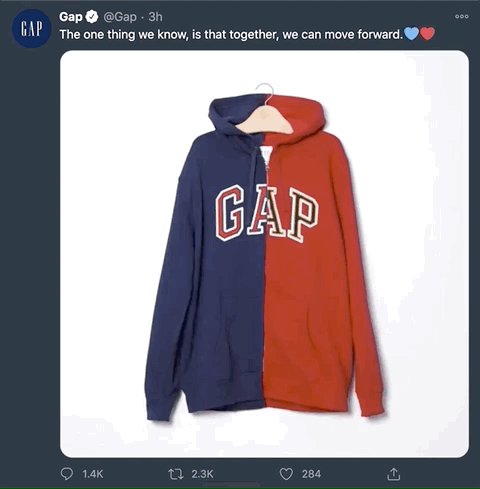 First, let's look at the text of the tweet. Tapping into a bit of the uncertainty about who will lead the U.S. for the next four years, it reads, "The one thing we know, is that together, we can move forward" and is accompanied by blue and red heart emoji.
A stop-motion GIF shows a zipper hoodie—half blue with red text, the other half red with blue text—zipping itself up. When zipped up, the "A" doesn't line up, and while that could just be the design of the hoodie itself, it doesn't help convey the message that the Gap was trying to get across.
Even while it was unclear whether the sweatshirt was a real product or a mock-up made for a branded tweet, people immediately dunked on the Gap's tweet.
After the tweet was deleted, a spokesperson for the Gap clarified that the hoodie wasn't an actual product for sale. While the tweet's initial mission clearly failed, it's a reminder that for the time being, brands should cool it with post-election tweets.
---
Today's top stories