Every day, the Daily Dot finds something that people on Facebook are sharing and, in turn, shares it with you—with a little explanation. Here's today's share.
Kids these days sure like to use funny Internet words, but they still enjoy good old-fashioned schadenfreude.
First, a clarification: the word "yolo" is youthful Twitter slang for "you only live once." It's used both earnestly ("Staying up all night in some random guys garage #YOLO") and sarcastically ("Didn't safely remove my USB #YOLO"). As a hashtag, it's been tweeted more than half a million times in the past 30 days.
Facebook users of all ages are passing around a new photo that shows young girls drinking and partying—hashtagged #yolo—followed by a very different picture: a girl with her hand over her mouth, devastated to learn she's pregnant.
A young man named Mac Colcer has shared the photo Thursday, and it quickly leapt outside his circle of 1,000 or so friends—it's since been liked almost 50,000 times.
"r u kidding me? this is a record for me haha," Colcer wrote about the picture's popularity.
Ironically, many users who commented on the photo did so purely in acronym-based Internet slang.
"lol," Steve Gossett commented .
"Omg haha" Annie Tasse wrote.
"lmmfaooooooo," Allie TenBroeck added.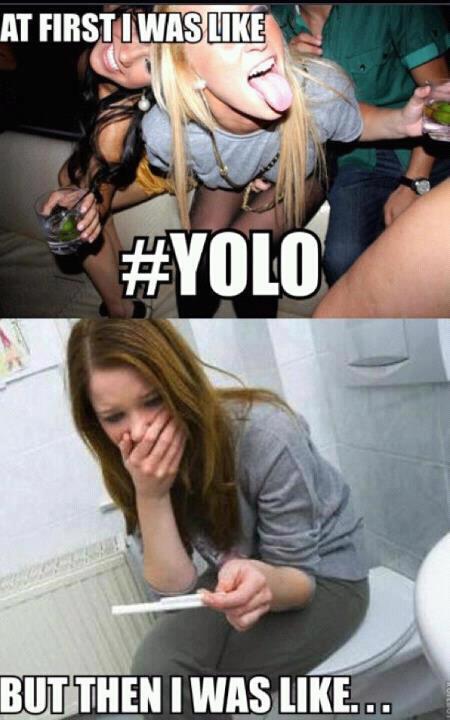 Photo via Facebook