Anyone who played the 1998 Nintendo 64 game Banjo-Kazooie (or its handful of sequels) may remember the character Mumbo Jumbo, a shaman who was able to use her magic powers to transform the titular characters into various creatures. And now we have both the game and character to thank for an evidently annoying "Eekum Bokum" meme making its way around the internet.
Before a player in the game is able to transform, they must first collect a number of so-called Mumbo Tokens, which exclaim "Eekum Bokum!" when obtained.
It was during an Aug. 25 live stream of Banjo-Kazooie that Hololive Vtuber Inugami Korone became delighted with the expression, repeating it whenever it was said onscreen. The live stream was subsequently edited into a YouTube compilation of every time it was repeated during the game, and quickly went viral.
A few days after the original live stream, YouTuber 2ManySnacks likewise created the above animation of Korone and the Mumbo Token saying "Eekum Bokum." The video has since been viewed over five million times in just three weeks. It has also inspired numerous parodies including characters from Banjo-Kazooie as well as characters from various other games.
Some of the mashups got particularly creative, such as using a Speak & Spell or the 1968 banger "Hooked on a Feeling."
But not everyone loves "Eekum Bokum," which became a meme as it made its way to Twitter.
"OK, can we all agree that this is the worst meme of 2020?" tweeted one user, which received over 8,000 likes in two days. "If I see this Eekum Bokum bitch one more time … someone's losing their fingers," added another in a retweet. Others responded similarly.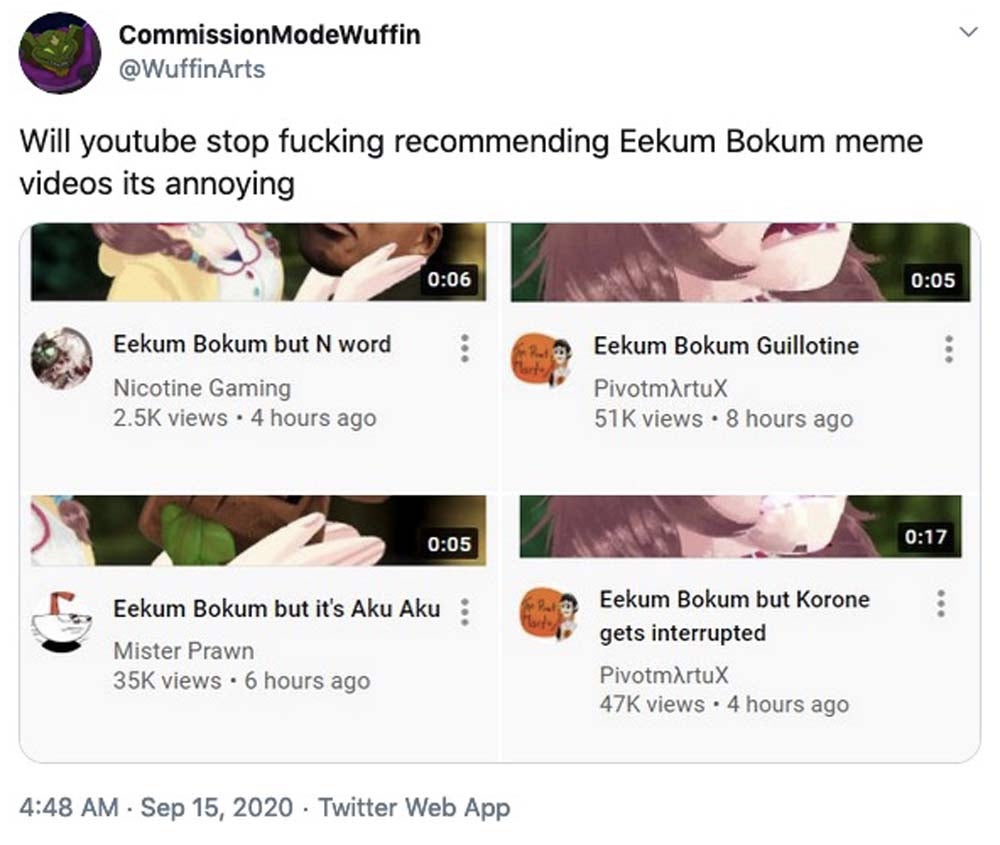 At least the artist doesn't seem to mind having come up with apparently the most hated meme of 2020. Though some may feel bad for the OG creator, one user pointed out that they actually seem to be enjoying the attention.
As the saying goes, one man's Eekum Bokum is another man's treasure.
READ MORE: